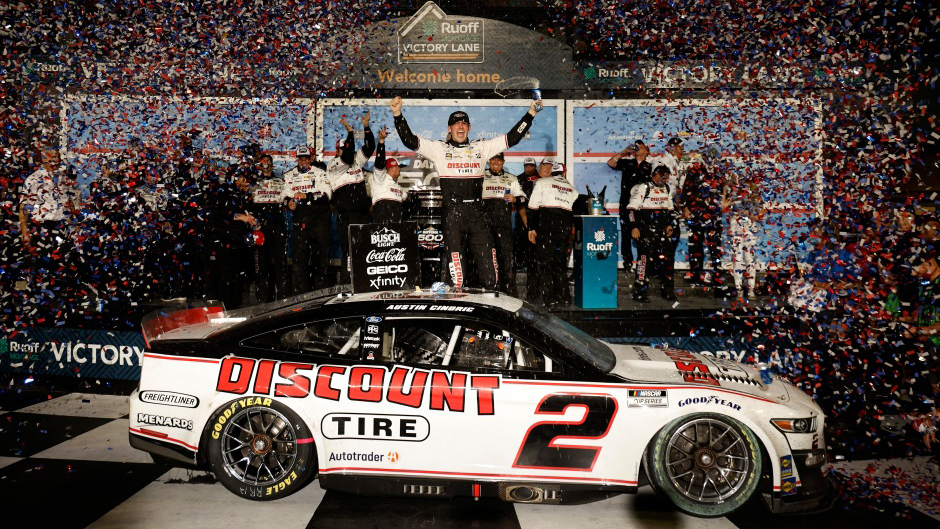 Pete Pistone will unveil Power Rankings each week of the NASCAR season. Check out this week's edition of NASCAR Power Rankings below, and listen to SiriusXM NASCAR Radio (Ch. 90) on the SXM App now.

The season is officially off with last week's running of the Daytona 500. Here are this week's Power Rankings" following "The Great American Race":
Austin Cindric
The first official rookie to win the Daytona 500 as Cindric piloted the Team Penske No. 2 Ford to the third win in "The Great American Race" for team owner Roger Penske.
Driver Rating: 122.4
Point Standings: 1st
Last Week: NR
2. Bubba Wallace
He came within .036-seconds of scoring his first career Daytona 500 win. Wallace now has a pair of runner-up finishes in the 500 and though disappointed, it was a strong showing for the 23XI team.
Driver Rating: 104.7
Point Standings: 4th
Last Week: NR
One of the strongest cars all week long and Blaney was in the mix to win on Sunday. He came up short but was a good teammate helping Austin Cindric in the draft and on to the eventual win.
Driver Ratings: 107.5
Point Standings: 6th
Last Week: 6th
Still looking for his first Daytona 500 win but Busch had a pretty good day on Sunday. He led 28 laps and was at the front of the field at the end coming back from some damage to his car earlier in the race.
Driver Rating: 101.4
Point Standings: 8th
Last Week: 5th
Not a great outing in the 500 for Elliott who along with the rest of his Hendrick Motorsports teammates struggled throughout the day. He did finish 10th for his second straight Daytona 500 inside the first ten finishers.
Driver Rating: 72.5
Point Standings: 10th
Last Week: 4th
A very impressive week at Daytona for Keselowski and a very aggressive Daytona 500. He was involved in more than one incident that drew the ire of many competitors. Keselowski won Duel race earlier in the week and capped it off with a ninth place finish Sunday.
Driver Ratings: 121.3
Point Standings: 2nd
Last Week: NR
7. Chase Briscoe
Scored his best career finish in 37 Cup Series starts on Sunday when Briscoe took the checkered flag third in the Daytona 500. Was another one of the Ford contingent that worked very well together with teammates.
Driver Rating: 75.0
Point Standings: 5th
Last Week: NR
8. Martin Truex Jr.
The day started out well for Truex Jr. as he won the opening two stages. But he played catch-up after some challenges with his crew on pit road and was eventually eliminated from contention with damage to his car.
Driver Rating: 94.0
Point Standings: 3rd
Last Week: 2nd
His final Daytona 500 start as a full-time Cup Series driver wound up with Almirola bringing home a fifth place performance after starting the race back in the 38th position.
Driver Rating: 80.3
Point Standings: 12th
Last Week: NR
A rough start to the season for the defending Cup Series champion. Larson was knocked out of the race after a lap 190 accident and credited with a 32nd place finishing spot after starting from the pole.
Driver Rating: 81.2
Point Standings: 26th
Last Week: 1st
---
---
---