David Letterman and Howard Stern together again: All the highlights
Listen to the full audio of their Stern Show sit-down.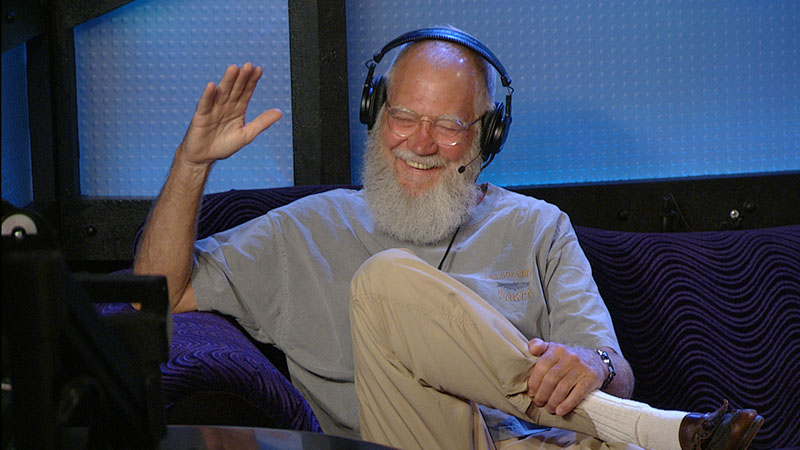 No matter the time, place, or occasion, David Letterman is still capable of making the masses laugh. Such was the case when he stopped by on Wednesday's Stern Show, reuniting with Howard for what was sure to be another memorable interview.
Dave touched upon retiring from late-night TV, gave a glimpse into his relationships with some regular "Late Show" guests, and discussed what fans can expect from his upcoming Netflix series.
Check out all of the highlights from Letterman's latest sit-down with Howard and listen to the full interview below.
RETIREMENT
May 2015 marked the end of Letterman's 33-year run on late-night TV as he retired from his hosting duties on CBS's "The Late Show." He told Howard he figured even if he left his own television series, he'd still be brought on as a guest on other programs.
"When I left the show, I thought 'Well, a lot of people will want me on shows.' No one wanted me on shows," Dave revealed. However, Letterman will be back on late-night TV soon enough — he's scheduled to visit Jimmy Kimmel and his ABC talker in October.
Now that he doesn't have to go to work every day, Dave has been enjoying spending some time at his house in Montana where he can ride horses, ski, and go fishing. Howard told Dave the same story he recently told MSNBC host Rachel Maddow about getting attacked by a vicious swan while fishing with Jimmy Kimmel. While Dave was convinced the situation must have been scary, he couldn't help but joke about Howard's close call with the water bird.
"What a fantastic obituary that could have been," Dave said with a laugh.
Howard also noticed Dave was sporting quite a bit more facial hair since the last time he saw him and asked how long he intended to keep his beard.
"I'll be buried with this," Dave said. "Honest to god, I got so tired of shaving every day."
A FAMILY MAN
Perhaps the greatest perk of retirement is the considerable free time he has with his family now. Dave told Howard if he could do it all over again, he would have had more kids sooner.
"The biggest mistake I made was delaying having a family," he admitted.
But his love for his only son Harry remains undeniable. "I just love making him laugh," Dave told Howard. "If I can genuinely make the kid spit stuff out his nose, then I feel like I'm a good dad."
EARLY DAYS PARANOIA
One reason Dave gives for why he didn't start his family was his drive to succeed in comedy and TV — according to him, there was a time where all he could think about was his work. Once he landed his gig as the host of "Late Night With David Letterman," his tenacity only increased but he told Howard he still felt tremendous pressure as the lead-in for "The Tonight Show."
"I'm following Johnny Carson [and] I don't know what's going to happen. There's a million guys lined up to take my job. Every night was life and death," Dave said.
As a longtime admirer of Carson, one might think Dave would be thrilled to be in the company of one of his heroes but that was far from the case. "I would always be so nervous around Johnny I really couldn't enjoy the moment," Letterman said.
Dave had a far funnier story of being paranoid while smoking what he thought was just weed at stand-up comedian George Miller's house. As Dave recalls, he had just moved to California and George invited him to hang out with an unnamed woman and her adult daughter one night. Eventually the group began passing a joint around and Dave noticed it had a strange but refreshing taste to it. He asked if the marijuana had mint in it.
"[The daughter] says, 'No, that's PCP,'" Dave recalled. Turns out, the pot they were smoking had been laced with an animal tranquilizer. Needless to say, Dave didn't appreciate learning about that extra substance after he'd already smoked it.
"I don't know enough about the active ingredient in marijuana and is it compatible with animal tranquilizer? Is anything compatible with animal tranquilizer?" he joked.
'LATE SHOW' LEGACY
While Dave doesn't have any desire to return to late-night TV, he told Howard if he could do it all again, he'd probably be an even better host.
"In many ways, I wish I could start the show over now because I'm a different person. I'm mature, I have a better understanding of the world around me," Dave said.
Since they've both interviewed some of the most famous people in the world, Howard asked if Dave ever felt he'd made a special connection with one of his guests on camera only to be rebuked later on.
"It'll happen to you later today, as well," Dave joked about what he intended to do to Howard after he left the Stern Show studio. All kidding aside, Dave knew what Howard was getting at and said he overcame having any of those hurt feelings by reminding himself of who it was he was interviewing.
"Well, of course this person acts like they're enjoying talking to me because this person is an actor," Dave said. "I just felt like, well, they don't want me as a friend and I don't know that I want them as a friend."
Howard asked specifically how Dave felt about actress Drew Barrymore who famously climbed up on Letterman's "Late Show" desk and flashed him during her 1995 visit.
"How can you not be affected by that?" Dave said of the incident, adding that any man at any job would be shocked by such a move from a beautiful woman like Drew.
Joaquin Phoenix provided another classic moment in "Late Show" history during his 2008 interview in which Dave struggled to get any straight answers out of the Academy Award nominee. It ended up being a staged stunt for Phoenix's mockumentary film "I'm Still Here," directed by Casey Affleck. Despite Joaquin later stating Dave was never tipped off about his hoax, Letterman told Howard he was aware of what was happening.
"I knew what he was doing ahead of time," Dave said. "I did enjoy it because it was like getting your work in on the heavy bag. It was easy."
As for his line "Joaquin, I'm sorry you couldn't be here tonight," which Dave delivered as their interview concluded, Letterman told Howard he came up with that on the spot.
Comedian Andy Kaufman became a staple on Letterman's show with his own wild and wacky bits that included an ongoing rivalry with pro wrestler Jerry Lawler.
"Gosh, he was peculiar and you just loved it," Dave recalled about Andy.
Early on, though, Dave didn't quite recognize Kaufman's genius, instead believing he was throwing away his career by remaining in a constant state of weirdness. But that weirdness eventually led to Andy becoming a household name, loved by many him but misunderstood by others. Either way, Andy was happy.
"After each appearance he would lean over to me and he said, 'Be sure to send me the hate mail,'" Dave remembered Andy telling him.
And of course, Howard himself became a regular visitor of Dave's, starting in the '80s when the two were both working at NBC. Dave can still remember when Howard arrived at the National Broadcasting Company.
"The building was full, it was palpable, of the energy of Howard Stern. It was not to be ignored … so we had to. We had to explore this," Dave said of why he wanted Howard to come on his show.
Howard still remembers the outfit he was wearing on his first "Late Night" appearance, though he wish he could forget. "I wore like leather pants with brown boots," Howard said. "It was just a nightmare."
Decades later, Howard would serve as one of Dave's last guests on his final week at "The Late Show." He appeared that night with comedic legend Don Rickles and Howard asked why Dave decided to have them on together. It's simple, according to Dave.
"The idea of Don Rickles and Howard Stern together just made pretty good sense," Letterman explained.
JEALOUS OF JERRY SEINFELD AND DAVE'S NEW NETFLIX GIG
Earlier this month, Dave announced he'd signed on to host a new show on Netflix, the details of which are still being worked out. But if Letterman had his way, he'd like to be behind the wheel of another streaming show — Jerry Seinfeld's "Comedians in Cars Getting Coffee."
"God forbid Jerry can't do his show … just give it to me," Dave said.
Dave has himself been a guest on Jerry's show and told Howard the series is one of his favorites to watch. He especially admires Jerry's ability to come up with a concept for a show that's basically the combination of all his hobbies.
"The hard thing for me is … they would say 'What do you want to do?' And I would say 'Gee, you know I kind of did it for 30 years,'" Dave said of trying to develop a new project for himself after hosting a successful talk show for so long. Therein lied his answer – a new interview show.
"One of my big advantages in life is ignorance," Dave told Howard. "If you're ignorant, there's nothing you can't ask a person."
Dave already has one big name lined up for his new project though he wouldn't say who. However, it sounds like he picked up his second guest after Howard agreed to come on for a future appearance.
Letterman is hopeful this new show will be a success, if for no other reason than his faith in Netflix and his producing partners, RadicalMedia.
"I think it's gonna be great and it'll probably be the last thing I do, so I want it to be great," Dave said.
For more coverage of The Howard Stern Show, follow @sternshow on Twitter and check out HowardStern.com. Hear more Howard on SiriusXM Ch. 100 and 101.
---
---
---