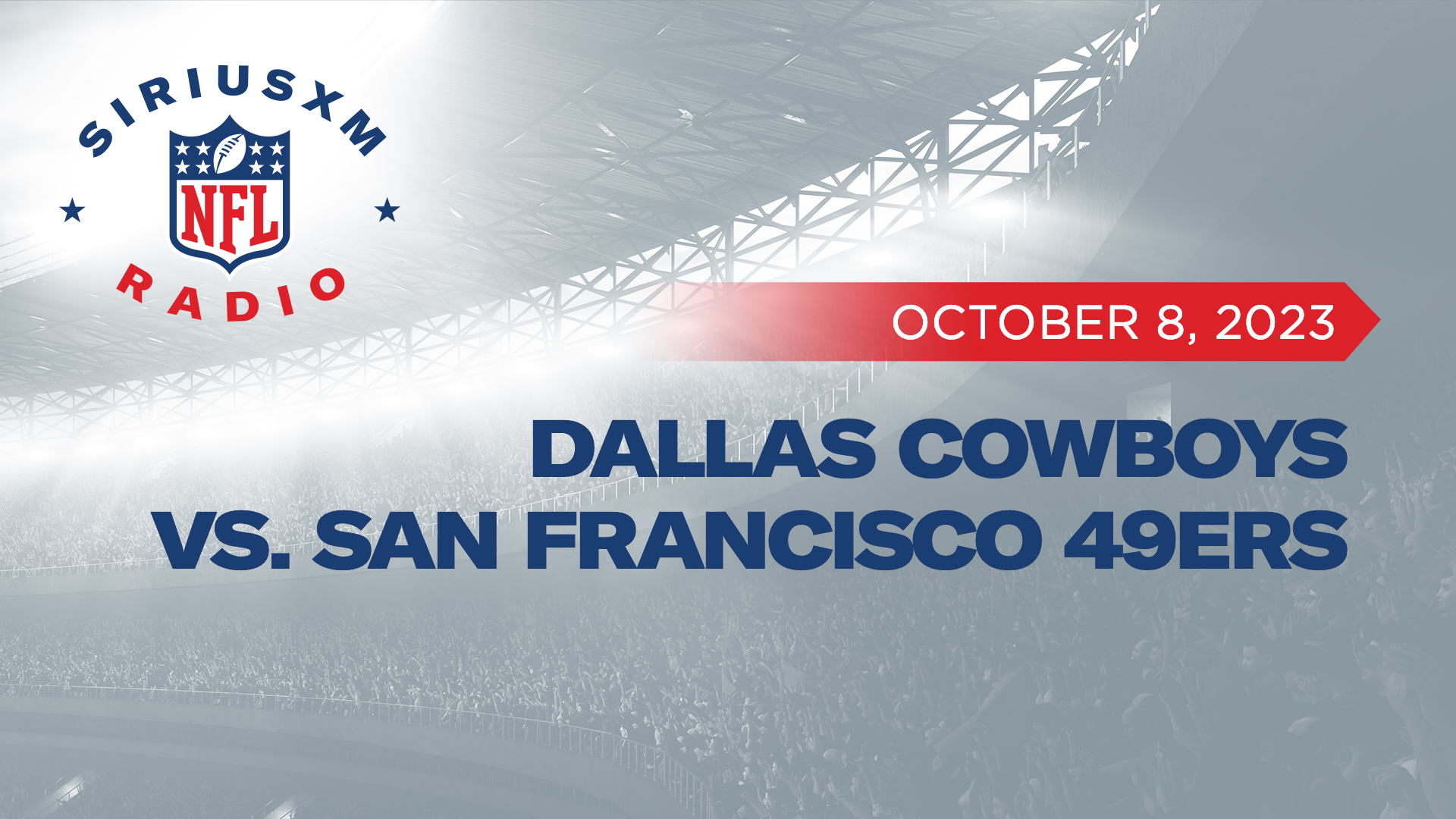 Get ready for an electrifying NFL showdown as the San Francisco 49ers host the Dallas Cowboys this weekend. Sunday Night Football promises to deliver another unforgettable showdown, tune in to SiriusXM to catch all the action, as we preview these two powerhouse squads.
Listen live to your choice of the home, away, or national feed on the SiriusXM App. Kickoff is October 8 at 8:20pm ET.
---
Stream the San Francisco 49ers broadcast (Ch. 827)
Stream the Dallas Cowboys broadcast (Ch. 808)
Stream the National broadcast (Ch. 88)
---
Home: San Francisco 49ers
The San Francisco 49ers have been on a tear, boasting a perfect 4-0 record and a 14-game regular-season winning streak. They recently became the first team since the 2012-13 Broncos to score 30+ points in seven straight regular-season games.
Quarterback Brock Purdy is making a name for himself with a remarkable 95.2% completion rate in his last game, throwing for 283 yards and two touchdowns. He can become only the third quarterback since 1970 to win his first ten career starts. Purdy leads the NFL with a 115.1 passer rating in 2023.
Running back Christian McCaffrey is a dual-threat superstar, having recorded 100+ rushing yards, three rushing touchdowns, over 70 receiving yards, and a receiving touchdown in a single game last week. He's on pace to tie Hall of Famer Emmitt Smith with the most consecutive games (14) with a touchdown since 1990.
Wide receiver Deebo Samuel is a primetime performer, consistently delivering over 100 scrimmage yards and touchdowns in night games. Meanwhile, Brandon Aiyuk has been a rising star with over 100 receiving yards in three of his last five games.
Tight end George Kittle is a reliable target for the 49ers, and Nick Bosa anchors the defense with his ability to consistently disrupt opponents' plays. Linebacker Fred Warner brings the heat with nine tackles and an interception in his previous meeting with the Cowboys.
---
San Francisco 49ers Home Feed
SiriusXM channel 226 in your vehicle
Channel 827 on the SiriusXM App
Dallas Cowboys Away Feed
SiriusXM channel 227 in your vehicle
Channel 808 on the SiriusXM App
National Feed
SiriusXM channel 88 in your vehicle
Channel 88 via on the SiriusXM App
En Español
SiriusXM channel 225 in your vehicle
Channel 832 on the SiriusXM App
---
Away: Dallas Cowboys
The Dallas Cowboys, led by the dynamic QB Dak Prescott, are on a roll. Prescott completed an impressive 82.4% of his passes for 261 yards and a touchdown in his last game, earning a stellar 108.5 passer rating. He has a remarkable track record against the 49ers, with 6 touchdowns (5 passing and 1 rushing) and zero interceptions for a 123.4 passer rating in two career regular-season starts against them.
Running back Tony Pollard is on fire, coming off a game where he amassed 132 scrimmage yards and scored two rushing touchdowns. He aims to extend his streak of five consecutive games with over 60 scrimmage yards and aims for his third consecutive Sunday Night Football appearance with multiple rushing touchdowns.
Wide receivers CeeDee Lamb and Michael Gallup add to the Cowboys' offensive firepower. Lamb recently recorded his first receiving touchdown of the season and has been a reliable target. Gallup has been consistent with three consecutive games of at least five receptions and 60+ receiving yards.
Tight end Jake Ferguson is emerging as a key player, setting career highs with seven catches and 77 receiving yards in his last game. Linebacker Micah Parsons is a force to be reckoned with, boasting four sacks, nine tackles for loss, and three pass deflections in just six career Sunday Night Football games.
---
For more on SiriusXM's NFL programming, visit SiriusXM.com/NFL.
---
---
---