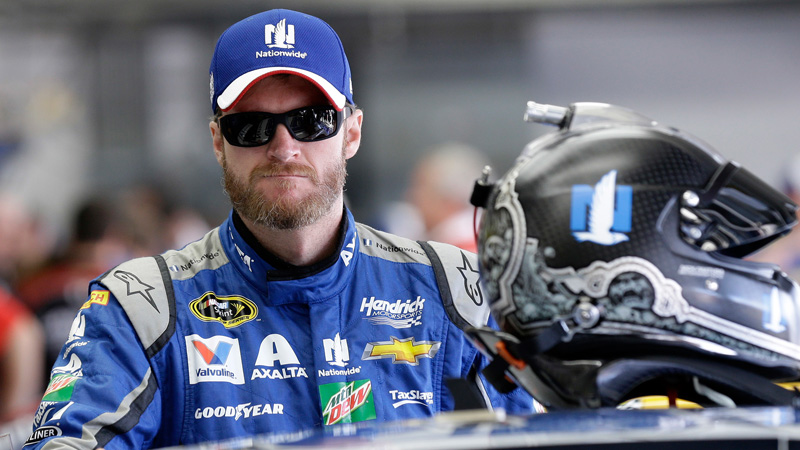 Dale Earnhardt Jr. waits to get into his car prior to practice for Sunday's NASCAR Sprint Cup Series auto race at the Charlotte Motor Speedway in Concord, N.C., Saturday, May 28, 2016. (AP Photo/Gerry Broome)
Dale Earnhardt Jr. believes he will be racing again next year as he continues to recover from a concussion that shut down his 2016 season.
Earnhardt Jr. told SiriusXM Speedway that he's enjoyed working the television booth while he's been out, but he's not ready to quit the racing game just yet.
"It certainly doesn't compete with how much enjoyment I get out of driving a car but looking forward to getting back in the car next year," Earnhardt Jr. said. "I feel like we're going to make that target easily as far as the health and recovery goes."
The driver of the No. 88 also thanked his sponsors, including Hendrick Motorsports, for sticking by him as he deals with the brain injury that has kept him out for months.
"I wasn't ready to retire just yet, I think we have at least one more year on this current contract," he said.
The driver of the No. 88 chose to sit out the season in September and rehab from the brain injury he suffered in July. Junior has been receiving treatment from the University of Pittsburgh Medical Center since mid-July.
In Dale Jr.'s absence, 23-year-old Alex Bowman has taken over and performed well under the bright lights.
"I think that this opportunity happened just at the right time for him," Dale Jr. said. "I think he was ready for it mentally."
Earnhardt Jr. last appeared on SiriusXM earlier this month and said he was in the "final stages of getting well."
While he hasn't been on the race track, the driver of the No. 88 has kept busy with his latest campaign with Goody's. The pair has launched the "Dale Jr. Photo Finish" limited edition trading card set featuring "great racing moments and Dale Jr.'s family racing legacy." You can read more about that here.
Photo Credit: AP Photo/Gerry Broome
---
---
---