Curt Schilling on being fired from ESPN: 'I'm not transphobic or homophobic'
Former MLB pitcher and baseball analyst Curt Schilling was fired from ESPN on Wednesday after posting offensive remarks on social media. On Friday, Schilling joined SiriusXM Patriot's Breitbart News Daily to open up about his firing. In a response to … Continued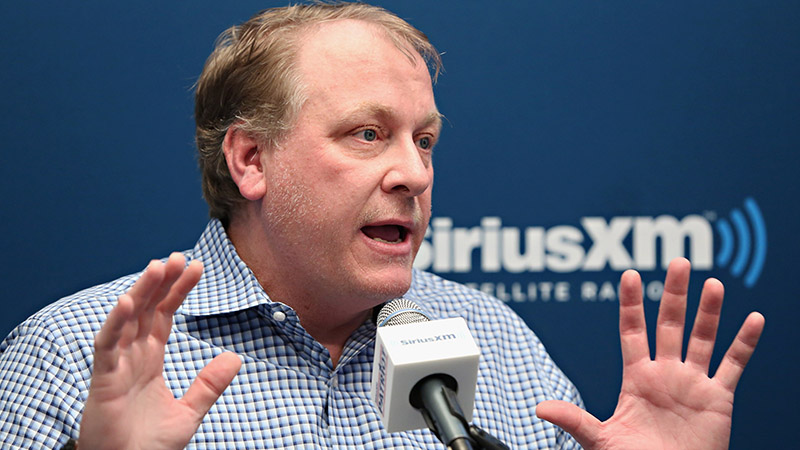 <> on April 27, 2016 in New York, New York.
Former MLB pitcher and baseball analyst Curt Schilling was fired from ESPN on Wednesday after posting offensive remarks on social media. On Friday, Schilling joined SiriusXM Patriot's Breitbart News Daily to open up about his firing.
In a response to the North Carolina law that prohibits transgender people from using bathrooms that don't correspond with their original genders, Schilling posted a photo on his Facebook this week of an overweight man in a wig and women's clothing. The post said, "LET HIM IN! to the restroom with your daughter or else you're a narrow-minded, judgmental, unloving racist bigot who needs to die."
Schilling continued: "A man is a man no matter what they call themselves. I don't care what they are, who they sleep with, men's room was designed for the penis, women's not so much. Now you need laws telling us differently? Pathetic."
Schilling tried to clarify those statements.
"I'm not transphobic, I'm not homophobic," he said. "My 16-year-old son is one of the founding members of the LGBT club in his high school. That's his group, that's the people he loves and hangs out with. Those kids are in and out of this house all the time. I've never in my life treated somebody [differently] based on race or religious denomination or sexual preference. I don't care! As long as you're not sleeping with my wife, I don't care who you sleep with."
In the wake of Schilling's insensitive comments, ESPN released a statement saying, "ESPN is an inclusive company. Curt Schilling has been advised that his conduct was unacceptable and his employment with ESPN has been terminated." In response to the firing, Schilling explained his position.
"I tell people this: it's a job, not a member of my family," he said. "I'm lucky, I've been so blessed in my life to be able to experience and do the things I've done. And if that job meant I had to continue doing it to put a roof over the head of my family and food on the table, I'm probably acting a little differently than I did. I get it, a lot of people can't, or won't, jeopardize what they do for a living to be espoused to the things they believe in. I'm not that guy, I'm not dependent on other people to support my family for the rest of my life."
Schilling also called out Bruce Springsteen and Bryan Adams for cancelling concerts in North Carolina and Mississippi.
"Hypocrisy, I don't think it's ever been as rampant as it is today, and that makes me mad," he said. "Bruce Springsteen, this guy's a hero for some reason, right? He cancelled a concert in North Carolina over this bill. Is he gonna cancel all his concerts forever in Italy where same-sex marriage is against the law? Or in the Middle East, where they behead and execute people that aren't heterosexual? Bryan Adams, same thing. Or is this just a stance of convenience, like, 'Yeah, I can skip North Carolina and people will love me for doing it.'"
To listen to Schilling's full interview with Breitbart News Daily, click here.
For a free 30-day trial, check out siriusxm.com/freetrial.
---
---
---