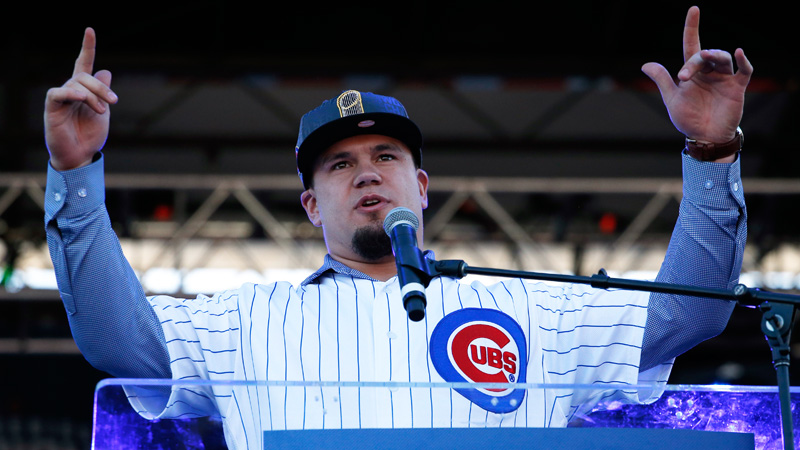 Chicago Cubs' Kyle Schwarber speaks during a celebration honoring the World Series champions at Grant Park in Chicago, Friday, Nov. 4, 2016. (AP Photo/Nam Y. Huh)
Chicago Cubs outfielder Kyle Schwarber joined Evan Cohen & Mike Babchik on Morning Men Monday to talk about the whirlwind week since winning the World Series, his comeback from a "season-ending" injury and, most importantly, the story behind the Cubs' unique celebration of bumping groins after a big hit.
Let's tackle that last subject first. According to Schwarber, "you gotta play baseball to get it."
He added: "Nothing's too weird…if we come up with something stupid, why not?"
Why not, indeed, World Series champ.
Schwarber was also asked about the unlikely process of being able to play in the World Series. According to Schwarber, he wasn't exactly cleared to play, but his doctor didn't stop him, either. One phone call to Cubs president Theo Epstein later and the promising young star found himself with the huge opportunity.
We know what happened next: The Cubs, against all odds, came back from 3-1 down to win the World Series in seven games. Since then, Schwarber has been going non-stop.
"Nothing ever tops this, ever. I don't remember the last time I went on a four- or five-day bender," Schwarber said.
Catch Morning Men every weekday from 6 to 10 a.m. ET on Mad Dog Sports Radio, Ch. 82.
---
---
---