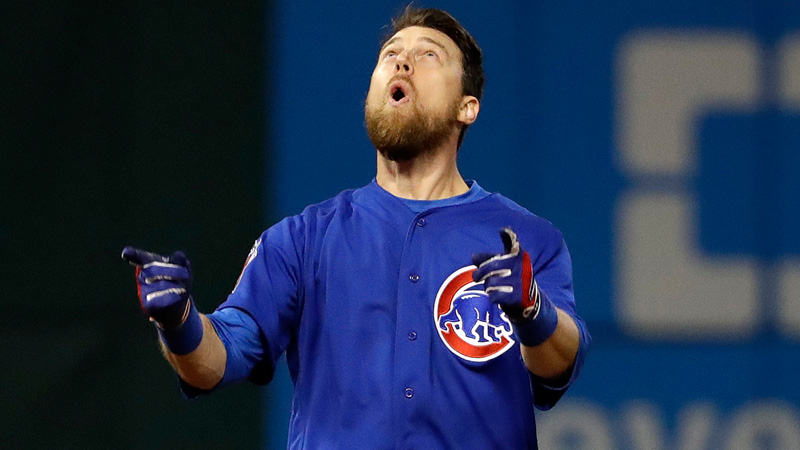 AP Photo/David J. Phillip
The Chicago Cubs have killed the curse, capturing their first World Series title in 108 years in a dramatic Game 7 against the Cleveland Indians that took extra innings to decide.
Ben Zobrist proved to be the hero in the tenth inning with a huge RBI double that broke a 6-6 tie. Miguel Montero added to the lead with a single that scored Anthony Rizzo.
The final score ended 8-7 after Rajai Davis, already impacting the game in a major way in the eighth inning, hit an RBI single with two outs.
It was just one of countless tense moments in the nearly-five hour long contest.
With just four outs standing between the Cubs and MLB's top crown, the game appeared to spiral out of control as a worn-down Aroldis Chapman gave up a three-run lead, including a two-run bomb to Rajai Davis. With the game knotted at 6-6, the skies decided to open up and the umpiring crew called for a rain delay after consulting with the grounds crew and crew chief. Heightening the theatrical drama of this game the rain delay further steeled the North Siders resolve according to wunderkind/Cubs president of baseball operations, Theo Epstein: 
Despite two errors committed early on and a wild pitch that cost a couple of runs later on, the Cubs' bats came alive once again and helped minimize any self-inflicted wounds. Dexter Fowler opened the game with a solo shot, Javier Baez added another, and in his last game David Ross took Andrew Miller deep in the sixth inning.
The Indians did not go quietly, though. Taking advantage of every Chicago mistake, Cleveland ran the bases aggressively and took advantage of tired pitching from Chicago relievers.

Kris Bryant was overcome with emotions following the win, saying he is the "luckiest guy on the planet." All year, he said his team always believed in themselves.
"We never give up, we fight back," Bryant said.
For the 37th time in MLB history the Fall Classic went to a Game 7. After Cleveland's pitching had essentially subdued the mighty bats of Chicago through five games of this World Series, the Cubs offense, powered by Addison Russell, came to life to the tune of nine runs at Progressive Field in Game 6. Chicago's offensive explosion started in the first inning with a Kris Bryant solo homer and continued through the course of the game as the scrappy Indians did their best to claw back against Jake Arrieta and then Aroldis Chapman.
Cleveland came within inches of a rally for the ages in the bottom of the seventh as Francisco Lindor nearly beat out Aroldis Chapman to first on a dribbler. It was all for naught as an umpire's review reversed the call and the inning closed. After that it was all but inevitable for this epic match to turn to a seventh and deciding game.
Here's a quick look at some World Series Game 7 facts and figures:

Photo Credit: AP Photo/David J. Phillip
---
---
---