Crimson Tide keeps on rolling in Chris Carlin's top 10 college football picks
Chris Carlin shares his top 10 weeks as we head into Week 7 of the college football season.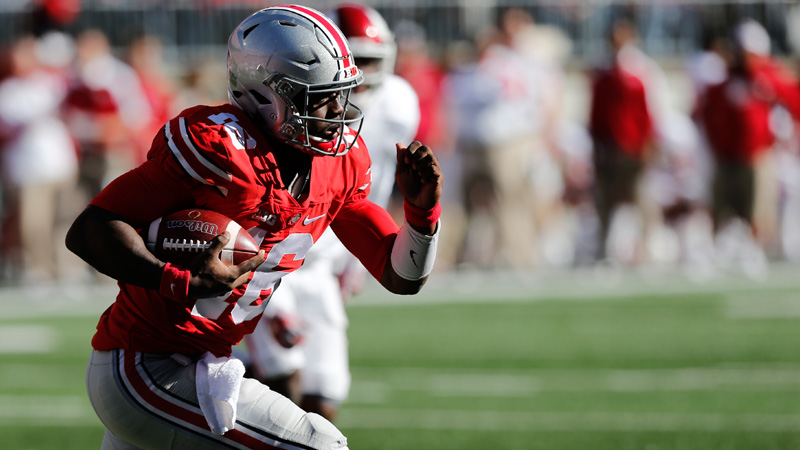 Ohio State quarterback J.T. Barrett plays against Indiana during an NCAA college football game Saturday, Oct. 8, 2016, in Columbus, Ohio. (AP Photo/Jay LaPrete)
Halfway through the college football season and Alabama remains the king of the country, but there are still a lot of great teams vying for the crown. Each week, College Sports Nation host Chris Carlin will break down his top contenders and what to expect out of them heading into this weekend in the 2016 college football season. 
College Football Top 10 Rankings
10: Nebraska Cornhuskers (5-0)
Quarterback Tommy Armstrong has been playing at a high level this season, most notably when it comes to turnovers. Compared to last season's 16 interceptions, Armstrong has been much more careful with the ball this year with only 2 picks. They'll face a tough task this weekend as they head to Indiana to take on the Hoosiers and their high-powered offense.
9. Tennessee Volunteers (5-1)
Even in a loss, the Vols showed a lot of guts by coming back from a big deficit to challenge Texas A&M in overtime. Unfortunately, there's not much reward as they now head home to take on No. 1-ranked Alabama. While they will obviously be focused on causing an upset, Tennessee needs to make sure they don't completely get their "doors blown off" if they want to be considered a very good team.
8. Wisconsin Badgers (4-1)
When you have a defense as good as the Badgers, that's all you need to claim the No. 8 spot. Of course, that defense will be put to the test this week as the visiting Ohio State Buckeyes roll into town. Expect this to be a low-scoring affair that will likely come down to whether or not the Buckeyes can fluster freshman quarterback Alex Hornibrook.
7. Louisville Cardinals (4-1)
It's been a couple of weeks since the Cardinals suffered a tough loss to Clemson, so expect them to take out some aggression out on poor Duke at home.
6. Texas A&M (6-0)
We already mentioned their overtime win against the Vols last weekend, but we also have to talk about rookie running back Trayveon Williams who is averaging more than 100 yards per game. Quarterback Trevor Knight has also been a steady leader for this Aggies offense. They are on a bye this weekend, which should help them prepare for Alabama on Oct. 22.
5. Washington Huskies (6-0)
The path is there for the Huskies to make it to the College Football Playoff. With several top 10 teams playing each other in the coming weeks, Washington has a chance to move up the ranks and be there at the very end. They have a bye week this weekend, and will face Oregon State the following week.
4. Michigan Wolverines (6-0)
The Wolverines absolutely destroyed Rutgers last weekend, proving again they are an extremely physical team that will be tough for anyone to contain. They are also on a bye week before returning to play against Illinois.
3. Clemson Tigers (6-0)
Have the Tigers hit their stride after looking a little uneven to start the season? It will be hard to gauge this week as they take on North Carolina State this weekend – though they'll likely be riding high after defeating Notre Dame last weekend.
2. Ohio State Buckeyes (5-0)
The Buckeyes face another tough test this weekend when they meet the Wisconsin Badgers on the road. Still, Chris Carlin thinks Ohio State is an elite team that will be there at the end at the College Football Playoff.
1. Alabama Crimson Tide (6-0)
No real reason to go away from the Crimson Tide as they have taken care of business so far this season. Expect that to continue when they take on Tennessee this weekend, even if the game is still somewhat close in the third quarter.
Still craving more college football talk? Listen to College Sports Nation on Channel 84. Photo Credit: AP Photo/Jay LaPrete
---
---
---