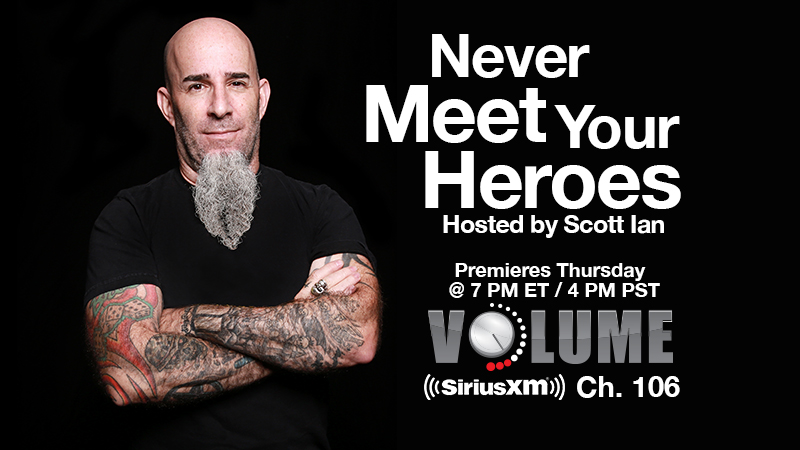 Scott Ian and Corey Taylor have known each other for a very long time, so when Taylor joined Ian for the first episode of his show Never Meet Your Heroes on SiriusXM VOLUME (Ch. 106), their conversation felt like two old friends catching up.
Ian described Taylor, the lead singer of Slipknot and founding member of Stone Sour, as "the hardest working man in metal." Taylor discussed how growing up in Iowa influenced his pursuit of making music, Slipknot's insane performance antics and much more from his incredible career. But the conversation took a sobering turn when Taylor candidly discussed his battles with alcoholism.
After Slipknot's successful second album Iowa in 2001, Taylor went back to Stone Sour to record the band's self-titled debut album in 2002. Things were seemingly going great in Taylor's life, but all that did was fuel an ego that led him down a destructive path.
"There was a huge war going on in my head, and that kind of fed the booze," he said. "That fed a lot of my issues with drinking and s**t because I had given up drugs when I was a teenager so that wasn't an issue for me, but the booze was really the anchor that I [still had]. I had bulls**ted myself into thinking that I couldn't go on stage without it like, 'It's good luck.' Such addict bulls**t."
Stone Sour's first album featured the single that brought them into the mainstream, Bother. The song meant a lot personally to Taylor, who wrote the lyrics, but its success further fed his ego.
"Bother really was for me, that was me trying to prove that I could still contribute something," he said. "I've never been as good a guitar player as anybody in Slipknot and I'm OK with that, but the stuff that I was writing was so much more the Stone Sour side of stuff that suddenly it was filling this void that I didn't even realize that I had. So that really kind of allowed me to kind of feel good about what I was doing but then that fed the ego and I just became that lead singer douchebag, which honestly I wish I wouldn't have been but at the same time I'm glad that I went through it, because I wouldn't be who I am now if I hadn't."
Taylor wasn't shy about describing what was going on in his mind.
"This switch would kind of go off in my head and I would either be just completely oblivious to who I was or who I was talking to or I would just be vicious, really selfish, really just dark attitude, sh**ty, selfish, just bulls**t, just ego s**t," he said. "To this day, there are still a lot of friends of mine who are like, 'If you ever fall off the wagon don't call me, dude.' So I know it's in me, and I think that's the difference between me and a lot of other people is the fact that I can at least admit it."
Taylor has been sober since 2006, and Ian praised him for that, noting that so many musicians produce better music while they're under the influence and have a slip in quality during their sobriety. Ian called Taylor "an exception to that rule," saying he was still able to create great music after becoming sober.
"I think it's because, and you could probably relate to this, it's because I still want to do it," Taylor explained. "I think a lot of guys, once they stop having the lifestyle, they don't want to be musicians anymore because either A) that's the whole reason they got into it in the first place, or B) it's too much of a reminder of the fact that they can't live that way anymore."
He continued: "Honestly, I think you either really want to do it or you don't. For me, that's never changed, I just let booze get in the way for a while and then I kind of pulled myself out of it. I feel like I'm doing my best work now, to be honest."
Never Meet Your Heroes airs monthly on VOLUME (Ch. 106) on Thursdays at 7 p.m. ET.
For a free 30-day trial, check out http://www.siriusxm.com/freetrial/blog.
---
---
---