Common talks new album, short films while guest-hosting Sway in the Morning
Common filled in as the guest host of Sway In The Morning on Thursday.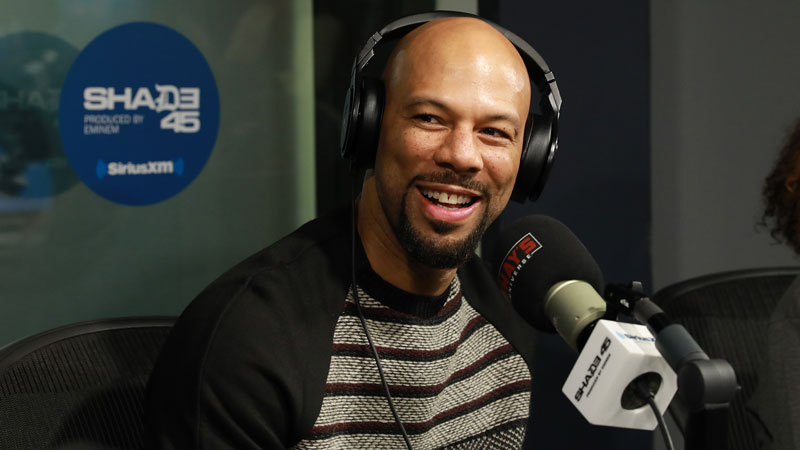 With Sway Calloway off on a European excursion, Common filled in as the guest host of Sway in the Morning on Thursday and discussed his new album and upcoming films.
Common's eleventh studio album Black America Again was released on Friday and the Chicago rapper previewed some new songs while sitting in the host's chair. Heather B. praised the album before asking Common about his budding acting career.
Common recently starred in Barbershop: The Next Cut and has appeared the films Selma and Suicide Squad. He'll also be on the big screen in the upcoming film John Wick: Chapter 2 starring Keanu Reeves.
"I'm geeked about that, we just finished that up over the weekend," he said of shooting the movie.
Common also mentioned his role in an upcoming indie film directed by Archer voice actress Judy Greer. Besides his acting roles, the artist is expanding into other areas of the film business. He was most excited about the heavy-hitters he brought in to direct short films that coincide with his new album.
"Ava DuVernay directed a film, Ava who did Selma and The 13th on Netflix," he said. "Gina Blythewood who did Love & Basketball, Kasi Lemmons who did Eve's Bayou, and Malcolm Lee who did Barbershop and Best Man, they all did these short films to Black America Again. And Bradford Young, who was the [director of photography] on Selma and all these great movies and he's about to [work on] Star Wars. I got some real good filmmakers working on the project."
Common, who won an Academy Award for Best Original Song, also touched on the hilarious moment when he accidentally left Oprah hanging at the 2015 Oscars. "I thought she was about to give John [Legend] some love, so I didn't wanna play myself. So I saved myself and went over to David Oylelowo. But I'd never play Oprah," he said, laughing.
For a free 30-day trial, check out http://www.siriusxm.com/freetrial/blog.
---
---
---