Did you know these 5 comedians have GRAMMY Awards for Best Comedy Album?
From Tiffany Haddish to George Carlin, give a standing ovation to some of the recipients of the lesser-known GRAMMY categories.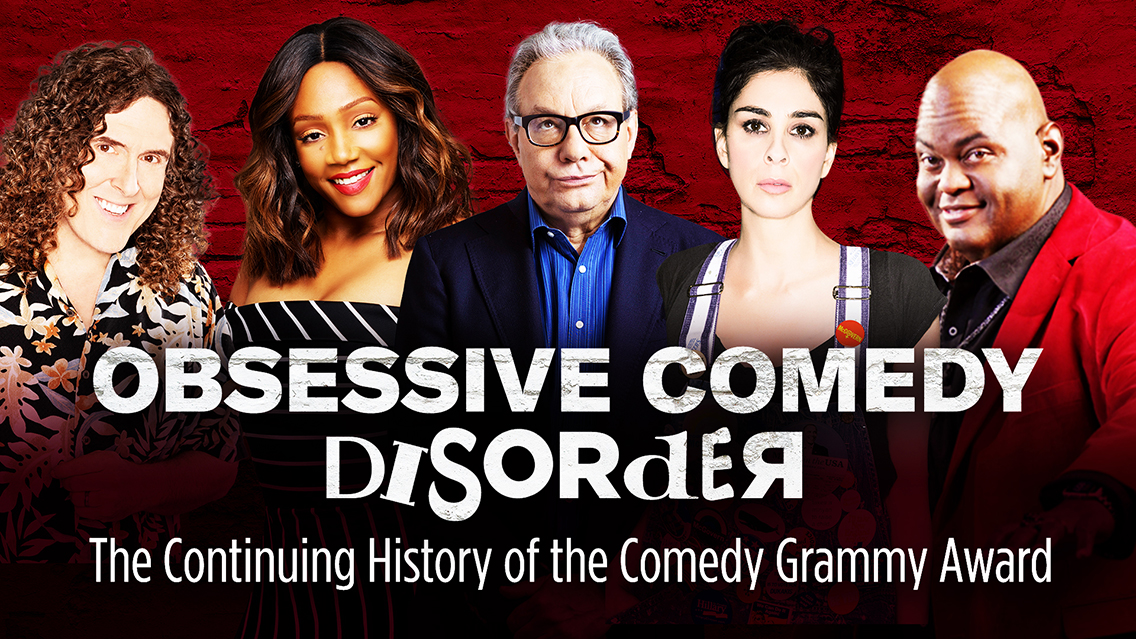 While the GRAMMY Awards are most often associated with celebrating music's biggest and brightest stars, like Billie Eilish, Lil Nas X, Foo Fighters, Silk Sonic, Doja Cat and more, Music's Biggest Night has also been honoring comedians' artistic achievements since 1959.
---
Related: Celebrate Music's Biggest Night with music & interviews from GRAMMY nominees
---
The audio documentary Obsessive Comedy Disorder and host Dan Pasternack take a deep dive into this lesser-known fact with stories and audio clips from nominees and winners themselves to bring everyone up to speed on the history of one of the longest-standing major awards to recognize excellence in comedy. This year's Best Comedy Album nominees include Kevin Hart's Zero F***s Given and Chelsea Handler's Evolution, but did you know the five prolific comics below are also GRAMMY winners?

Bob Newhart
In 1961, comedy legend Bob Newhart was the recipient of not one, not two, but three comedy GRAMMYs for Best New Artist, Best Comedy Album and Best Album of the Year. This marked two firsts (and one last) for the award show: The first comedy album to win Album of the Year (The Button-Down Mind of Bob Newhart) and the only time a comedian has ever won Best New Artist. Prior to winning, however, Newhart was hardly the icon he's known as today — it was this first album and its subsequent success that skyrocketed him to comedy fame.
Tiffany Haddish
Tiffany Haddish experienced her comedy breakthrough in 2017's Girls Trip and hasn't slowed down since. While her projects have included everything from writing a memoir to making cameos in music videos (and even appearing in a Taylor Swift documentary), she's never strayed far from her comedic roots, which resulted in her winning Best Comedy Album for Black Mitzvah at the 2021 ceremony, which she found out about in the middle of filming her Kids Say the Darndest Things reboot.
Lewis Black
Lewis Black has the distinct honor of inspiring a Pixar character voice based on his comedy rants, which led to his casting as Anger in 2015's Inside Out. Black also has the distinct honor of receiving a Best Comedy Album GRAMMY for The Carnegie Hall Performance in 2007 and Stark Raving Black in 2011. Throughout his stand-up set, he references material from his autobiography and touches on topics like Rick Santorum, same-sex marriage and aging in his signature biting, bombastic style.
"Weird Al" Yankovic
Not only has "Weird Al" Yankovic most likely parodied many of your favorite GRAMMY winners, but he's a five-time GRAMMY winner himself. Between his 1984 Michael Jackson spoof taking on a picky child to a 15-album career-spanning box set in 2019, Yankovic has won awards for Best Comedy Recording, Best Concept Music Video, Best Comedy Album (twice) and Best Boxed or Limited Special Limited Edition Package.
George Carlin
It's hard to discuss comedy without a mention of George Carlin, who has long since served as the blueprint for countless comics of both today and yesterday. And he has the awards to back it up — Carlin has won five GRAMMYs and been nominated 16 times, making him the most-nominated and second-most-awarded comedian. Carlin's storied career earned him the title "dean of counterculture comedy," contributed to the 1978 F.C.C. v. Pacifica Foundation Supreme Court decision and earned him the spot as the first-ever host of Saturday Night Live (among countless other achievements).
---
Ahead of Sunday's show, hear from the above comics, plus archival clips with George Carlin and interviews with his daughter, Kelly, in the three-part Obsessive Comedy Disorder special. The documentary also features words from nominees Jim Gaffigan, Fred Armisen, D.L. Hughley, Sarah Silverman and Lavell Crawford (who very well could win this weekend).
---
---