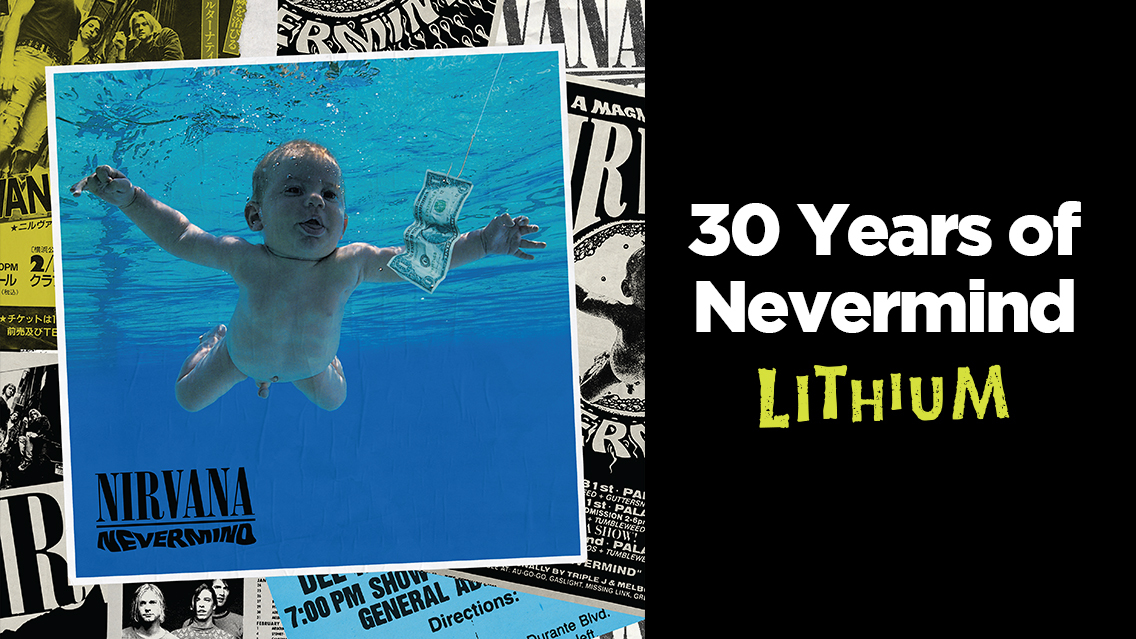 In honor of Nirvana's Nevermind, celebrate 30 years of the quintessential '90s grunge album during the week of September 20 with specials on Lithium (Ch. 34) and the SXM App.

All week long, the channel will feature encores of the 'Nevermind' Town Hall with band members Dave Grohl and Krist Novoselic, as well as producer Butch Vig, at the times below.
'Nevermind' Town Hall  Broadcast Schedule
September 21 at 6pm ET
September 22 at 2pm ET
September 23 at 11pm ET
September 24 at 9am and 7pm ET
September 25 at 1pm and 10pm ET
September 26 at 10am and 8pm ET
---
Also, catch Kurt Cobain remembrances, exclusive interviews, and more dedicated to the timeless record — which was released on September 24, 1991 — on the SXM App. Nevermind served as one of the defining albums for '90s hard rock and the Seattle grunge scene, serving as inspiration for countless artists today. The below specials can all be heard by searching "Nirvana" on the SXM App.
'Nevermind' 25 Live
Hear David Fricke and Jenny Eliscu hosting a 2.5-hour live call-in show with listeners, important figures from the band's inner circle, and more.
Kurt Cobain's 50 for 50
In honor of Nirvana's late, historical frontman, Jenny Eliscu guides listeners through 50 songs from Kurt's favorite 50 albums (as written in his personal journal) to celebrate the 50th anniversary of his birth.
Kurt Cobain: 25 Years After
Rock journalist and SiriusXM host David Fricke is joined by Danny Goldberg — former Nirvana manager and author of the book Serving The Servant: Remembering Kurt Cobain — to celebrate life, legacy, and music of the pop-culture icon 25 years after his death.
FUZZ by Lithium
Grant Random curates a 2.5-hour deep dive into the distortion-laced world of grunge in commemoration of the anniversary of Kurt's birthday. Hear an exclusive program dedicated to the Seattle sound as popularized by the band.
---
---