College Sports Nation's Basketball and Beyond with Coach K returns for 12th season
Coach K is back! San Antonio Spurs head coach, Gregg Popovich, is his first guest in season 12.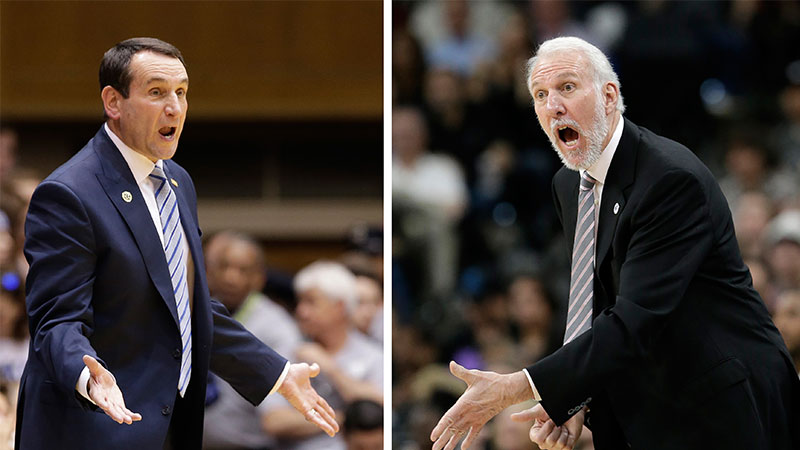 Mike Krzyzewski, the Hall of Fame head coach of the Duke University Blue Devils and this year's Olympic Gold Medal-winning USA Basketball Men's National Team, will host the season premiere of his weekly SiriusXM show, Basketball and Beyond with Coach K, today at 6:00 pm ET on College Sports Nation (Ch. 84.) Coach K's guest on the season opening episode will be San Antonio Spurs head coach Gregg Popovich, who will succeed Krzyzewski as head coach of the USA Basketball Men's National Team for the 2017-20 quadrennium.Here's a quick cut of Pop and Coach K discussing the transition between these two coaching legends.
Basketball and Beyond is entering its 12th season on SiriusXM and features Coach K and co-host Dave Sims interviewing successful people from many different walks of life, including sports, pop culture, politics and more. Some of the high profile guests who joined Krzyzewski on the program last season included MLB Commissioner Rob Manfred, Villanova head coach Jay Wright, Washington Nationals star Bryce Harper, Big 10 Commissioner Jim Delany, Chicago Cubs manager Joe Maddon, Cleveland Cavaliers guard Kyrie Irving, 2016 Daytona 500 winner Denny Hamlin and many others.
"We're always excited to launch a new season with Coach K. The insight, knowledge and experiences that Mike and his special guests share with SiriusXM listeners every week is extraordinary, and unlike anything else in radio," said Scott Greenstein, SiriusXM's President and Chief Content Officer.
Over more than four decades as a head basketball coach, 36 years at Duke University, Coach K has built one of the greatest coaching resumes in sports history. A member of the Naismith Basketball Hall of Fame since 2001, he is the all-time winningest head coach in NCAA Men's Division I basketball history with 1043 victories, and he led Duke to its fifth NCAA Championship title in 2015. This summer Krzyzewski coached the USA Basketball Men's National Team to its third consecutive Olympic gold medal in Rio. Under Coach K as national team head coach, USA Basketball compiled an 88-1 overall record. The latest championship was the 11th gold medal won by the U.S. with Coach K as either a head coach or assistant coach.
In addition to Coach K's program, SiriusXM carries live play-by-play coverage of Duke basketball games throughout the season. SiriusXM is the leading broadcaster of live college sporting events and offers play by play from the ACC, Big Ten, Big 12, Big East, Pac 12, SEC, American Athletic Conference and other NCAA Division I conferences. Here's Coach K's initial thoughts on the Blue Devils' upcoming season: 
(AP Photo/File)
---
---
---