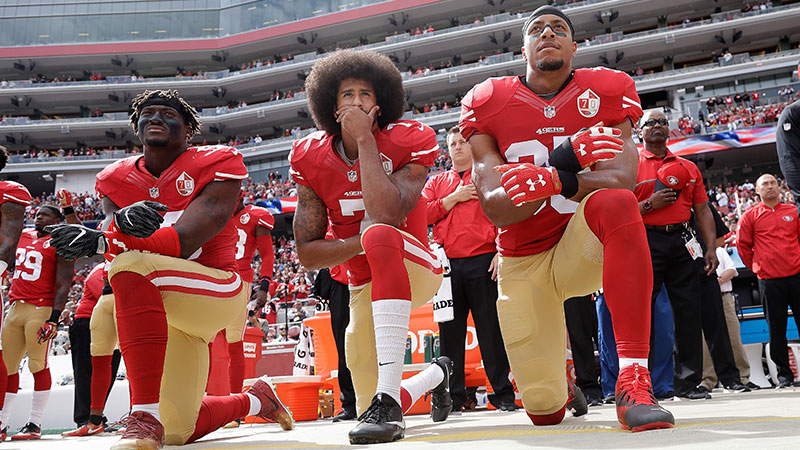 (AP Photo/Marcio Jose Sanchez, File)
Following their dominating, shutout victory over the LA Rams in Week 1, the San Francisco 49ers have lost four games in a row. Mind you, they've faced the Seattle Seahawks and Arizona Cardinals, no defensive slouches there, in two of those losses but it's clear that the Niners offense with Blaine Gabbert is not getting the job done. Enter Colin Kaerpernick, the political lightning rod of a quarterback, who as recently as three seasons ago was quarterbacking San Francisco in the NFC Championship game.
For the Niners, Chip Kelly, their fans and everyone else in the org, Kaepernick's return should be approached with a cautious optimism. Kelly's strengths have always been centered around squeezing the most out of mobile quarterbacks with the ability to punish defenses on the ground or through the air. Kap is, in a sense, the perfect QB for a Kelly-coached offense. Whether or not reality pans out that way for San Fran the rest of the season, Kaepernick should be excited to start and has one million reasons to take every advantage of his re-insertion as the Niners' signal caller. Yes, we're talking about the $1M clause in Colin's restructured contract with the team. If Kap hits his play-time marks for the season, he's gonna be a $1,000,000 richer.
Here's NFL Radio's Brady Quinn talking about Kaepernick's "overdue" return to the gridiron: 
Be sure to stay up on all NFL news with SiriusXM NFL Radio and catch the 49ers-Buffalo Bills game live on NFL Radio this Sunday.  (AP Photo/Marcio Jose Sanchez, File)
---
---
---