Get Ready for Coachella with SiriusXM: Day 3
Coachella Day 3 features performances by Frank Ocean, WILLOW, GloRilla, and more.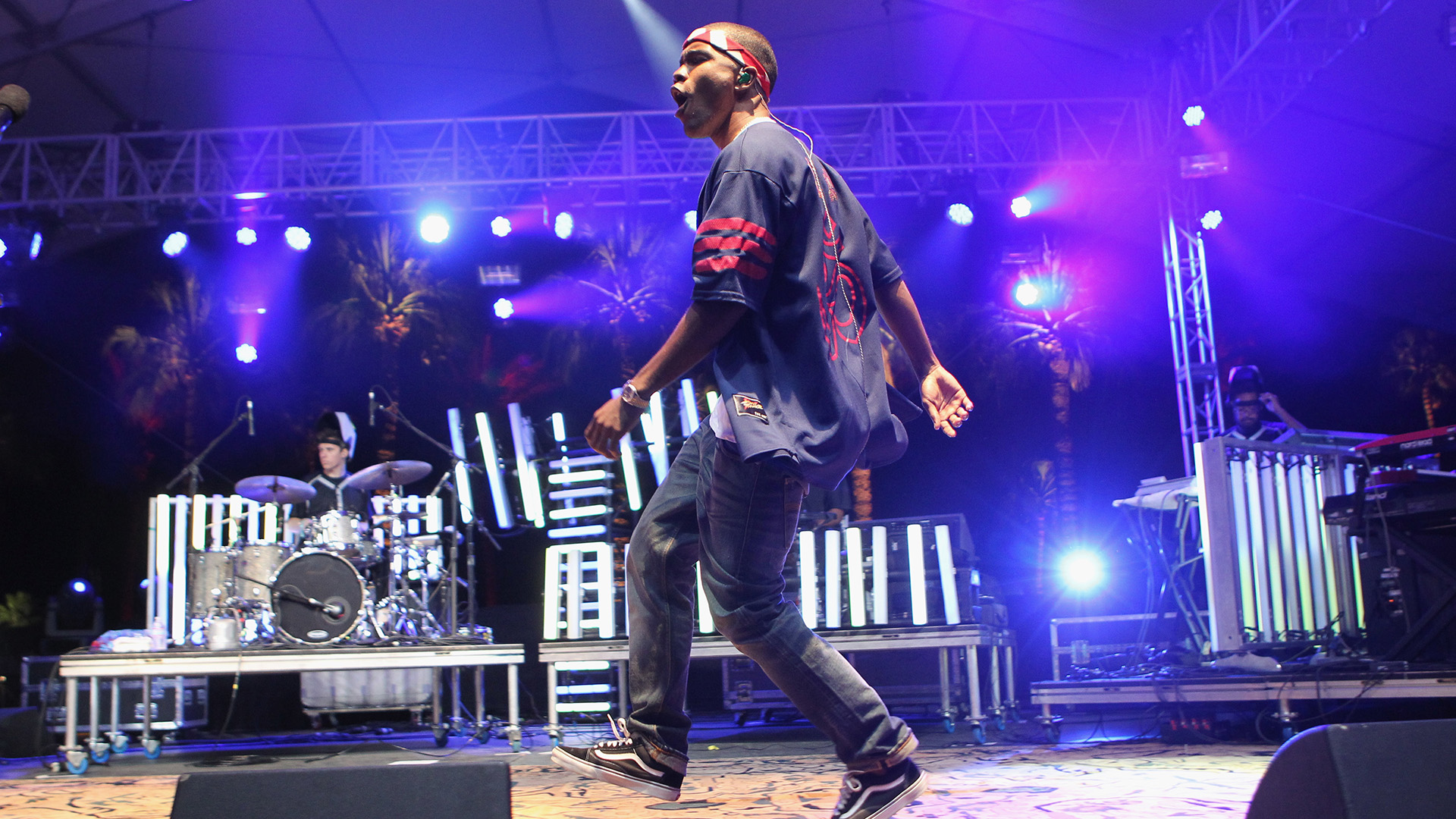 Photo by Karl Walter/Getty Images for Coachella
Can you believe it's already the last day of the Coachella weekend? This first week has seen extraordinary performances from some of the world's biggest artists, and today is sure to be no different. (Missed Day 2? Catch up here.)
Yes, your feet might be starting to ache after dancing non-stop for two days, but you'll forget all about it as soon as these sets begin. From a headliner who hasn't released an album in seven years to the Icelandic star of '90s new wave pop, there's so much to enjoy today. Feeling overwhelmed? Don't worry, we've got the run-down you need.
You can listen to all these artists and more on SiriusXM; just browse our channel guide to find your perfect sound.
---
All of the biggest hits from the 2010s are playing over on The 10s Spot (Ch. 11)
---
Frank Ocean
The final headliner of Coachella 2023 is the ever-elusive Frank Ocean. One of the highest-rated artists of his generation, Ocean's last album Blonde was released way back in 2016. Before that was 2012's Channel Orange, an innovative R&B and soul album that earned him his first Grammy Award. This year marks his second time in the desert after first appearing in 2012 (he was also on the bill for the canceled 2020 show). He's spent the last few years launching a clothing brand, working as a photographer for fashion magazines, and releasing untitled singles; so there's been much speculation as to whether this festival appearance means new music from the singer.
You can hear Frank Ocean and more hip-hop and R&B on The Heat (Ch. 46).
A Boogie Wit da Hoodie
This year marks the Bronx native's first time on the Coachella line-up, and his set is hotly anticipated. After hitting number one on the Billboard 200 in 2018 with his album Hoodie SZN, his star has steadily risen. In recent years he's seen popularity on TikTok and beyond, with his 2023 tour selling out in minutes. Boogie has also collaborated with big names like Ed Sheeran, Kodak Black, and H.E.R., and his high-energy performance will surely have everyone on their feet.
Head to the link below to watch A Boogie Wit da Hoodie's performance of "Startender" at the SiriusXM studios.
Björk
The eccentric Icelandic singer is returning to Coachella for the first time since 2007. After releasing the album, Fossora, in 2022, Björk will likely be touching on new work alongside her iconic back catalog. Whether you've been a fan since her '90s rise or are ready to discover one of the coolest artists, this set will have what you're looking for. Expect incredible costuming, unbelievable vocal range, and one of the most visually striking sets of the whole weekend.
You can hear Björk and the new artists she has inspired on SiriusXMU (Ch. 35).
Dominic Fike
Fresh off his acting debut on HBO's Euphoria, Dominic Fike is making his first appearance at Coachella this year. The alternative hip-hop star had the first play of his hit song "3 Nights" on Alt Nation (Ch. 36) in 2018, and released his debut album, What Could Possibly Go Wrong, two years later to critical acclaim. Since then, he's released "Elliot's Song" from Euphoria and collaborated with Paul McCartney, so there's a lot of excitement over what he'll perform during his set.
Listen to the '90s rock that inspired Dominic Fike's sound on Lithium (Ch. 34).
GloRilla
This Tennessee rapper has seen wild success in the past year with her singles "F. N. F. (Let's Go)" and "Tomorrow 2," the latter of which featured Cardi B. This will be her first performance at Coachella, and you might spot the crowd doing the dance to "F. N. F. (Let's Go)" that went viral on TikTok last year!
Check out GloRilla's interview with SiriusXM below.
Kali Uchis
Switching between English and Spanish in her songs with ease, Kali Uchis has quickly become a staple of the modern R&B genre. This is her second visit to Coachella and comes hot on the heels of her most recent album, Red Moon in Venus, which was released last month.
Listen to Kali Uchis and other Latin hits on Viva (Ch. 763).
Porter Robinson
2023 will be Porter Robinson's fourth appearance at Coachella. The electronic artist is a long-time collaborator of Skrillex, who mentored him at his label in the early 2010s. The pair have even just released a new single together titled "Still Here (with the ones that I came with)." His tunes are instantly iconic and encapsulate the EDM sound we all know and love — if you think you don't know Robinson's music, think again.
For all your electronic and dance music needs ahead of Porter Robinson's set at Coachella day 3, tune in to BPM (Ch. 51).
Rae Sremmurd
Returning to Coachella seven years after their first performance, this duo's set is hotly anticipated. They've just released a new album, Sremm4Life, their first since 2018. Even if you're not a fan, you'll remember their hit single "Black Beatles (ft. Gucci Mane)," which featured in 2016's viral Mannequin Challenge — though it's unlikely the crowd will be standing still during this performance!
There's plenty more where Rae Sremmurd came from on Hip-Hop Nation (Ch. 44).
WILLOW
Making her Coachella debut, WILLOW's set promises to be a performance you don't want to miss. The singer has been releasing music since the age of 10, with her first single, "Whip My Hair," hitting number 2 on the UK charts. Her career since then has been full of experimental pop and alternative R&B. Moreover, her impressive body of work has successfully made her a well-known artist in her own right; far away from the glare of her parents' star power, and her stage presence is something to behold.
Find out what WILLOW put on her SiriusXM mixtape in the video below.
---
Head to SiriusXM for all your music and entertainment needs this weekend and beyond. Be sure to also check out our coverage of Coachella day 3.
---
---
---