Get Ready for Coachella with SiriusXM: Day 1
Coachella Day 1 features artists like Bad Bunny, Blondie, Pusha T, Yungblud, and more.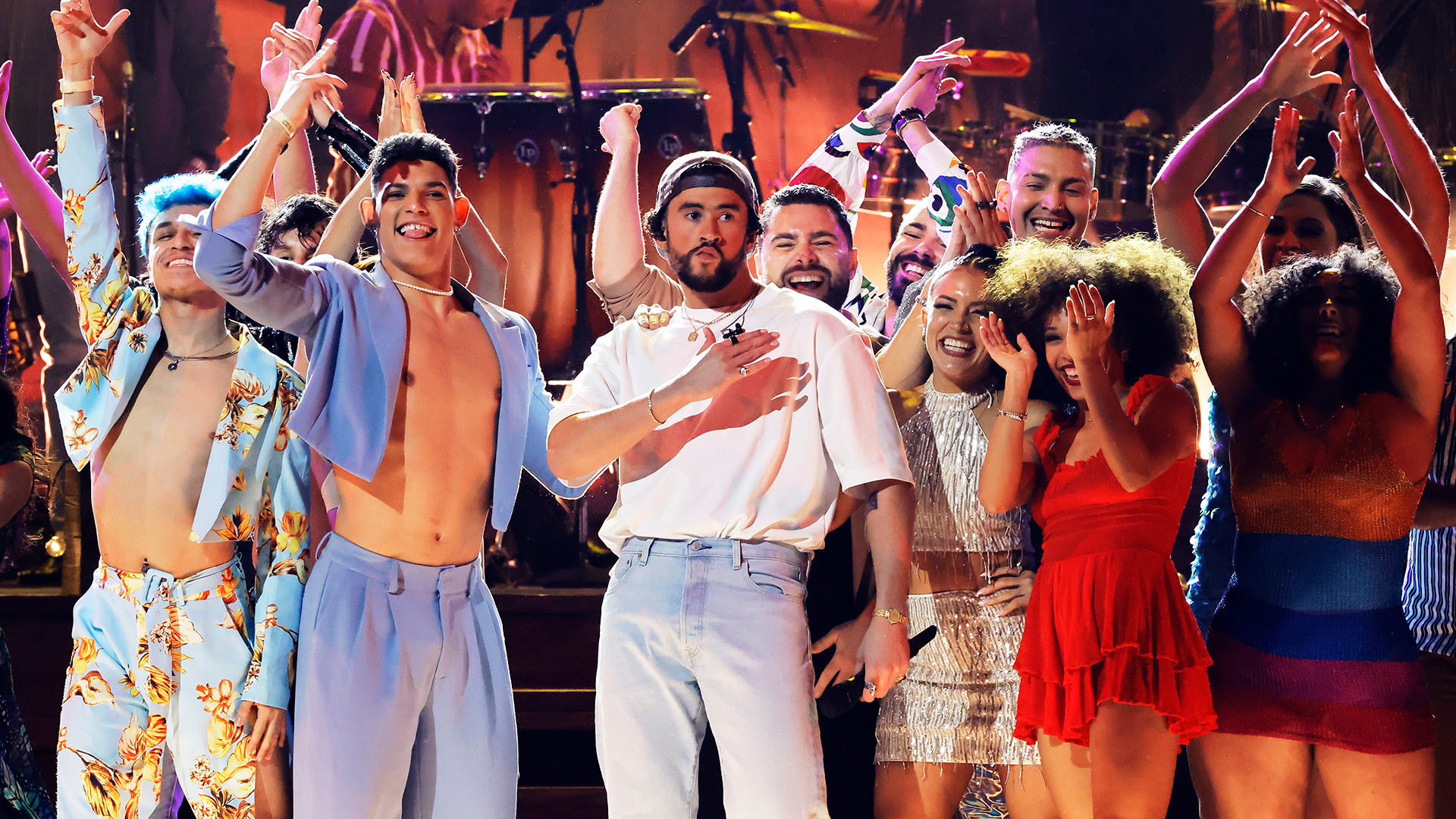 Photo by Kevin Winter/Getty Images for The Recording Academy
Coachella 2023 is here! This iconic festival spans two consecutive weekends (April 14–16 and April 21–23 this year) and is a staple of the musical calendar.
As always, we expect this sun-soaked celebration to make headlines. From Harry Styles bringing out Shania Twain to Beyoncé delivering a documentary-worthy performance, you can guarantee there will be something to talk about! Whether you're paying more attention to the music or the outfits, it's a festival like no other.
This year sees a lineup that spans genres and generations, so we've put together your ultimate Coachella 2023 cheat sheet. Read on to learn more about the acts that will be gracing the desert sands and head to SiriusXM for even more music and entertainment.
---
From pop to hip-hop & everything in between, SiriusXM Hits 1 (Ch. 2) plays today's top hits
---
Bad Bunny
This Puerto Rican rapper had a wildly successful 2022, and he's taking that energy into 2023 as Coachella's Friday headliner. With three Grammys and nine Latin Grammys to his name, this set is hotly anticipated. Expect great outfits and possibly some political messaging in Bad Bunny's performance, as he has been a vocal supporter of LGBTQ+ rights and campaigned fiercely for humanitarian aid for Puerto Rico in the wake of Hurricane Maria. Whether you're a die-hard fan or just looking for the perfect end to Friday night, this performance will be nothing short of iconic.
Tune in to Caliente (Ch. 151) for your fix of Latin music and culture, and watch Bad Bunny's SiriusXM interview below!
Becky G
This California native is returning to the desert after appearing as Karol G's special guest last year. This is her first official set at Coachella, and it promises to be one of the best dance parties of the festival! Becky G's iconic Latin hip-hop beats blend perfectly with her strong pop vocals to create tunes you'll be humming all weekend.
Enjoy Latin pop hits galore on Viva (Ch. 763), and hear more from Becky G in her interview with SiriusXM:
Blondie
Debbie Harry's new wave rock band defined the alternative sound of the '70s and '80s, and they're back to inspire a whole new generation. This will be their first-ever Coachella performance, following a tour of the US and UK in 2022. The band's most recent album, Pollinator, was released in 2017, but it's likely this set will be a nostalgic throwback to the classic Blondie tracks you know and love. Grab your favorite miniskirt and box of hair bleach and get ready to rock out.
Listen to Blondie and their new wave contemporaries on 1st Wave (Ch. 33).
Burna Boy
This Nigerian singer and producer is returning to Coachella after first appearing in 2019. That year he publicly called out the organizers for the size of his name on the line-up poster, as it was comparatively smaller than other artists he believed to be of the same caliber as him. Fans will be glad to put this tension in the past as the Afrobeats icon has seen his popularity skyrocket in the years since his last Coachella set. With a slew of award wins to his name and his latest album Love, Damini breaking records across the world, this is a highly anticipated performance.
Hear more Afrobeats and Reggae on Bob Marley's Tuff Gong Radio (Ch. 19), and check out more from Burna Boy with Sway Calloway below!
Gorillaz
Damon Albarn's virtual band will be returning to Coachella 13 years after their last official appearance. Last year, Damon appeared as a surprise guest of headliner Billie Eilish to perform "Feel Good Inc." alongside De La Soul, which gave us a taste of what to expect in this year's set. The cartoon quartet has just released a new album titled Cracker Island, which features many famous faces such as Stevie Nicks and fellow Coachella performer Bad Bunny. Could one of these big names be a special guest? Only time will tell…
If you're a fan of Gorillaz, there's plenty more new and classic alternative rock on Alt Nation (Ch. 36).
Metro Boomin
Famous for his tag "If young Metro don't trust you, I'm gon' shoot you," heard at the start of songs he's produced, Metro Boomin is a staple of modern hip-hop. He's collaborated with some of the most famous artists of the last decade such as Nicki Minaj, 21 Savage, The Weeknd, and Travis Scott. Whether any of them will be popping up during his set remains to be seen, but it's likely this performance will be one that hip-hop fans do not want to miss.
You can hear Metro's iconic tunes on The Heat (Ch. 46).
Pusha T
Originally performing with his brother in the duo Clipse, Pusha T has been in the music industry since the early '90s. Mentored by Pharrell Williams, the rapper signed to Kanye West's imprint in 2010 but stepped back last year following the singer's controversial statements. Pusha T released his fourth studio album It's Almost Dry in early 2022, which debuted at the top of the Billboard 200, and held a listening party in New York City aptly named "Cokechella." This is his third appearance at the festival after being on the lineup in 2013 and 2019, and his set is sure to be full of the best hits from his catalog.
All the classic hip-hop sounds you love are playing on Hip-Hop Nation (Ch. 44)!
The Chemical Brothers
This electronic music duo are Coachella OGs, as they played the festival in its very first year. The 1999 lineup featured around 100 acts over just one weekend and took place in October. Time has passed, but the impeccable Coachella vibe has remained the same! The Chemical Brothers recently released a new single titled "No Reason," and we can't wait to hear more. If you're looking for classic '90s big beat bangers, this is one set you don't want to miss.
Listen to more '90s and 2000s dance tracks on Utopia (Ch. 341).
Wet Leg
We can't wait for these Coachella first-timers! The British indie rock duo's self-titled debut album went straight to the top of the UK Albums Chart upon its release last year. They already have two Grammys and two Brit Awards under their belts. And if that's not enough, the video for their debut single "Chaise Longue" has 10 million views on YouTube! Clearly, Wet Leg are already dominating the indie scene, so make sure you catch their set before they go stratospheric.
Hear the artists that influenced Wet Leg's sound on Indie 1.0 (Ch. 714).
YUNGBLUD
After bursting onto the scene in 2018 with his debut album 21st Century Liability, YUNGBLUD has taken the world by storm. He combines punchy pop-rock and punk sounds with strong political messaging — for example, his song "Polygraph Eyes" tackles sexual assault. Known for his outlandish antics on stage and striking outfit choices, you won't be able to ignore this set!
Hear more like YUNGBLUD on Faction Punk (Ch. 314).
---
Check out the SiriusXM channel guide to find the perfect sound for your weekend, whether you're partying in the desert or recreating the vibes at home.
---
---
---