CNN's Jake Tapper admits 'there are times when you can see a sort of [media] bias in the race'
"There is a tremendous amount of distrust in the political system, and it's not necessarily misplaced distrust," CNNs Tapper admitted to Dan Rather.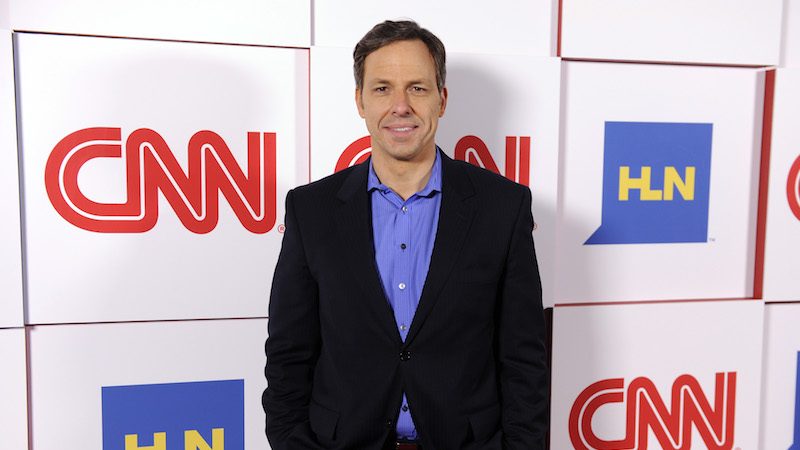 FILE – In this Jan. 10, 2014 file photo, Jake Tapper of CNN poses at the CNN Worldwide All-Star Party in Pasadena, Calif. Tapper, the third new host of a Sunday morning public affairs show to debut within the past year, says he hopes to attract viewers who want a little more depth to their political interviews. Tapper starts Sunday on "State of the Union," which airs at 9 a.m. ET and is repeated three hours later. He replaces Candy Crowley. (Photo by Chris Pizzello/Invision/AP, File)
In an election in a year where distrust runs deep, whether it be with the media or the entire political system, even veteran political reporters have struggled to be completely unbiased. On Dan Rather's America Tuesday, CNN's Jake Tapper explained to the news anchor that he doesn't totally disagree with the public perception of bias.
"There is a tremendous amount of distrust in the political system, and it's not necessarily misplaced distrust," Tapper admitted. "When people say that the fix is in–whether they're on the left or right–sometimes they're right, sometimes they're correct."
He revealed having told then-Democratic presidential candidate Bernie Sanders that, "big money does rule the day" and "there are undo influences in Washington, D.C. that effect legislation, etc."
Tapper added, "I think the skepticism and the hatred of Washington is not necessarily the wrong attitude. But that doesn't mean that every institution is crooked or every institution ins to be distrusted."
When it comes to media bias, Tapper explained that Donald Trump's candidacy has "put reporters in an awkward situation" since he's "his own breed of cat. "
"This is somebody who is saying things that are beyond the pale," Tapper added about the difficulty for reporters covering the Trump campaign. "It's as if almost, if you are in favor of decency, meaning don't punch down, don't make ethnic slurs, don't attack individuals with insane conspiracies theories, you know just basic modems, basic modules of human behavior, accepted adult human behavior, that somehow you're bias, I don't accept that. I don't think it's fair."
When reflecting on covering past campaigns (this is Tapper's fifth presidential campaign), he explained he "think[s] there are times when you can see a sort of bias in the race, and it's completely subjective."
"In 2000, I kind of thought that the press was a little bit pro-Bush. I thought that the reporters covering Gore were tougher then the reporters covering Bush. And whether that was happenstance or purposeful – I thought that, that was a bias."
He continued, "I thought the press, I thought they leaned on the scales a little bit for Obama both in 2008 and 2012."
As for the 2012 election, "my opinion – and it's worth nothing – but my opinion was, I thought the press was a little unfair [to Romney]."
Tapper also weighed in on new emails revealed by Wikileaks sent by then CNN political commentator Donna Brazile. The documents show that she had sent along questions to the Clinton campaign that were to be asked at a CNN town hall debate between Clinton and Sen. Bernie Sanders.
"That by the way, is the kind of thing that feeds into the idea that 'you can't trust any of them, it's all crooked, it's all rigged.' And that's one of the reasons why so many Americans distrust the media and everybody in Washington because they think this kind of thing happens all the time," Tapper said. "And as you known it doesn't. And it really, really upset me. And it's upsetting me now just thinking about it."
"And you know what, shame on the Clinton campaign for accepting it also, by the way. But I guess we're not supposed to expect much from politicians these days either."
And what states is Tapper going to keep his eye on come election night?
"If you asked me this a month ago, I would have said Pennsylvania… I wouldn't say that anymore," Tapper admitted about his home state. "It looks like Pennsylvania is going to go blue as it has every presidential year since 1988."
He continued explaining why he's paying special attention to North Carolina because it's "a real neck-and-neck state that could go either way" and Ohio for the opposite reasons.
"Donald Trump is favored to win Ohio, so if Hillary Clinton were to win Ohio… that's all she wrote," Tapped said. "If Hillary Clinton wins Ohio, then that's going to be it."
Dan Rather's America airs Tuesdays at 10am ET on Radio Andy (Ch. 102)
Photo by Chris Pizzello/Invision/AP, File
For a free 30-day trial, check out siriusxm.com/freetrial/blog
---
---
---