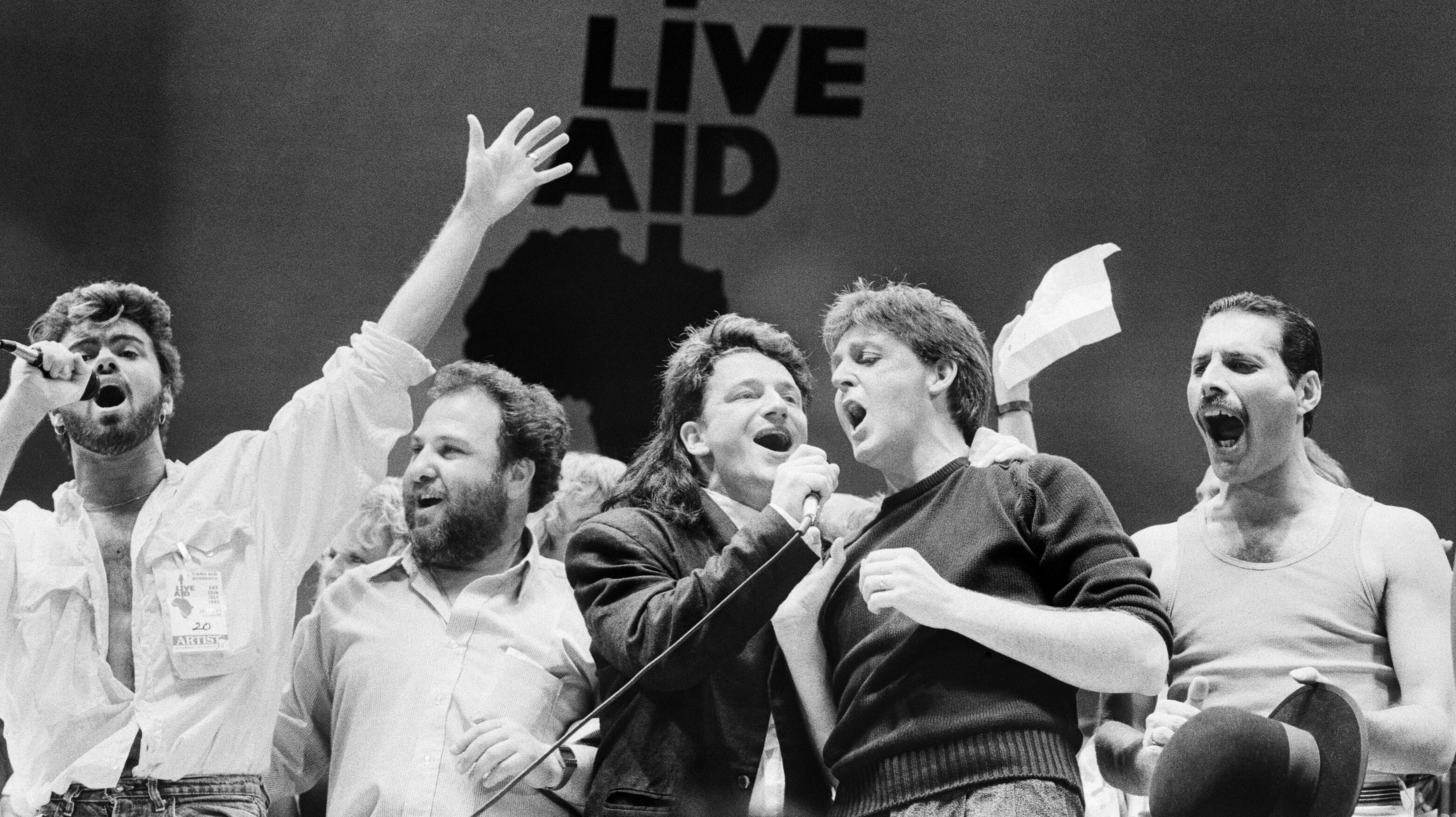 It's that time of the year! Festive hits have been coming out of the woodwork, worming their way back onto our playlists and getting stuck in our heads. A number of artists who hit the charts during the holidays never quite reached those dizzying heights again, so we thought we'd put on our coziest hats and scarves and take a walk through this winter ONEderland (Ch. 702) to make the most of the season. Read on for our picks of some of the most iconic Christmas one-hit wonders!
The Waitresses — "Christmas Wrapping" (1981)
A more non-traditional Christmas favorite, we couldn't keep this one off this list! Songwriter Chris Butler said he liked "the idea of the word 'wrap,' like a wraparound," because of how the story told in the lyrics ties itself together at the end. There's also a bit of wordplay going on in the title, with it calling back to the 1979 Kurtis Blow song "Christmas Rappin'" as well as being a play on wrapping presents. It's essentially a triple pun, and we can't wait to tell everyone at our work Christmas party about it!
Eartha Kitt — "Santa Baby" (1953)
"Santa Baby" hit No. 4 on the US charts, and none of Kitt's other songs ever came close to that position. Later covered by the likes of Kylie Minogue and Taylor Swift, Kitt's sultry, iconic hit feels timeless and its impact is undeniable. Michael Bublé's 2011 cover included several lyric changes, such as calling Santa "buddy" instead of "baby," and trading a sable for a Rolex. No matter which version you prefer, the track provides a great outline for what to ask for from Santa — after all, what Christmas list would be complete without asking for a platinum mine?
Jona Lewie — "Stop the Cavalry" (1980)
Lewie's "Stop the Cavalry" has become a cornerstone of Christmastime playlists around the world. Originally intended to be an anti-war song, the line "I wish I was at home for Christmas" caught the attention of Lewie's record company, leading them to add tubular bells and lean in on gearing the song toward the holiday season. Fun fact: The festive-sounding brass on the track was provided by a Salvation Army band. Who knew such a politically-charged song would catch on and be such a hit?
---
Related: 10 Alternative Christmas Songs for an Anything-But-Traditional Holiday
---
Peter Auty — "Walking in the Air" (1982)
Welsh chorister Aled Jones saw chart success and longevity with this song from The Snowman, but he wasn't actually the first to sing the wintry ballad, nor was he the voice heard in the film. Instead, Peter Auty was the original angelic voice behind the soundtrack, though his name was left out of the credits until the film was remastered in 2002 for its 20th anniversary. Neither Jones nor Auty have managed to recreate the success of the song elsewhere in their careers, though both have continued to work in music.
Band Aid — "Do They Know It's Christmas" (1984)
Featuring a veritable who's who of popular musicians of the era, the supergroup Band Aid came together to raise money to fight the Ethiopian famine. The single is reported to have raised over $9.5 million in the twelve months after its release, and other supergroups such as Band Aid 20 and Band Aid 30 were inspired by the original to use music to fundraise for other important causes. Despite the success, the original group never released another single.
Bobby Helms — "Jingle Bell Rock" (1957)
This one's not quite a one-hit wonder, as Helms had two No. 1 hits with "Fraulein" and "My Special Angel," but all three of his biggest successes charted in the same year. Maybe we can coin a new term to celebrate his career — a one-year wonder, perhaps? Either way, "Jingle Bell Rock" is far and away his most enduring track, perhaps helped by Mean Girls bringing the song to a new generation with their iconic talent show scene. We'll be merrily bopping along to it all the way up until January!
Honorable Mention: Mariah Carey — "All I Want For Christmas Is You" (1994)
Okay, okay — obviously, Mariah Carey has had many hits over the years, but the astronomical success of this one particular Christmas hit means it feels worth a mention nonetheless. "All I Want For Christmas Is You" has essentially eclipsed the rest of her discography; it made Carey synonymous with Christmas because of just how popular it is, meaning it's very possibly the one and only song that a lot of people associate her with. While we can't technically call her a one-hit wonder, this one hit of hers certainly is a wonder!
---
For one-hit wonders year-round, be sure to give ONEderland (Ch. 702) a listen, and tune in to our holiday channels to hear some of these festive one-off hits in the meantime!
---
---
---