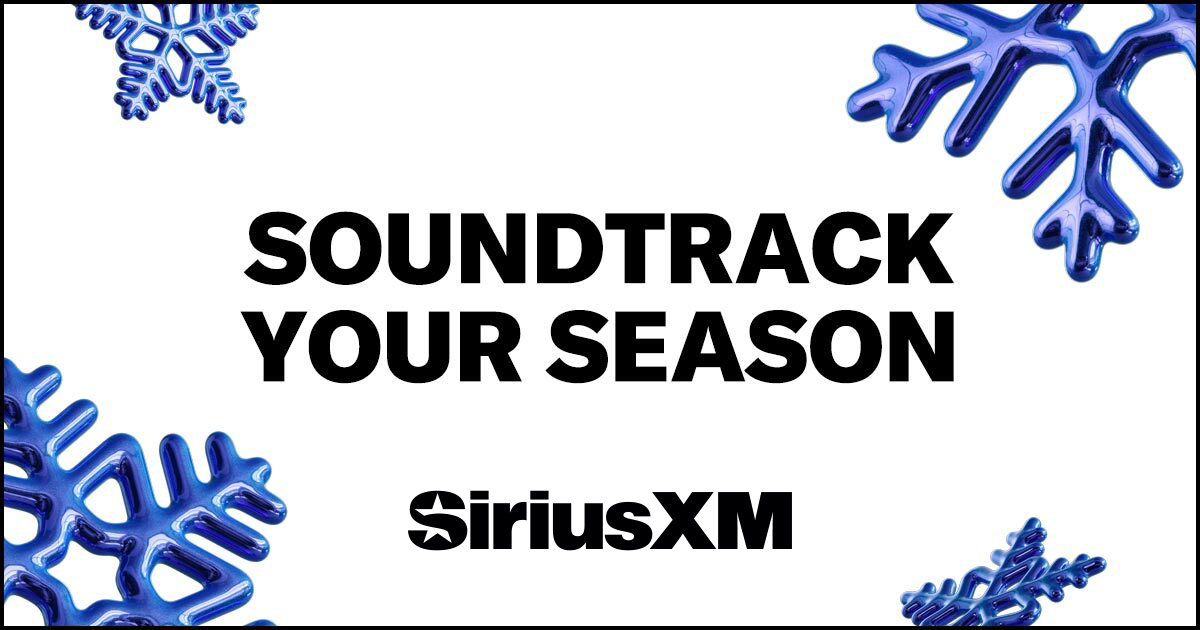 When Does SiriusXM Start Playing Christmas Music
SiriusXM's entire lineup of holiday channels officially returns to satellite and the SiriusXM app starting on November 8, 2023. You can expect to hear fan-favorite Christmas music channels spanning decades and genres, plus a few special new ones to be unwrapped.

Year-Round Christmas Music on SiriusXM
In the world of Christmas music, let SiriusXM be your merry maestro, guiding you through the holiday season with expertly crafted playlists and festive spirit. But why wait until December? It's never too early to start celebrating. Let the jingles and joy fill the air now, and kickstart the most wonderful time of the year.
Our official year-round channel for holiday music, Holiday Traditions (Ch. 602), is available 24 hours a day, 365 days a year for the biggest Christmas fans around. You'll hear traditional holiday recordings from the '40s, '50s, and '60s by artists like Bing Crosby, Andy Williams, Ray Conniff, and Nat "King" Cole.
LISTEN NOW: Holiday Traditions on the SiriusXM app and web player.
The moment you start listening to Holiday Traditions spinning your favorite festive tracks, it's as if Santa's elves are already hard at work getting everything ready at the North Pole. So go ahead, be an early bird — no judgment here! Tune in, and let those jingles remind you of the magical season ahead.
What Channel is Christmas Music on SiriusXM
We know that nothing feels more classically Christmas than listening to Christmas music on the radio. If you're ready to indulge in those catchy carols, dance to the jingling bells, and embrace the magic, our holiday channels have you covered. Cheers to a season filled with love, laughter, and a whole lot of ho-ho-holiday tunes!
New Channels This Year
Trans-Siberian Orchestra Radio
Dive into the realm where rock pushes classical boundaries, where holiday classics fuse with powerful electric guitars, and where a diverse array of vocals come together to create storytelling like no other. Hear the band's iconic Christmas discography, exclusive concert recordings, original shows hosted by band members, and much more.
SiriusXM app: November 8–December 26
Sleep Christmas
Drift off to meditative versions of classic Christmas melodies and stay well-rested throughout the holidays with Sleep Christmas.
SiriusXM app: November 8–December 26
Channels Available on Your Radio & App
Jolly Christmas
Upbeat, energetic holiday hits from everyone from The Chipmunks and Gene Autry to Mariah Carey and Jose Feliciano. Feel-good sing-along songs, bringing smiles to the season.
Channel 105: November 8–December 26
SiriusXM app: November 8–December 26
Holly
Modern holiday hits featuring songs by Mariah Carey, Michael Bublé, Dean Martin, Kelly Clarkson, Pentatonix, Josh Groban, John Legend, Brenda Lee, Train, Gwen Stefani, and more.
Channel 79: November 8–December 26
SiriusXM app: November 8–January 8
Holiday Traditions
Traditional holiday recordings from the '40s through the '60s.
Channel 71: November 8–December 26
SiriusXM app: Year-round
Hallmark Channel Radio
Celebrate the holidays with Hallmark Channel, featuring timeless Christmas music and carols 24/7.
Channel 107: November 8–December 26
SiriusXM app: November 8–December 26
Country Christmas
Generations of country artists — including George Strait, Carrie Underwood, and Willie Nelson — come together with both classic and contemporary holiday songs.
Channel 58: December 6–December 26
SiriusXM app: November 8–December 26
Holiday Pops
Classical Christmas carols and holiday favorites performed by the greatest classical artists of all-time
Channel 78: December 24–December 25
SiriusXM app: November 8–December 26
Acoustic Christmas
Unplug from seasonal stress with a warm blend of acoustic holiday tunes. Relax to Christmas-themed songs from artists including Taylor Swift, Phoebe Bridgers, Kacey Musgraves and The Lumineers alongside a diverse array of emerging singer-songwriters.
Channel 17: December 24–December 26
SiriusXM app: November 8–December 26

Holiday Soul
Classic soul and Motown holiday music from the '60s and '70s along with R&B holiday music from the '80s, '90s, and today, including Aretha Franklin, Temptations, James Brown, Lou Rawls, Smokey Robinson, Dionne Warwick, The Jackson 5, The Four Tops, The Supremes, John Legend, Boyz II Men & many more.
Channel 74: November 8–December 5
SiriusXM app: November 8–December 5

Christmas Spirit
Christmas music from contemporary Christian artists. Where the reason for the season is not just remembered, He's celebrated!
Channel 63: December 6–December 26
SiriusXM app: November 8–December 26
App-Exclusive Channels
Navidad
Latin holiday music & traditional sounds from Ricky Martin, Gloria Estefan, Jose Feliciano, and more.
SiriusXM app: November 8–January 8
'70s/'80s Holidays
Popular sing-a-long holiday hits from the '70s and '80s.
SiriusXM app: November 8–December 26
Rockin' Xmas
Classic Christmas songs that ROCK — including hits, rarities, and live tracks.
SiriusXM app: November 8–December 26
Holiday Chill-Out
Chill out for the holidays with downtempo electronic holiday music.
SiriusXM app: November 8–December 26
Real Jazz Holiday
Jazz up the holiday season with swinging Christmas songs played by classic and contemporary jazz artists.
SiriusXM app: November 8–December 26
Mannheim Steamroller Channel
Mannheim Steamroller takes holiday classics in a refreshing new direction with their signature blend of symphonic, new age, and rock sounds of the season.
SiriusXM app: November 8–December 26
Holiday Instrumentals
Holiday hits without the words. The words are replaced with instruments!
SiriusXM app: November 8–December 26
Cool Jazz Christmas
Jazzing up the season with the coolest contemporary jazz instrumentals and smoothest vocal holiday classics.
SiriusXM app: November 8–December 26
Jingle Jamz
A channel dedicated to the hip-hop and R&B artists of today who made their own brand of holiday music between 1990–2022, including Whitney Houston, Mariah Carey, TLC, Run DMC, Toni Braxton, John Legend, Mary J. Blige, and Alicia Keys.
SiriusXM app: November 8–December 26
Kids Christmas
Christmas music kids love! Jingle all the way with a family-friendly mix of holiday classics and today's most festive tunes.
SiriusXM app: November 8–December 26
Noël Incontournable
Holiday music channel featuring Francophone Christmas classics and contemporary holiday hits from the '60s to today with music from Ginette Reno, Bruno Pelletier, and Laurence Nerbonne.
SiriusXM app: Year-round
---
---
---