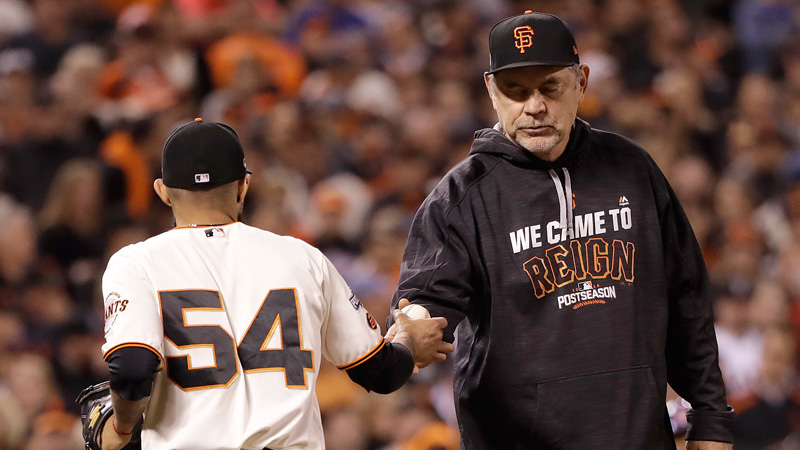 San Francisco Giants manager Bruce Bochy, right, takes the ball from pitcher Sergio Romo (54) during the ninth inning of Game 4 of baseball's National League Division Series against the Chicago Cubs in San Francisco, Tuesday, Oct. 11, 2016. (AP Photo/Marcio Jose Sanchez)
The Giants were three outs away from forcing Game 5 in the NLDS against the Chicago Cubs on Tuesday night before San Francisco manager Bruce Bochy "over-managed this game to death," according to MLB Network Radio's Mike Stanton.
Heading into the ninth inning with a 5-2 lead, Bochy pulled starting pitcher Matt Moore and called on his bullpen to deliver the knockout blow.
They did not.
First Derek Law, then Javier Lopez, then closer Sergio Romo, then Will Smith, and finally, Hunter Strickland to record out No. 3. By then the Cubs had done their damage, scoring 4 runs to take a 6-5 lead. Cubs closer Aroldis Chapman ended the series emphatically by striking out the side.
"I'm not sure why he started with Law, I'm not sure why he went to Lopez, then to Romo," Stanton said shortly after the game had ended. "If Romo is your closer, then he starts the ninth inning."
Co-host Jim Memolo agreed, calling on the fact that Tuesday night was a common sight for those who have watched the Giants all season. With 30-plus blown saves on the year, Memolo said it was simple over-management of a bullpen that hasn't produced any consistency this year.
On the flip side, he said, "this Cubs team, they just squeeze out gold." They now await the NLDS Game 5-winner between the Los Angeles Dodgers and Washington Nationals on Thursday night.
For the latest on the MLB playoffs, listen in on MLB Network Radio Ch. 89, Sirius 209. Photo: AP.
---
---
---