Check out Business Radio's brand-new programming schedule
SiriusXM Business Radio (Ch. 132) has a whole new lineup of shows and programming to help you understand your business, your money, and your life.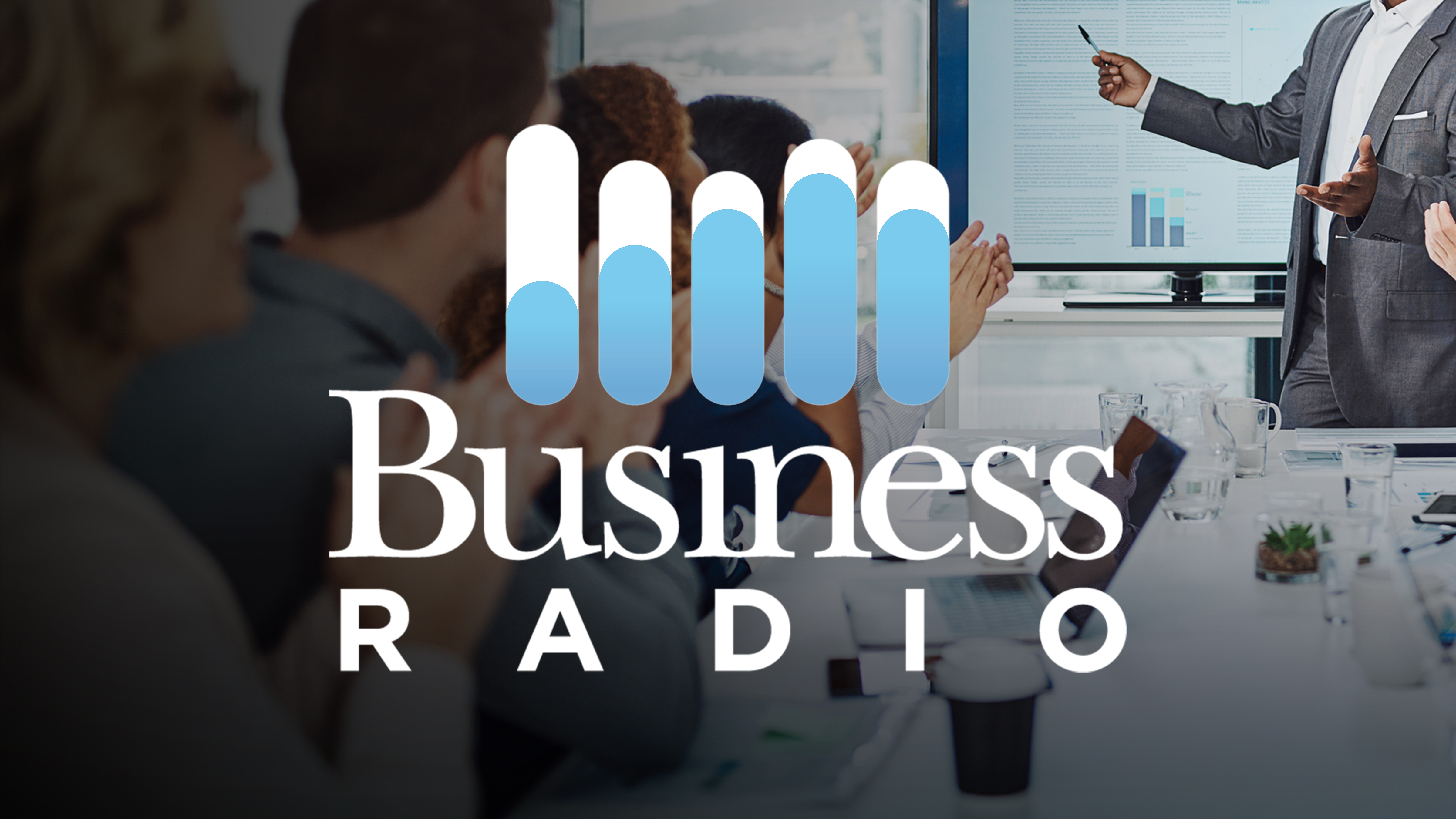 SiriusXM Business Radio (Ch. 132) has a whole new lineup of shows and programming to help you understand your business, your money, and your life. Check out all the great new content below!

---
Daily Shows
---
Wharton Business Daily (LIVE Monday – Friday 10-12pm ET) – Hosted by Dan Loney, Wharton Business Daily will cover the top stories each day through the lens of how they affect business and will regularly feature Wharton faculty and alumni discussing topics that include marketing, social impact, entrepreneurship and workplace culture
Dave Ramsey (LIVE Monday – Friday 1-5pm ET) – The Dave Ramsey Show is about life and how that happens to revolve around money. Real life – the way it really happens every day in America. Our listeners are looking for truth, for real answers, for hope. They respond to Dave's tough love and appreciate the straight-talk.
---
Weekly Shows
---
Mondays
Launch Pad (5-6pm ET) – Have a great idea for a new product? Starting a business for the first time? Learn the ins and outs of raising the money you need and making the connections that count. Broadcasting from Wharton's San Francisco, in the heart of the venture capital world, hosts Professor Karl Ulrich and Rob Coneybeer, both successful entrepreneurs, will share their secrets and interview the best in the business.
KindredCast (6-7pm ET) – KindredCast brings you news, views and insights from the world of media and technology. Produced and curated by leading independent TMT investment bank LionTree, the show features in-depth conversations with other industry leaders. You'll get the inside scoop on the dynamics driving media and tech, insights into the future and even some life lessons.
Tuesdays
Help Wanted (12-1pm ET) – Help Wanted is a weekly show about how to deal effectively with incivility, unprofessional behavior and difficult work situations. Hosts Jody Foster, a Clinical Professor of Psychiatry at the Perelman School of Medicine, and Sean Burke, Associate General Counsel at the University of Pennsylvania, take your questions and examine the art of recognizing, understanding and managing disruptive behaviors in the workplace and teach how to avoid dysfunctional interactions that can lead to workplace fiascos.
Your Money (5-6pm ET) – Saving for college tuition, planning for retirement or doing your taxes? Should you look into an IRA? Get practical advice on your personal finances from Professor Kent Smetters. Find out what today's headlines mean for your pocket.
Leadership Series (6-7pm ET) – See Below for show details
Wednesdays
Wharton Money Ball (8-10am ET) – Sports is a game of numbers. Statistician experts Eric Bradlow, Shane Jensen, Cade Massey, and Adi Wyner team up to tackle the world of sports, from current events to long-standing issues such as: What sports streaks are the most impressive? How do you rank the best players? Can athletes be compared across sports? Wharton Moneyball explains how decision-makers in the game can avoid the common mistakes and embrace the data.
Randi Zuckerberg Means Business (12-1pm ET) –  A fun, entertaining, educational, and approachable way to discuss all of the latest trends and topics in technology, and how they're affecting our modern lives. Drawing on years of experience in the tech sector as an entrepreneur and mother, Randi Zuckerberg will provide a forum for discussion and delve into the latest high-tech innovations for kids, parents and even pets, examining what is new in technology that can be incorporated into our daily lives.
Marketing Matters (5-6pm ET) – Each week, Wharton Marketing Professors Barbara Kahn and Americus Reed, along with their expert guests, discuss marketing and advertising trends, consumer behavior, the latest in retail marketing, brand-building and break down the most cutting-edge research happening in the field.
Thursdays
Women at Work (9-10am ET) – Women @ Work is dedicated to the discussion and discovery of innovative practices for personal and system change to help more women join, stay, succeed, and lead in the workplace.
Career Talk (12-1pm ET) – Building a meaningful career is never easy. And sometimes finding a mentor or affording a career coach can be just as difficult. That's why Business Radio is bringing you Career Talk, a call-in career advice program hosted by Dawn Graham, Director of Career Management for the Executive MBA Program at Wharton.
Work and Life (5-6pm ET) – Career, family, community, and your private self (mind, body, spirit) – do you have to choose?  Professor Stew Friedman, host of "Work and Life," explores how to create greater harmony among the different parts of your life and improve performance in all of them. Tune in as Stew and leading experts discuss how we can live the lives we want in ways that benefit our businesses, our families, our society, and ourselves.
Trailblazers (7-8pm ET) – We tell the unexpected stories of digital disruption. Listen in as Walter Isaacson, digital revolution expert, explores the unknown drama behind some of the world's biggest digital disruptions, the daring trailblazers willing to think differently, and the lessons learned along the way. Brought to you by Dell Technologies.
Fridays
Leadership in Action (9-10am ET) – Whether you are running a small family business or a large public company, being in charge has its own set of challenges. Each week, hosts Professor Michael Useem, Jeffrey Klein and Anne Greenhalgh invite business leaders from top organizations to reveal the steps to effective leadership. It's more than just what you say and how you say it. Do you have what it takes to influence others and achieve high results?
Behind the Markets (Fri 12-1pm ET) – Anyone can follow the ups and downs of Wall Street numbers — but on Behind the Markets get the insight you need to make the calls that will make or break your business. Host Jeremy Schwartz is joined each week by Wharton Finance Professor Jeremy Siegel, the author of Stocks for the Long Run and The Future for Investors. They discuss the how and why behind the market's performance, and talk with leading economists and market strategists about what's ahead for the economy and your portfolio.
Decoding Tech (6-7pm ET) – Based upon Andreessen and Horowtiz's popular podcast, a16z, Decoding Tech will be a carefully curated hour featuring the best interviews from the podcast's archives paired with a brand new conversation on everything from technology and culture trends to cryptocurrency, artificial intelligence, and the future.
Saturdays
Success without Stress with Bob Roth (8-9am ET) – Transcendental Meditation expert from the David Lynch Foundation hosts a one-hour, monthly show that looks at how meditation helps individuals and society.
Stanford Shows (10am-12pm ET) – Stanford Radio, a collaboration with the esteemed university, features four radio programs, granting subscribers access to the sharpest minds in the fields of technology and education. "The Future of Everything" focuses on engineering, science and technology; "School's In" focuses on teaching, learning and education; "Stanford Pathfinders" tells stories from distinguished Stanford Alumni; and "Stanford Legal" explores the legal issues of our days.
Aspen Ideas to Go (1-2pm ET) – Aspen Ideas to Go is a show about big ideas that will open your mind. Featuring compelling conversations with the world's top thinkers and doers from a diverse range of disciplines, Aspen Ideas to Go gives you front-row access to the Aspen Ideas Festival and other events presented by the Aspen Institute.
Leadership Series (Air monthly)
Making a Leader – Award-winning interviewers Pattie Sellers and Nina Easton bring listeners up close and personal with the world's extraordinary achievers. No leader is a born leader — so, how do you learn paths to success? And how do you create lasting impact? Sellers and Easton, who have spent three decades interviewing world-changing entrepreneurs and leaders for Fortune and other major media, dig deep to understand sources of greatness and the ways leaders learn from one another.
Leadership Matters – Join business advisor Alan Fleischmann for conversations with innovators, visionaries and leaders from across the business world.
Corner Office Confidential – Dr. Pam Manfredo Curtis is the host of SiriusXM's Corner Office Confidential, a special series on leadership where she teams with her C-suite clients for intimate, exclusive conversations revealing their journey together and sharing with SiriusXM listeners the profound leadership lessons learned along the way.
Learning with Richard Branson – One of the world's most renowned businessmen, philanthropists and entrepreneurs, Sir Richard Branson chats with influential leaders, activists and visionaries on a variety of subjects. From entrepreneurship to activism, technology to wellness, Richard explores the impact these individual play in reshaping our future.
Purpose Built – Purpose Built, hosted by Allbirds co-founder and co-CEO Joey Zwillinger, features conversations with mission-oriented entrepreneurs discussing their experience building brands with purpose, and how they strive to create more ethical, impactful companies.
Digging into Dining with Jill Weber – Jill Weber is not your average restauranteur. As an archaeologist, she traveled the world unearthing and studying relics of the past. Throughout her travels, she also discovered the food and wine of different cultures. Now, as an owner of three restaurants in Philadelphia, Jill is sharing her incredible stories and exotic flavors.
In the Drivers Seat with Doron Levin – Automotive show about all things auto-related and the business behind the wheel, hosted by veteran automotive journalist, Doron Levin.
---
---