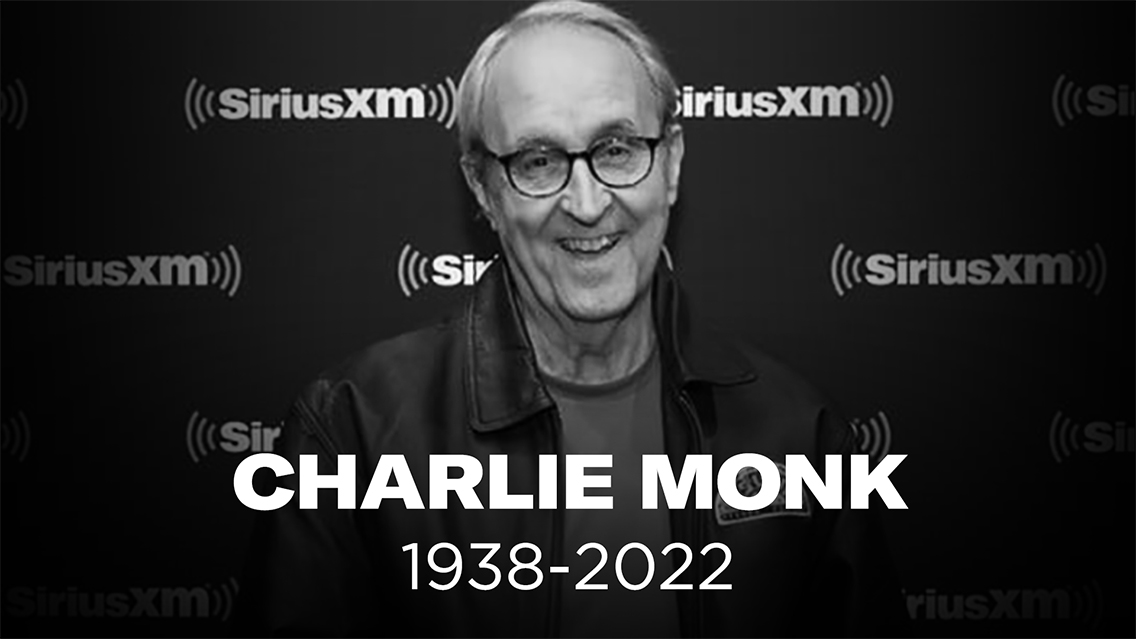 SiriusXM is sad to report that longtime host and renowned "Mayor of Music Row" Charlie Monk has passed away the age of 84, according to his family.
Charlie joined Sirius Satellite Radio in 2004, following an illustrious career in radio and music publishing, and was a beloved fixture of Nashville's music community. He hosted a morning program on Willie's Roadhouse for many years, as well as a weekend interview show on Prime Country.
---
Remembering Charlie Monk
A One-Hour Tribute Show for The Mayor of Music Row
Featuring some of his own recordings and songs he wrote, as well as archival interview segments with Bill Anderson, Jeannie Seely, Charley Pride, Ray Stevens, Aaron Tippin, T.G. Sheppard, Shenandoah, and more. This special will also be available to stream on the SXM App.
Willie's Roadhouse (Ch. 59)
December 23 at 6pm ET
December 24 at 9am ET

Born in Geneva, Alabama, Charlie was inducted into the Alabama Music Hall of Fame in 2014, as well as the Country Radio Hall of Fame in 2019. In 2021 he received the Joe Talbot Award from the Country Music Association in 2021, honoring his "exceptional leadership and dedication to the preservation and promotion of Country Music's values and traditions."
His career in broadcasting began while he was in high school at WGEA in his hometown of Geneva, Alabama, and he worked at WTBF while attending Troy University and later hosted shifts on WKRG and WUNI in Mobile, Alabama. In 1969 he co-founded the Country Radio Seminar (CRS) and hosted its annual New Faces show for 40 years.
After moving to Nashville in 1968, Charlie held positions with various music publishing companies, including ASCAP and CBS Songs, ultimately forming Monk Family Music Group in 1983. He also served as an officer for various organizations and sat on numerous boards, developing a large network of contacts that earned him the moniker "The Mayor of Music Row."
As well as helping to launch the careers of writers and artists such as Randy Travis and Kenny Chesney, Charlie was an accomplished songwriter himself, with songs covered by Jimmy Dean, Charley Pride, Jerry Reed, Eddy Arnold and others. He also recorded several recitations of his own compositions, including "My Wife" and "Andy & Opie Christmas."
Monk is survived by his wife, Royce Walton Monk; sons Charles, Jr. (Sukgi) and Collin (Grace); daughters Capucine Monk and Camila Monk Perry (Scott); sisters-in-law Peggy Walton-Walker Lord (Larry) and Elsie Walton (Colin Hamilton); grandchildren Sam (Christina), Nathan, Christabel, McKenna, Theodore, Ella, Walton and Douglas; great-grandchildren Alexis and Sophia; and nieces Clara and Linda and nephews Wayne, Brian and Chip.
In lieu of flowers, memorial contributions may be made to MusiCares, Community Care Fellowship, Calvary United Methodist Church, Rochelle Center or CreatiVets.
---
---
---