Celebrating Black Music Month: SiriusXM honors icons from the 2000s-Today
In honor of Black Music Month, join SiriusXM in celebrating the accomplishments of groundbreaking, modern-day icons like Beyoncé, Killer Mike, Chance the Rapper, and Kendrick Lamar.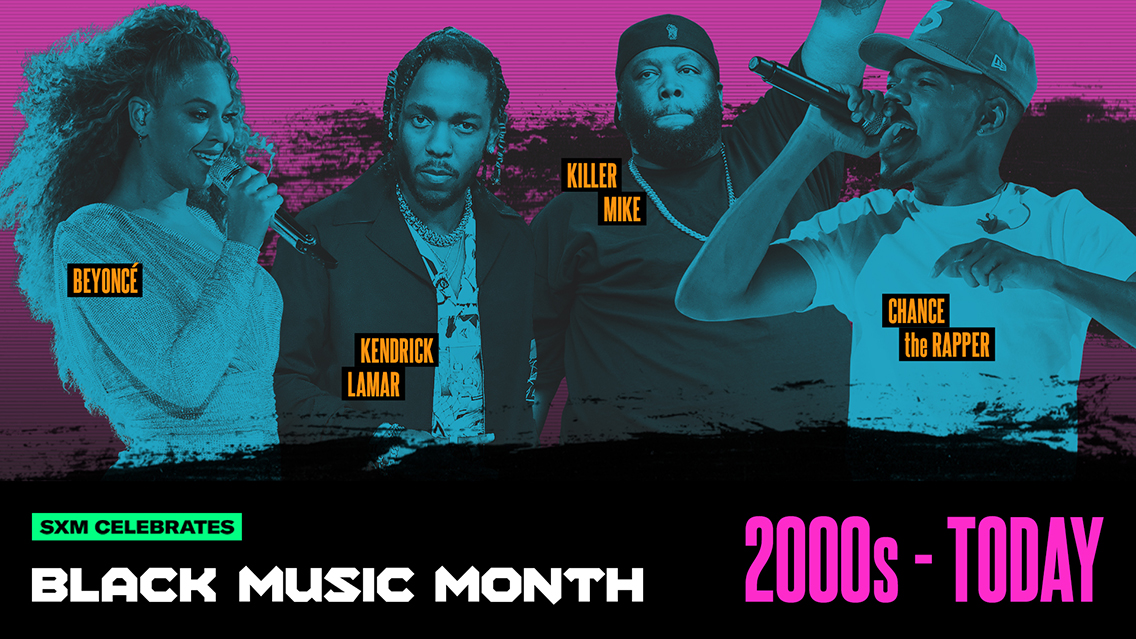 In the Black community, music has long served as both a message and a refuge, from call-and-response spirituals to current hip-hop hits and beyond. Throughout Black Music Month, SiriusXM has been highlighting significant moments in Black music and history — from the early 1900s to now, each week featuring some of the iconic artists who paved the way for other Black musicians and fought for social justice. In this edition, learn about Black music legends from the 2000s to today.
Killer Mike's Longtime Activism
When it comes to outspoken figures in hip-hop, Killer Mike often comes up in conversation these days — and for good reason. The rapper, songwriter, and actor has been a vocal social activist for decades, both within his music and outside of it. Musically, Killer Mike's messages on brutality, social inequality, the government, and systemic racism can be heard in his 2012 song "Reagan" all the way through his current music as part of Run the Jewels with El-P (including the duo's most recent release, "Walking in the Snow," which focuses on the 2014 murder of Eric Garner and proves to be prescient). When not crafting masterful lyrics shining a light on the realities of inequality in America, Mike is also penning op-eds and speaking out on the topic in interviews, as well as serving as a vocal advocate for politicians he believes will help drive progressive change. Most recently, Mike made headlines for delivering an impassioned speech in his hometown of Atlanta following the death of George Floyd and subsequent protests across the nation. Given the raw and relevant tracks throughout Killer Mike's discography, it's safe to say that his music will soundtrack social change and political action for years to come.
Hear from Killer Mike, Run the Jewels, and other artists with a message on LL COOL J's Rock The Bells Radio (Ch. 43).

Beychella Breaks Barriers
You'd be hard-pressed to find anyone who doesn't mention Beyoncé when discussing Black excellence. From her start with Destiny's Child, Beyoncé has made resonant, chart-topping music highlighting the joy, grief, and confidence of the modern Black woman. As one of the best-selling artists worldwide, along with having multiple GRAMMY Award wins under her belt, the singer-songwriter, actress, and entrepreneur has cemented her pop culture legacy (after all, how many artists can cite a fanbase as dedicated as the Beyhive?). That legacy includes her historic 2018 headlining performance at Coachella, which made Beyoncé the first-ever Black woman to headline the iconic festival. The performance — paying tribute to Black culture and heavily incorporating themes from Historically Black Colleges and Universities — broke records, becoming the most-tweeted-about set of the festival's first weekend and most-streamed live performance. Aside from smashing (both figuratively and literally, as seen in her "Hold Up" music video from her critically acclaimed album Lemonade) records, Beyoncé has also been a vocal supporter of feminism, LGBTQIA rights, and racial equality.
Hear music from Beyoncé and other powerhouse Black artists on The Heat (Ch. 46).

Kendrick Lamar Sets a Pulitzer Record
Kendrick Lamar (also known as K.Dot and Kung-Fu Kenny) is frequently praised for his ability to put perspectives on racism, Black empowerment, and social justice into masterful lyrics made for everything from the club to late-night drives. Particularly, Lamar's "Alright" has been taken up as a protest anthem thanks to its simple, yet powerful lyrics. The rapper, songwriter, and producer, who already has 13 GRAMMY Awards under his belt, became the first non-jazz or classical artist to earn a Pulitzer Prize for Music in 2018 for his album DAMN. Despite being less outwardly political than his 2015 album, To Pimp a Butterfly (which featured "The Blacker the Berry," "King Kunta," and "Alright," to name a few), Lamar maintained his conscious-rap style on DAMN., weaving messages about the Black experience throughout (as heard in "DNA," "Duckworth," and more). K.Dot also lent his artistry to the Black Panther soundtrack, curating original songs for the film, which has been lauded for refreshing and adding a new perspective to the superhero genre.
Hear Kendrick Lamar and other legendary hip-hop artists on Hip-Hop Nation (Ch. 44).

Chance the Rapper Colors Outside of the Lines
From the start of his career, Chance the Rapper has attracted attention and accolades for his ability to release groundbreaking hip-hop without the help of any traditional record label. In 2017, he exemplified that success by being the first rapper to win Best Rap Album for his streaming-only mixtape, Coloring Book. The mixtape, combining big-name collaborations (including Kanye West, Kirk Franklin, Justin Bieber, and many more), gospel elements, true-to-life lyrics, and infectious beats, was quickly met with acclaim from both new and old Chance fans alike. When not breaking ground musically, Chance is advocating for his home city of Chicago, particularly with regard to youth activism. This year, Chance the Rapper was honored with the UNICEF Chicago Humanitarian Award (which he was set to receive at the organization's annual gala before it was canceled due to the pandemic).
Hear Chance the Rapper and other record-breaking Black artists on Hip-Hop Nation (Ch. 44).

---
---
---