Celebrate reggae icon Rita Marley's 75th birthday with an exclusive tribute special
Get right in the groove in honor of the Marley family matriarch with 'Mystic of a Queen' activities.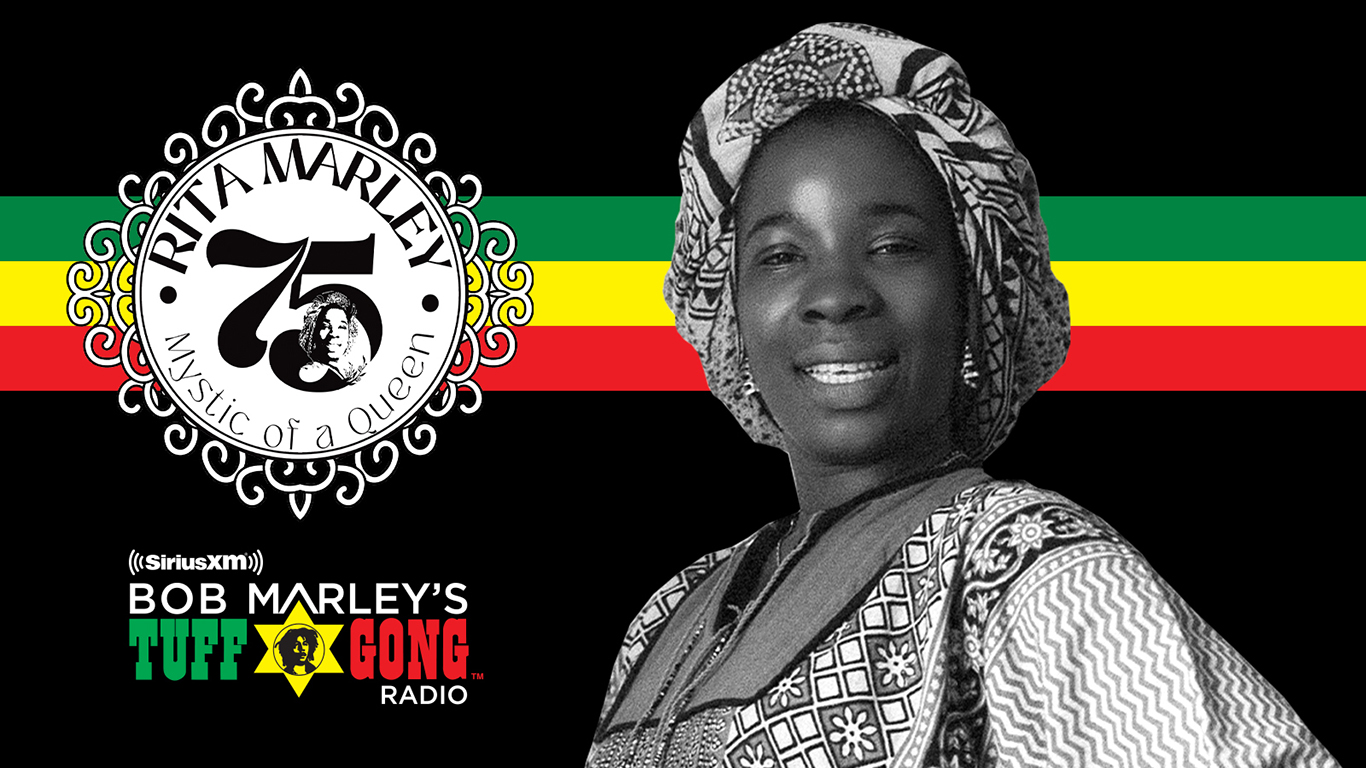 Bob Marley's Tuff Gong Radio (Ch. 19) is celebrating Rita Marley's 75th birthday. A pioneering female artist, Rita is the matriarch of the Marley family, the co-founder of Tuff Gong International, and a philanthropist honored all over the world.

Beginning July 17 at 5pm ET, hold on to this feeling as you enjoy special tribute performances featuring Judy Mowatt, Marcia Griffiths, Tanya Stephens, Tessanne Chin, Nadine Sutherland, and Ernie Smith. Live from Tuff Gong Studios in Kingston, Jamaica, hear from these successful and proudly Jamaica-based artists, plus exclusive music made for the occasion and devoted to Rita. In addition, listen to never-before-aired audio from the Rita Marley-produced concert event (and the film made subsequently) celebrating Bob Marley, held in the center of Ethiopia's capital in 2005, and many more family exclusives!
These Mystic of a Queen activities are being staged under the guidance and direction of Cedella Marley (the firstborn child of Bob and Rita Marley and current head of the Marley Group).
"My mom is my best friend, my inspiration, and, regardless of my title, she is very much still the boss," Cedella said. "The Bob Marley legacy that the world knows today is due in no small part to the work of Mrs. Marley. If 'We Must Carry On' was a person, it would be Rita Marley. We are blessed to be able to honor her."
This scope of the week's events mirrors the scope of Rita Marley's contributions and influence as an entrepreneur, entertainer, and humanitarian. The various entities she helms in Jamaica, Ghana, and the United States serve as stages for a series of celebrations, exhibitions, panel discussions, musical entertainment, and the announcement of the new Rita Marley Scholarship Program. Bob Marley's Tuff Gong Radio will also present newly recorded music during the birthday weekend.
The grand finale of Rita Marley's 75th earthstrong is a livestream that airs on July 25 (Mrs. Marley's birthday) on Tuff Gong International's official YouTube channel, Tuff Gong Television. Beginning at 5pm ET, viewers can tune in to enjoy a behind-the-scenes peek at the Bob Marley Museum's new Rita Marley Exhibition (curated by Berette McCauley), a mini documentary, new music videos, an exclusive airing of the Rita Marley: Mystic of a Queen Concert, and the premiere of the digitally remastered Africa Unite Concert; all interspersed with greetings and well wishes from friends and family.
For more information about Bob Marley's Tuff Gong Radio, click here.
---
---
---