Casey Stern delivers 'State of the Mets'
MLB Network Radio's Casey Stern is here to help make the Mets great once again.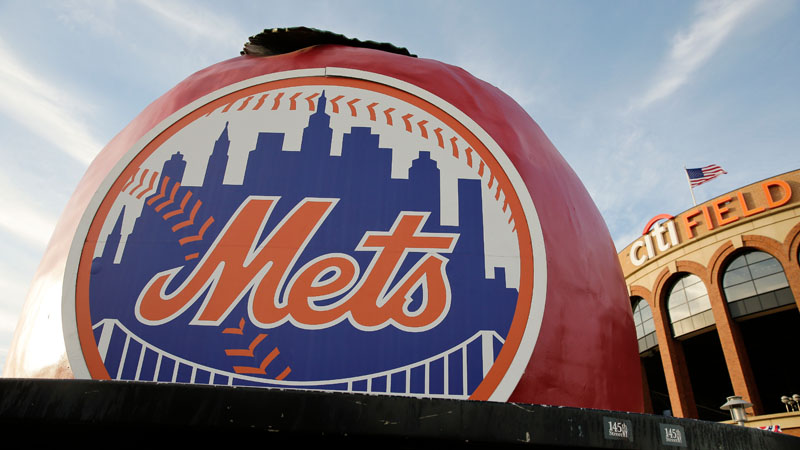 The New York Mets logo is displayed Citi Field before Friday's Game 3 of the Major League Baseball World Series between the Mets and the Kansas City Royals, Thursday, Oct. 29, 2015, in New York.
New York Mets fans need some hope right now. Luckily, MLB Network Radio's Casey Stern is here to help make them great once again.
Listen to his "State of the Mets":
And here's the full transcript:
"1962. It was a good year. A prosperous year. An inaugural year. Since that point in time, for north of 50 years,
We have seen the ball get by Buckner. We averted the fireworks thrown by Vince Coleman. We witnessed the great Agie catch band covered our eyes as those like Baerga, Alomar, and many others got the fever. Met fever. The kind that makes great players into Double-A disasters when they put on the colors.
From Burnitz (Hi Jeremy) to Spaz Matsui, to Butch Huskey, to Alex Escobar, Ochoa, and I'm sure P. Keaton if Brian Bonsall would've just let him out of the house…failures. We people have seen failures. We endured pain from hypocrisy to shining hypocrisy and we are still here.
We've turned down MRI's, neglected not to sign stars, spent like we're playing in Milwaukee…and Mo Vaughn.
There was Kenny Rogers walking Andruw Jones in Game 7. Generation K, who instead of flying with ease ended up swimming with the Long Island ducks…and Art Howe.
While we stand here living through controversy and ridicule, Bobby Bonilla stands there, counting his money, dancing under rainbows.
But we are not here to look back at the past. That is not why I have gathered you today on the streets of Flushing, outside this banged up Auto Glass shop across from Citi Field. No, it's to move forward.
Let's move to the future. A future without Matt Harvey, the dark knight who turned into a light version of Robin. Without sex toys in the clubhouse, but with championship trophies there instead. Without 17 outfielders, but with one who can play centerfield. Without Mr. Met bringing us the humor, but instead a team full of players the Mrs. could be proud of. Where MRIs are given, and hopes and dreams aren't taken away.
I want to make the Mets great. Again. Don't trust the news telling you this team is dysfunctional. Look, I know what you're thinking. We can't. But yes we can!
There is still time to turn this franchise from the Jets of Major League Baseball to the Mets of Major League Baseball. There is still time to find a catcher, third baseman, delete a few outfielders, a new manager, and put Steven Matz in bubble wrap. I repeat there is still time.
Perhaps it's fate that today is the 9th of May, and we're once again fighting for credibility. Not from tyranny, oppression or persecution, but from annihilation from contention. We're fighting for our right to be fans and exist and we will forever now know May 9th not as some random day on the calendar, but as the day we declared with one voice…"We will NOT go quietly into the night. We will not vanish without a fight. We will make the Mets great. Again. Yes, we can.
God Bless those of you who believed Ordonez could hit. God bless the great people who withstood the Jeff Torborg years. And most importantly, God Bless America.
Now in closing, please rise for the National Anthem."
---
---