Carter Page: 'I literally have never done anything wrong in Russia'
"Look, Stalin was not a perfect person either."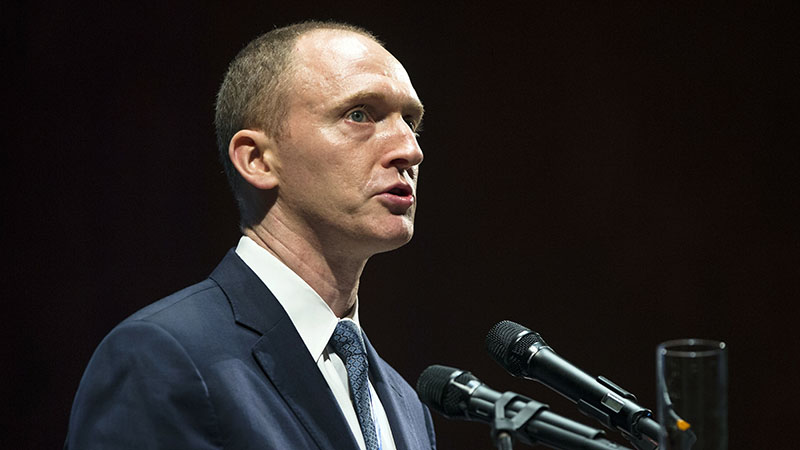 FILE – In this July 8, 2016, file photo, Carter Page speaks in Moscow, Russia. Page, one of President Donald Trump's former foreign policy advisers said Friday, May 5, 2017, that the Senate committee investigating Moscow's interference in last year's election has asked him to turn over information about contacts he, or any other campaign associates, had with Russians during Trump's race for the White House. (AP Photo/Pavel Golovkin, File)
Ahead of President Trump's first face-to-face meeting with Vladimir Putin, former campaign national security adviser Carter Page expressed frustration over the media's portrayal of the Russian president.
The label "killer" that often associated with Putin is "in general, not an accurate description," Page told Michael Smerconish on Thursday.
"I think a lot of that is very much overstated," Page added about claims that Putin is a "murderer" and "thug."
"And very similar to the other intel community assessments, false assessments about myself at least according to the press," he added. "We'll see what comes out when full disclosure is provided. But, you know, there's a lot of false information and a lack of serious evidence."
Earlier this year, it was revealed the the FBI and Justice Department had obtained a FISA warrant to monitor Page's communications.
"I have never done anything wrong in Russia, so let's see when the disclosure eventually comes out as to what exactly was in that FISA warrant request to the FISA court, then we'll see," Page said. "But I literally have never done anything wrong in Russia."
As for the Russia-U.S. relationship, Page cites a lack of mutual respect as the reason for conflict.
"I think there is, in general, not just the Russian president, but the Russian people in general and have been negatively impacted by a lot of institutional momentum in Washington and the United States. It goes back to the speech in Moscow last year. If you approach people with the concept of mutual respect, then it will come back at you as well."
"Look, Stalin was not a perfect person either, but the things that he did with FDR lead to a lot of great possibilities," Page concluded. "And at the end of the day, we won the war."
"The Michael Smerconish Program" airs weekdays at 9 am ET on SiriusXM P.O.T.U.S. (Ch. 124)
AP Photo/Pavel Golovkin, File
---
---
---