Celebrate Carrie Underwood With Her Most Iconic Music Videos!
Take a close look at some of Carrie Underwood's most iconic music videos throughout her career.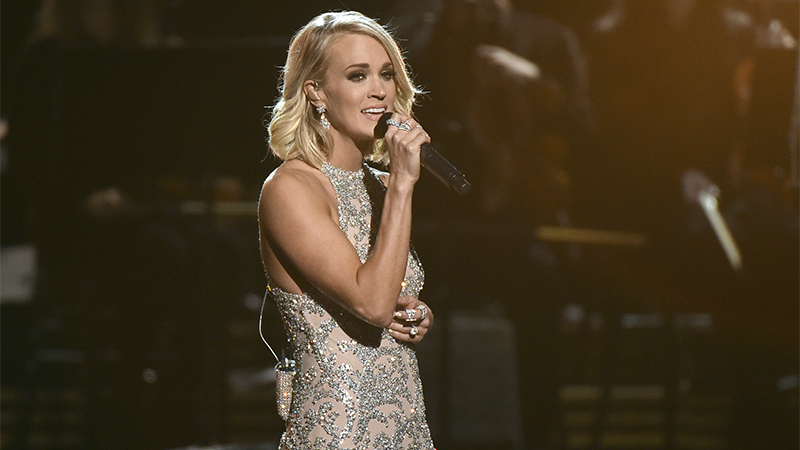 Carrie Underwood performs during a tribute to Dolly Parton at the 50th annual CMA Awards at the Bridgestone Arena on Wednesday, Nov. 2, 2016, in Nashville, Tenn. (Photo by Charles Sykes/Invision/AP)
Carrie Underwood has just turned 40, and she has already solidified her status as one of the most successful female recording artists! Born in 1983 in Muskogee, Oklahoma, Underwood's career has gone from strength to strength. A few of her career highlights include winning American Idol, selling over 70 million records, and gaining five Guinness World Records. Underwood also has a reputation for creating unique and memorable music videos. She has won more Country Music Television awards than any other artist, with an impressive 25 wins since 2005. From uplifting montages to heartbreaking stories, Underwood has an extensive collection of videos. So, to celebrate her big day, join us as we look at some of Carrie Underwood's most iconic music videos.
For the latest country music hits, check out The Highway (Ch. 56).
"Jesus, Take The Wheel" – 2005
Roman White directed "Jesus, Take The Wheel" in the first of many collaborations between White and Underwood. White is a legend within the music industry. He has worked with Justin Bieber, Taylor Swift, Blake Shelton, Reba McEntire, and Kelly Clarkson, to name a few. The emotional video shows multiple vignettes of people going through different hardships in life. Underwood's moving vocals are a fitting backdrop to the various snippets, which all eventually end with a positive outlook. "Jesus, Take The Wheel" received a nomination for Music Video of the Year at the 2006 Country Music Association Awards. And it ranked 64th on CMT's 100 Greatest Videos.
"Before He Cheats" – 2006
The song "Before He Cheats" was a smash hit, spending an incredible 64 weeks in the charts, and winning two GRAMMY awards. The accompanying music video was a success in its own right, too, with over 150 million views on YouTube. In the video, Underwood takes a Louisville Slugger to her ex's car and carves her name into its leather seats. The video culminates in a destruction-filled homage to Brian de Palma's 1977 horror flick, "Carrie." It was a clear success, racking up many nominations, including a 2007 MTV Video Music Award in the category of Best New Artist, and Music Video of the Year at the 2007 Country Music Association Awards. The video went on to win three CMT music awards. And, in 2009, "Before He Cheats" was voted VH1's Greatest Diva Music Video of all time.
To hear more of Underwood's throwback hits, head to Y2Kountry (Ch. 61).
"Just A Dream" – 2007
The tear-jerking "Just A Dream" is a touching homage to those who have lost a spouse. The video shows Underwood as a bride walking down the aisle to meet her groom, only for her outfit to turn from white to black. Meanwhile, the scene around her transitions from a wedding into a funeral, tearing at the heartstrings as it does so. The emotional video received nominations from the CMT Music Awards and the Academy of Country Music Awards, and won Music Video of the Year at the 2009 Country Universe Reader's Choice Awards.
"Just a Dream" is one of an impressive 15 songs featuring Underwood in SiriusXM's Country Top 1000 (Ch. 558).
"Church Bells" – 2016
"Church Bells" offers a sneak peek into a legendary Carrie Underwood concert. Clips from her 2016 Storyteller tour make up the entire music video. Performing to a packed Pinnacle Bank Arena in Lincoln, Nebraska, Underwood rocks out to "Church Bells" in front of nearly 15,000 adoring fans. The video resonated with the critics, winning Female Video of The Year at the CMT music awards.
For more of the incredible women who are breaking barriers in country music, listen to Women of Country on the SXM app.
"The Champion (feat. Ludacris)" – 2018
This motivational anthem was initially recorded for NBC Sports as their intro theme for Super Bowl LLI. The music video compliments the empowering song, featuring footage from some of humankind's most momentous achievements, including the 1969 Moon landing. The video highlights many accomplished athletes, including Muhammad Ali, and several members of The Nashville Predators, including Underwood's husband, Mike Fisher. There is also footage of Underwood working hard in the gym, running, and even a throwback to her American Idol audition. The video received three nominations at the CMT music awards and won the "Female Video of the Year."
"Drinking Alone" – 2019
Acclaimed director, photographer, and designer Randee St. Nicholas directed the music video for "Drinking Alone." She has worked with many renowned artists, including Britney Spears, Celine Dion, and Prince. In the video, Underwood plays two separate roles in the same speakeasy-style bar. One part is that of a lounge singer crooning to the crowd, and the other is a woman drawn to a dejected man sitting and drinking alone. The video, like the song, has a strong jazz influence, and Underwood's powerhouse vocals steal the show! "Drinking Alone" was a critical success, winning Video of the Year and Female Video of the Year at the 2020 CMT music awards.
These are just a few of Carrie Underwood's most iconic music videos to watch to celebrate her 40th birthday, and her incredible career so far.
For the latest news in country music and beyond, head to SiriusXM.
---
---
---