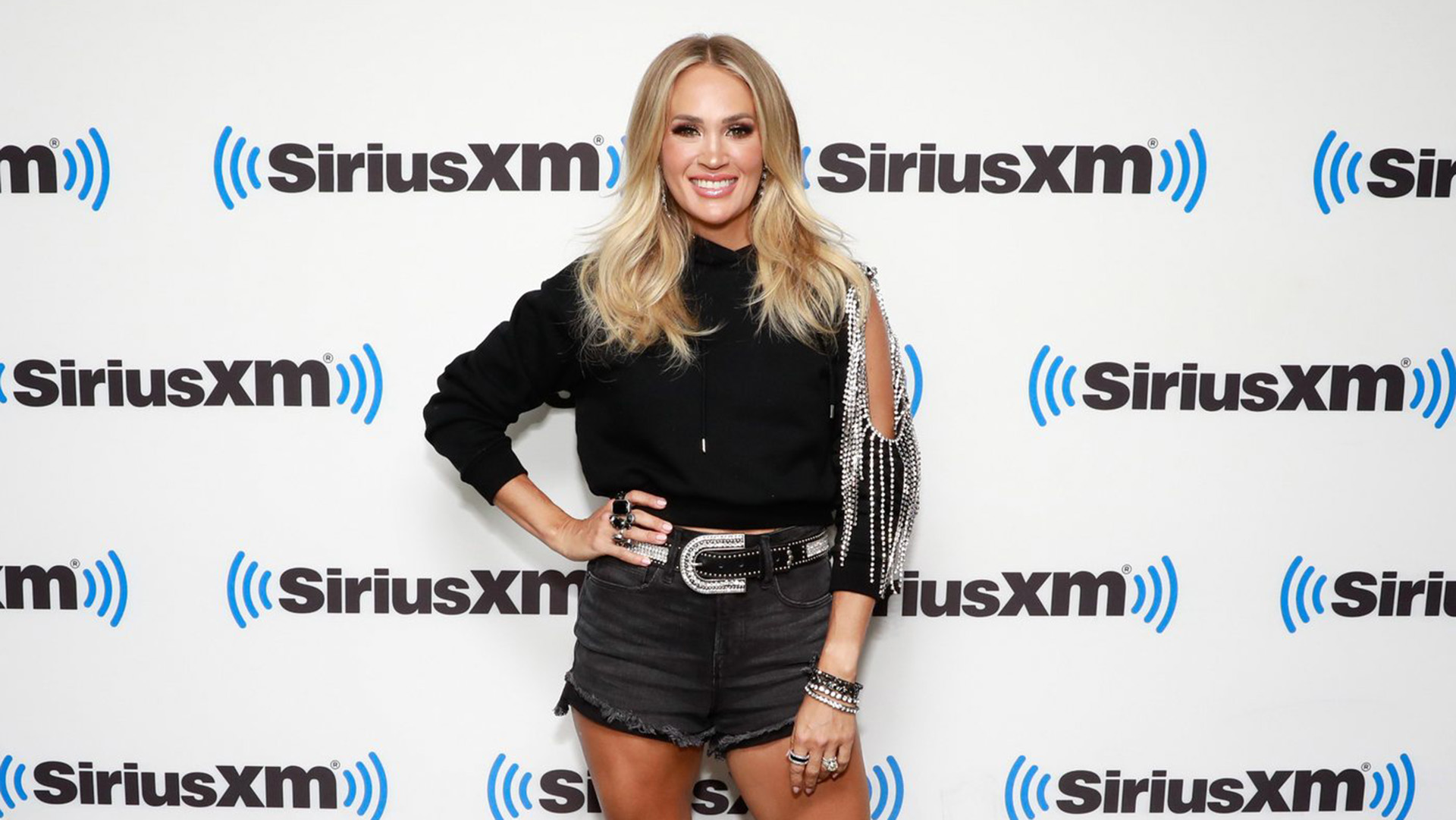 It wouldn't be football season without Carrie Underwood!
Earlier this month, the country music superstar returned for her 11th year of performing Sunday Night Football's kickoff song, and she recently told The Morning Mash Up on SiriusXM Hits 1 just how much it meant to her.
---
Watch Carrie Underwood's full interview on the SiriusXM App
---
For the 2023-24 NFL season, Carrie recorded an updated rendition of her first Sunday Night Football song, "Waiting All Day for Sunday Night" (a take on Joan Jett's "I Hate Myself For Loving You"). The first hype video using the song debuted ahead of the September 10 primetime matchup between the Dallas Cowboys and the New York Giants.
"It's one main version, top to bottom, and then kind of filling in lines," Carrie told The Morning Mash Up of recording a theme song that's usable for every week. "When we go in to record, we do it all at once. I do the whole main version, but then we go through and pick up all the matchups for each week of regular-season football, and then we go into playoff football. And I then sing every possible combination of teams that could possibly maybe play each other."
When asked if she'd ever consider headlining the Super Bowl Halftime Show, Carrie said she wasn't sure yet. "I mean, that's a lot of pressure. It would have to be just the right circumstances," she explained. Earlier this week, Usher was announced as the 2024 Halftime Show performer.
Carrie recently shared that Kansas City Chiefs tight end Travis Kelce personally thanked her for helping him getting ready for games with her songs.
"I think my favorite is when … it kind of dawns on me that it's like, before these guys were playing in Sunday Night Football games, they were watching Sunday Night Football," Carrie shared. "It would've been the equivalent of me watching awards shows or people performing on TV, just being like, 'Oh my gosh, if I could only do that.' … And I've been [recording the theme for] 11 years, so some of these guys were younger, watching these football games, just thinking, 'Oh my gosh, if I could be on Sunday Night Football.' And then, when they get there, I'm a little part of their journey, which is really cool."
Since 2013, Carrie has been the face (and voice) of Sunday Night Football, taking over theme song duties from fellow vocal powerhouse Faith Hill. In previous years, she performed "Oh Sunday Night" and "Game On." Throughout this season, her "Waiting All Day for Sunday Night" performance video will be updated weekly with clips from each Sunday's competing teams. The video was recorded at The Resorts World Theatre in Las Vegas — home of her recent residency, REFLECTION — and features a concert performance interspersed with augmented reality highlights displayed across a halo scoreboard.
---
Stream Carrie Underwood's exclusive SiriusXM channel, CARRIE'S COUNTRY
---
2023 Sunday Night Football Schedule
LISTEN LIVE: See SiriusXM's full NFL game streaming schedule
Week 2 – Sun. Sept. 10 – Dallas Cowboys at New York Giants
Week 3 – Sun. Sept. 17 – Miami Dolphins at New England Patriots
Week 4 – Sun. Sept. 24 – Pittsburgh Steelers at Las Vegas Raiders
Week 5 – Sun. Oct. 1 – Kansas City Chiefs at New York Jets
Week 6 – Sun. Oct. 8 – Dallas Cowboys at San Francisco 49ers
Week 7 – Sun. Oct. 15 – New York Giants at Buffalo Bills
Week 8 – Sun. Oct. 22 – Miami Dolphins at Philadelphia Eagles
Week 9 – Sun. Oct. 29 – Chicago Bears at L.A. Chargers
Week 10 – Sun. Nov. 5 – Buffalo Bills at Cincinnati Bengals
Week 11 – Sun. Nov. 12 – N.Y. Jets at Las Vegas Raiders
Week 12 – Thurs. Nov. 23 – San Francisco 49ers at Seattle Seahawks
Week 12 – Sun. Nov. 26 – Baltimore Ravens at L.A. Chargers
Week 13 – Sun. Dec. 3 – Kansas City Chiefs at Green Bay Packers
Week 14 – Sun. Dec. 10 – Philadelphia Eagles at Dallas Cowboys
Week 15 – Sun. Dec. 17 – Baltimore Ravens at Jacksonville Jaguars
Week 16 – Sat. Dec. 23 Cincinnati Bengals at Pittsburgh Steelers
Week 16 – Sat. Dec. 23 Week 16 – Buffalo Bills at L.A. Chargers
Week 17 – Sun. Dec. 31 – Green Bay Packers at Minnesota Vikings
Week 18 – Sun. Jan. 7 – TBD
---
---
---