Carrie Underwood Details Her New SiriusXM Channel and Covers Ozzy Osbourne
Watch or listen to her full interview and performance now.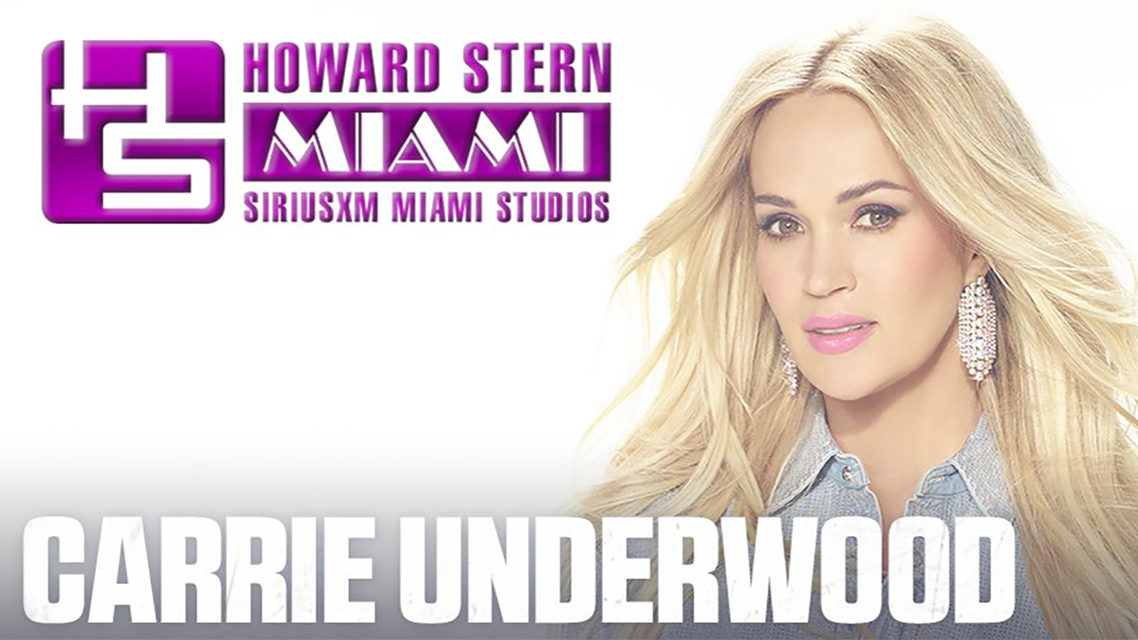 On the heels of announcing her upcoming SiriusXM channel, Carrie Underwood visited The Howard Stern Show and performed live with her band in Miami.
---
Hear Carrie Underwood's Full Interview and Performance on the SXM App Now
---
During her appearance on May 3, the eight-time GRAMMY Award winner spoke with Howard about her SiriusXM channel, CARRIE'S COUNTRY, talked about performing with Guns N' Roses singer Axl Rose, and much more. Additionally, she performed two of her songs – "Blown Away" and "She Don't Know" – and covered Ozzy Osbourne's "Mama, I'm Coming Home." Listen to the full show on the SXM App now and watch clips from it below.
Carrie Underwood Covers Ozzy Osbourne's "Mama, I'm Coming Home"
Carrie Underwood's SiriusXM Channel
So, what will you hear on Carrie's new SiriusXM channel, CARRIE'S COUNTRY, launching this June? CARRIE'S COUNTRY will be a musical journey hand-crafted by country's iconic rhinestoned superstar. Carrie will highlight her friends, favorites, and influences – new and classic country, workout hits, gospel, and beyond. Listeners will also hear high-octane favorites from classic to hard rock for your morning exercise or your late-night jam sessions. The stories behind her music, record-breaking career, and life on the road will also be shared. In addition to Carrie's own extensive hit-filled catalogue, SiriusXM subscribers will hear music from Keith Urban, Dolly Parton, Brad Paisley, and Miranda Lambert to AC/DC, Guns N' Roses, and The Rolling Stones.
Additionally, the channel will feature original programming, including monthly themed shows, morning workout and late-night hard-rock blocks, and "Savior Sunday" – a full day of inspirational music including Carrie's own gospel catalogue, country titles, and more of the music that is close to her heart. In "Find Your Path" (named for her bestselling lifestyle book), Carrie and her fitness trainer share advice, helpful strategies, healthy habits, and more. She'll invite friends, peers, and fans to "Take the Wheel" as special guest DJs.
In another regular feature, inspired by her ongoing Las Vegas residency, REFLECTION, Carrie will look back at career milestones and memories, all set to the songs that make up the soundtrack to her life. Plus, she'll introduce listeners to her band members, touring crew, and the cast of characters that makes up her touring family, and will share her passions for fitness and wellness, gardening, and all of the favorite things that make up Carrie's world.
How Carrie Underwood Turned Being Cheated on Into Hit Songs
SiriusXM Miami's Opening Week
SiriusXM Miami officially opened on May 1, and we're celebrating with a special week of shows and performances inspired by Miami's rich musical culture and roots. Programming will showcase some of the biggest names in Latin music, including Anitta, Becky G, Carlos Vives, and Pitbull. LL COOL J will also host a special Miami edition of Salute The Sample for Rock The Bells Radio, which will spotlight local hip-hop talent. Andy Cohen, Bailey Zimmerman, John Summit, Jon Bon Jovi, Jonas Brothers, Tinx, and more will also take part in broadcasts. Learn more about SiriusXM Miami.
Carrie Underwood, Guns N' Roses Superfan, Talks Performing with Axl Rose
---
---
---