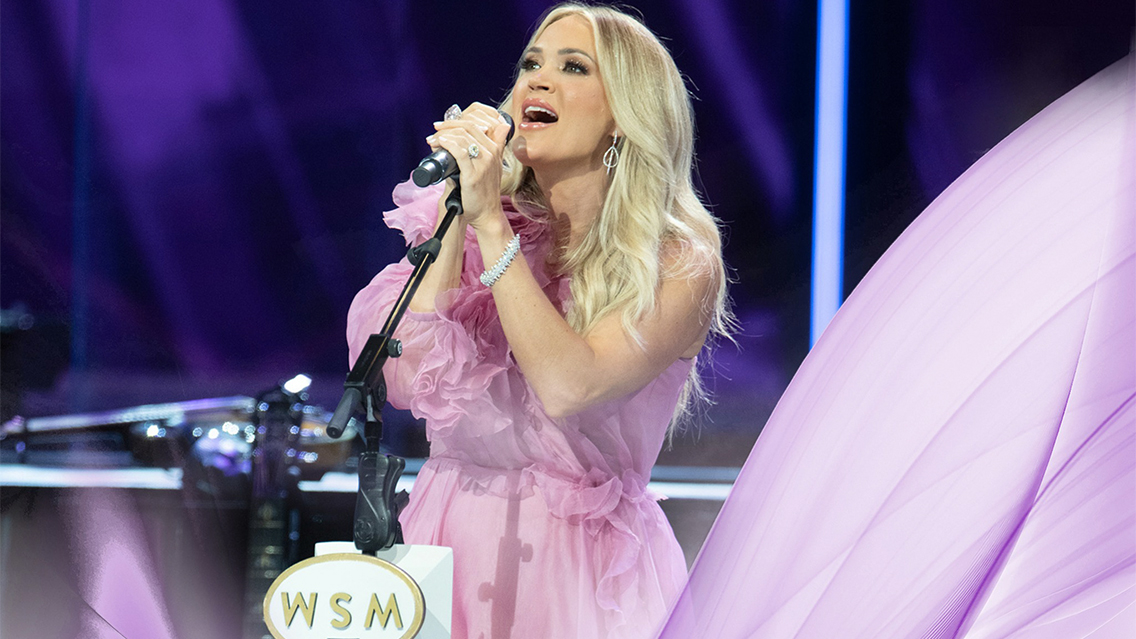 Carrie Underwood returned to the Grand Ole Opry in Nashville for two nights over the weekend. If you couldn't catch her performances, Carrie's exclusive SiriusXM channel, CARRIE's COUNTRY, has you covered.
Listeners can hear her performance on the SiriusXM App anytime starting tonight (August 21) by searching "Carrie's Country," or on her channel live at 9pm ET tonight and Tuesday (August 22).
---
Listen to Carrie Underwood's Opry performance on the SiriusXM App 
---
The country superstar delivered the show-stopping set last Friday at the world-famous Music City venue, along with Herb Alpert (in his Opry debut), Henry Cho, Dustin Lynch, Jenna Paulette, Connie Smith, and Riders In The Sky. On Saturday, Carrie performed – yet again – during a night also featuring Chrissy Metz, Charlie McCoy, Jamie O'Neal, Sister Sadie, Jeannie Seely, Riders In The Sky, and Barry Williams.
Over the years, Carrie has made a number of appearances at the Opry. Most recently, the country superstar took the world-famous stage on May 13, a night that also included Bill Anderson, Deana Carter, Tigirlily Gold, Opry Square Dancers, Michael Ray, Riders In The Sky, and Jeannie Seely.
Carrie's performance comes during a very busy year for the eight-time Grammy winner. In addition to recently wrapping up her acclaimed Denim & Rhinestones Tour, which spanned over a year, last March, Carrie has currently been performing with one of her favorite rock bands, Guns N' Roses.
The "Out of That Truck" singer launched her year-round SiriusXM channel, CARRIE's COUNTRY, back in June with a scintillating set that featured her new songs and greatest hits, including "Before He Cheats." The channel is available to listeners across North America in their cars or anywhere they go with the SiriusXM App.
So, what will you hear on CARRIE's COUNTRY? The channel is a musical journey hand-crafted by country's iconic rhinestoned superstar. Carrie highlights her friends, favorites, and influences – new and classic country, workout hits, gospel, and beyond. Listeners can also hear high-octane favorites from classic to hard rock for your morning exercise or your late-night jam sessions. The stories behind her music, record-breaking career, and life on the road are also shared. In addition to Carrie's own extensive hit-filled catalogue, SiriusXM subscribers can hear music from Keith Urban, Dolly Parton, Brad Paisley, and Miranda Lambert to AC/DC, Guns N' Roses, and The Rolling Stones.
Additionally, Carrie's channel features original programming, including monthly themed shows, morning workout and late-night hard-rock blocks, and "Savior Sunday" – a full day of inspirational music including Carrie's own gospel catalogue, country titles, and more of the music that is close to her heart. In "Find Your Path" (named for her bestselling lifestyle book), Carrie and her fitness trainer share advice, helpful strategies, healthy habits, and more. She'll invite friends, peers, and fans to "Take the Wheel" as special guest DJs.
---
---
---