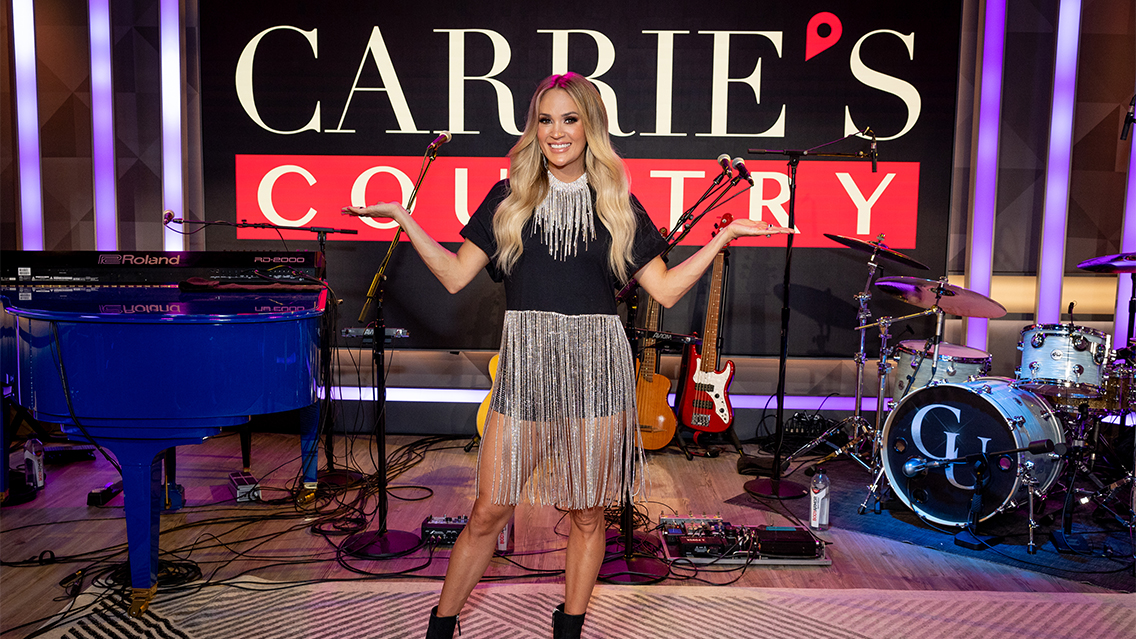 Carrie Underwood at 'SiriusXM's Town Hall with Carrie Underwood' from the SiriusXM Miami Studios in Miami Beach, Florida. (Photo by Emma McIntyre/Getty Images for SiriusXM)
Eight-time GRAMMY® Award winner Carrie Underwood launched her year-round SiriusXM channel, CARRIE'S COUNTRY (Ch. 60)! Curated and presented by Carrie, the 24/7 channel is available to subscribers across North America in their cars or anywhere they go with the SiriusXM app.

Carrie kicked off the new channel live and in person from SiriusXM's Music Row Happy Hour at the Margaritaville Cafe in Nashville with SiriusXM host Buzz Brainard on Friday, June 9.
Additionally, the CARRIE'S COUNTRY launch day programming featured an exclusive Town Hall special with Carrie recorded at the SiriusXM Miami Studios. SiriusXM's Town Hall with Carrie Underwood included Carrie discussing her new channel, answering fan questions, and performing some of her hit songs – such as "Before He Cheats," "Church Bells," and her newest single, "Out Of That Truck." The special is available to stream on the SXM App. Watch clips from the performance now below.
Carrie Underwood – Out Of That Truck
---
Not a SiriusXM subscriber? Get 3 months for free here.
---
"I'm thrilled to partner with SiriusXM on my new channel," Carrie said. "I can't wait to welcome listeners into my personal musical universe, sharing my favorite music across all of the genres I love, from classic rock to the latest in country."
CARRIE'S COUNTRY joins SiriusXM's artist channel lineup that includes Kenny Chesney's No Shoes Radio, The Beatles Channel, Drake's Sound 42, and more.
What You'll Hear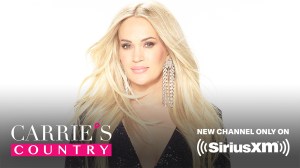 CARRIE'S COUNTRY is a musical journey hand-crafted by country's iconic rhinestoned superstar. Carrie highlights her friends, favorites, and influences – new and classic country, workout hits, gospel, and beyond. Listeners can also hear high-octane favorites from classic to hard rock for your morning exercise or your late-night jam sessions. The stories behind her music, record-breaking career, and life on the road are also shared. In addition to Carrie's own extensive hit-filled catalogue, SiriusXM subscribers can hear music from Keith Urban, Dolly Parton, Brad Paisley, and Miranda Lambert to AC/DC, Guns N' Roses, and The Rolling Stones.
Additionally, Carrie's channel features original programming, including monthly themed shows, morning workout and late-night hard-rock blocks, and "Savior Sunday" – a full day of inspirational music including Carrie's own gospel catalogue, country titles, and more of the music that is close to her heart. In "Find Your Path" (named for her bestselling lifestyle book), Carrie and her fitness trainer share advice, helpful strategies, healthy habits, and more. She'll invite friends, peers, and fans to "Take the Wheel" as special guest DJs.
In another regular feature, inspired by her ongoing Las Vegas residency, REFLECTION, Carrie looks back at career milestones and memories, all set to the songs that make up the soundtrack to her life. Plus, she introduces listeners to her band members, touring crew, and the cast of characters that makes up her touring family, and shares her passions for fitness and wellness, gardening, and all of the favorite things that make up Carrie's world.
Carrie Underwood's Tour & More
This June, Carrie relaunched her ongoing REFLECTION: The Las Vegas Residency, after recently wrapping her 43-city U.S. arena tour, THE DENIM & RHINESTONES TOUR. She is the highest-certified female country artist for singles in RIAA history, a bestselling author of the fitness and lifestyle book Find Your Path, and the Founder/Creator of the fit52 fitness app. With over 85 million records sold worldwide, Time previously named Carrie one of the 100 most influential people in the world. Additionally, Carrie has been a proud member of the Grand Ole Opry since 2008 and was honored with a star on the Hollywood Walk of Fame in 2018.
For more information on Carrie Underwood, visit www.carrieunderwoodofficial.com.
Carrie Underwood – Before He Cheats
Carrie Underwood – Church Bells
---
---
---