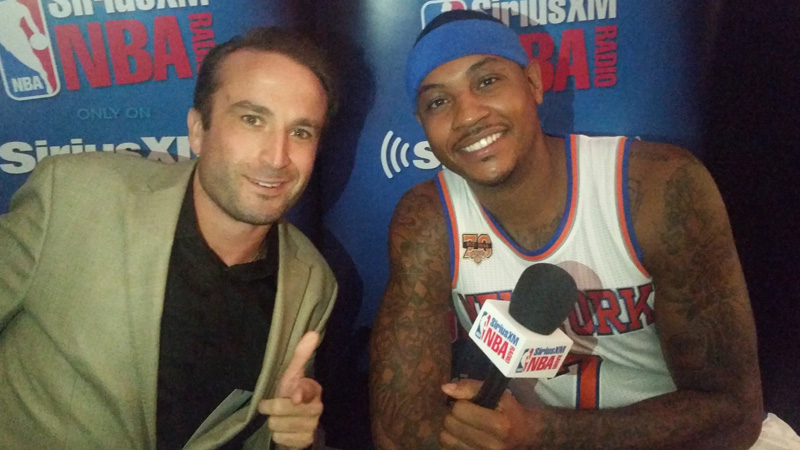 Carmelo Anthony set out to make an impact this summer, and he did so by transcending his status as an athlete and using his platform as a public figure to speak out against social injustice. And even though he has the upcoming NBA season to focus on, the New York Knicks forward still plans to maintain his activism.
"I've been active in the summer and everybody has seen that," Anthony told SiriusXM NBA Radio during the first day of Knicks training camp. "I'm very active right now, whether people see it or not, and I will continue being very active."
In the wake of tragic deaths of civilians and police alike, Anthony started the conversation with a poignant Instagram post calling for athletes to step up and take charge in demanding change.
.@CarmeloAnthony IG: most powerful thing I've seen from an athlete on the senseless killings of the past few days. pic.twitter.com/KAiTQBOG1M

— Rachel Nichols (@Rachel__Nichols) July 8, 2016
Joined by fellow NBA Stars LeBron James, Dwyane Wade and Chris Paul, he opened the 2016 ESPY Awards with a speech to his fellow athletes calling for more involvement in creating change. Anthony has since conducted sit-downs with the LAPD, an extensive conversation with VICE Sports addressing racial and social injustices, used his platform during the 2016 Summer Olympics to shine a light on issues facing the nation and much more.
He doesn't plan on stopping there, despite preparing to lead the Knicks in the upcoming season.
"For me, it's not about doing one thing and saying OK it's done and over, because that's not the answer," he said. "I will continue to create that dialogue and keep those conversations going and letting people know and making them aware that it's not gonna change unless we do something. Nobody has the answers, but we have to continue this conversation and these dialogues and getting in front of the people that make these decisions and go from there."
Anthony is excited about the opportunity to help New York achieve a playoff berth. Joined by offseason acquisitions Derrick Rose and Joakim Noah, among others, there are a lot of unknowns about the 2016-17 Knicks and Anthony relishes the chance to figure out how these pieces will fit together.
"We have guys who we could put together out there on the basketball court and try to make something happen," he said. "For me, that's what I'm excited about, not knowing what's gonna happen but being able to participate, create and just enjoy it."
For more highlights from Knicks camp and other training camps, check out siriusxm.com/siriusxmnbaradio.
---
---
---