Caitlyn Jenner talks her transition, politics + the Kardashians with Andy Cohen
"I just don't want her to alienate me from my children," Caitlyn Jenner told Andy Cohen of ex-wife Kris Jenner during a SiriusXM Town Hall.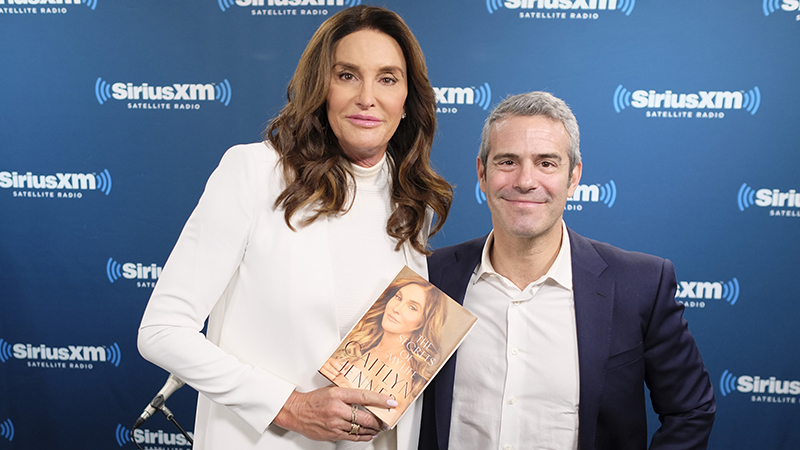 NEW YORK, NY – APRIL 26: Television personality Caitlyn Jenner (L) and host Andy Cohen poses during the SiriusXM 'Town Hall' with Caitlyn Jenner; 'Town Hall' to air on Andy Cohen's exclusive SiriusXM Channel Radio Andy at SiriusXM Studios on April 26, 2017 in New York City. (Photo by Dimitrios Kambouris/Getty Images for SiriusXM)
Caitlyn Jenner is telling her truth — even if its not what her famous family wants to hear.
The Olympian turned reality star formerly known as Bruce chronicles her transition from male to female in her new memoir, Secrets of My Life, but the book has provoked backlash from ex-wife Kris Jenner, as seen on this season of Keeping Up with the Kardashians.
"If she says she is done with you, where do you go from here?" Andy Cohen asked during a SiriusXM Town Hall on Wednesday. "Did you call her up? Will you speak? What's the next step?"
"Well, she called me up and said she never wanted to talk to me again, so I haven't called her back," she said, adding, "My book is honest and it's my story, okay? And I'm sorry she feels that way, and I just don't want her to alienate me from my children."
Caitlyn said she maintains a relationship with step-daughter Kim Kardashian but hasn't spoken to Khloe Kardashian in about two years, explaining that Khloe calling her a liar on The Howard Stern Show in 2016 "pissed me off."
The transgender advocate also discussed her controversial politics: She's a proud Republican who supported Donald Trump until he flip-flopped on states' so-called bathroom bills mandating children use designated restrooms in school.
To hear about her encounter with Vice President Mike Pence and more about her journey as a transgender woman, listen to the SiriusXM Town Hall with Caitlyn Jenner, hosted by Andy Cohen, on Radio Andy (Ch. 102) 4/28 at 1 pm ET; 4/29 at 7 am, 10 am, 2 pm, 5 pm and 8 pm ET; 4/30 at 5 am, 12 pm and 7 pm ET; and 5/1 at 9 am ET.
You can also hear it on demand here.
For a free 30-day trial, check out http://www.siriusxm.com/freetrial/blog
---
---
---