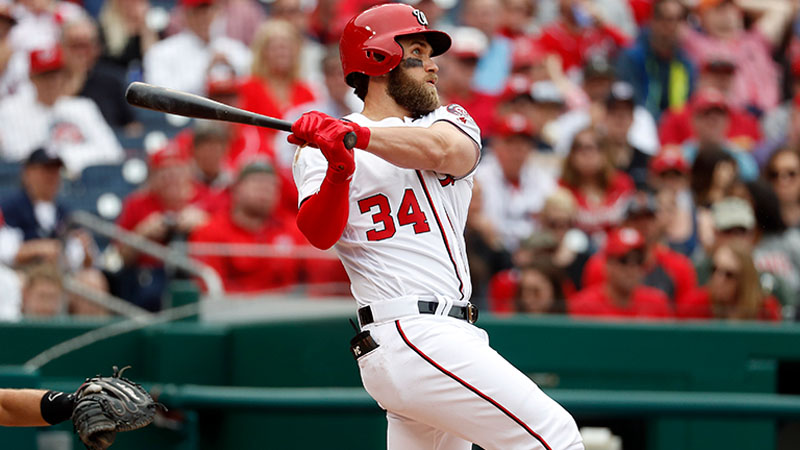 Washington Nationals' Bryce Harper watches his solo home run during the sixth inning of an opening day baseball game against the Miami Marlins, at Nationals Park, Monday, April 3, 2017, in Washington.
Bryce Harper never had any doubt about wanting to be a professional baseball player. In fact, based on his recent interview MLB Network Radio, he was meant for the spotlight.
In a special episode of "The A Dinner," Former Major Leaguer Ryan Spilborghs sits down with the Washington Nationals star in an intimate interview about Harper's career, including the time in middle school when he was adamant about his future when talking to a teacher.
In case you're wondering, @Bharper3407 always knew he could make it to the majors: "This is all I want to do. That's it." pic.twitter.com/UNT2fDF0C0

— SiriusXM Sports (@SiriusXMSports) May 11, 2017
"I raised my hand and said I wanted to be a professional baseball player. And the teacher said, 'Aw, you know, that's kind of far-fetched. Is there anything else you want to do?'" Harper said. "And I go, 'No. This is all I want to do. That's it.'"
Harper also touches on the pressure that comes with being pegged a "phenom" at such an early age.
"I think that sometimes it's not fair for certain people, or for certain kids, or whatever. But I loved it," Harper said. "You have to, I guess, do everything possible to just shoo that away and just play your game."
Hear more from Harper about his road to the Majors Saturday at 7pm ET on MLB Network Radio (XM Ch. 89, Sirius Ch. 209). Hear the show On Demand starting at 8pm ET on Saturday right here.
---
---