Brooke Shields Now: Iconic actress, model + author launches new show on SiriusXM Stars
Brooke Shields Now airs Mondays on SiriusXM Stars (Ch. 109).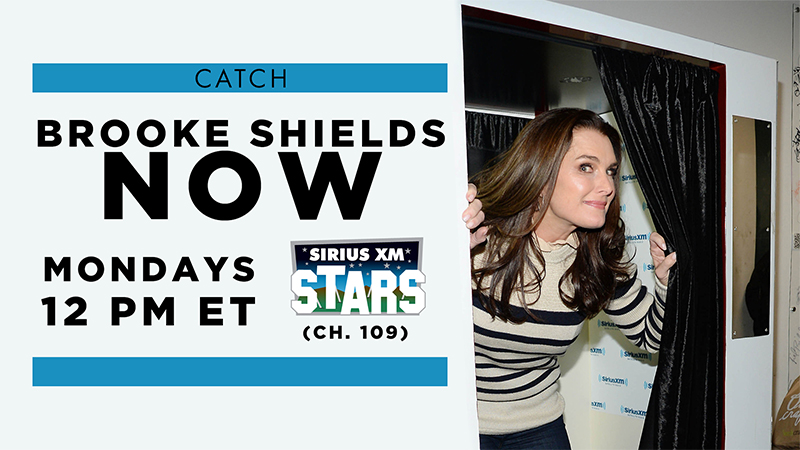 By now, we all know nobody comes between Brooke Shields and her Calvins. But on her new SiriusXM Stars show, the model turned A-list actress invites listeners into her life like never before.
Brooke Shields Now will cover topics including parenting, relationships, fashion, the arts and more. So to kick off her premiere, the mother of two chatted with SiriusXM's own Andy Cohen and makeup artist Bobbi Brown.
Shields' signature thick brows were notable decades before It Girls Cara Delevigne and Lily Collins brought the beauty trend back,
"I always remember you saying to me — you reiterated what my mom said to me, which was, 'Don't ever let them mess with your eyebrows," Shields told Brown. "You didn't try to darken them, you didn't try to pluck them."
"And it's amazing you still have them," Brown said. "You're so lucky!"
Cohen and Shields discussed Raf Simon's first Calvin Klein collection, in which models strutted down the runway wearing jeans with the image of Shields' famous ad for the designer on the back.
"What's beautiful and brilliant about what Raf did is he wasn't apologizing for it, he wasn't making fun of it. You don't even feel like he's capitalizing on it. He's bringing back not even as a retro but sort of nodding to it and saying this is what we loved about it and we're bringing it into the next generation.
On her second show, Shields also revealed that nine years ago, she prompted TODAY's Hoda Kotb and Kathie Lee Gifford to drink wine every morning on-air after watching comedian Chelsea Handler get vodka during her interview with the pair.
"A week later Brooke comes on, and you said something like, 'Where's mine?'" Kotb said.
"Well there was no cocktail, wine, nothing!" Shields joked "I was like, 'What am I, chopped liver?'"
"We were like, 'Get Brooke a drink!' And pretty soon, you started a trend," Kotb said.
Watch the video below for more on Brooke Shields Now, which airs Mondays at noon ET on SiriusXM Stars (Ch. 109).
For a free 30-day trial, check out http://www.siriusxm.com/freetrial/blog 
---
---
---