Bridget Jones's Baby: Renee Zellweger and Patrick Dempsey decide if she ends up with the right man
Renee Zellweger and Patrick Dempsey spoke to Entertainment Weekly Radio's Henry Goldblatt during a SiriusXM Town Hall.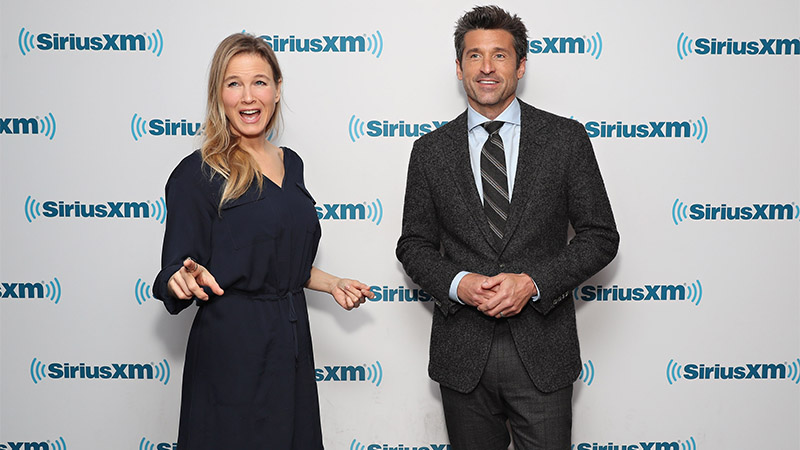 <> on September 12, 2016 in New York City.
Bridget Jones, wanton sex goddess, is pregnant in her long-awaited return to the big screen. The question is by whom: Colin Firth's quietly charming barrister Mark Darcy or newcomer Patrick Demsey's smooth American Jack.
Renee Zellweger and Patrick Dempsey taped a SiriusXM Town Hall promoting Bridget Jones's Baby with Entertainment Weekly's Henry Goldblatt, who asked if they think everyone's favorite hapless heroine chooses the right man in the end.
"That's a good question. I don't know. Possibly!" Zellweger said coyly. "I guess we all have to wait and see, don't we?"
Dempsey seemed to possibly spoil the finale with his answer: "I think so. Ah, see, I might have given something away there. Maybe I did, maybe I didn't."
The franchise's first two films focused on the love triangle of Bridget, Mark and her dashing boss Daniel. Dempsey admitted he didn't re-watch the earlier movies as preparation "because I didn't want to be intimidated by Hugh Grant."
"He's a talented actor and very very funny, and there's just no replacing that," he explained.
Listen to the clips below to hear how a young Dempsey became a party entertainer and auditioned for the Ringling Bros. as a clown, plus how the late Gene Wilder influenced his career.
Bridget Jones's Baby hits theaters Friday. The Town Hall premieres Friday at 2 p.m. ET and will play throughout the weekend on SiriusXM Entertainment Weekly Radio (Ch. 105).
For a free 30-day trial, check out http://www.siriusxm.com/freetrial/blog. 
---
---
---