Brett Favre joins SiriusXM NFL Radio, talks life and legendary career
On the eve of his induction into the Pro Football Hall of Fame, NFL legend Brett Favre joined SiriusXM's NFL Radio for a Town Hall to discuss his career on the field and life off of it. Former coach Steve Mariucci moderated … Continued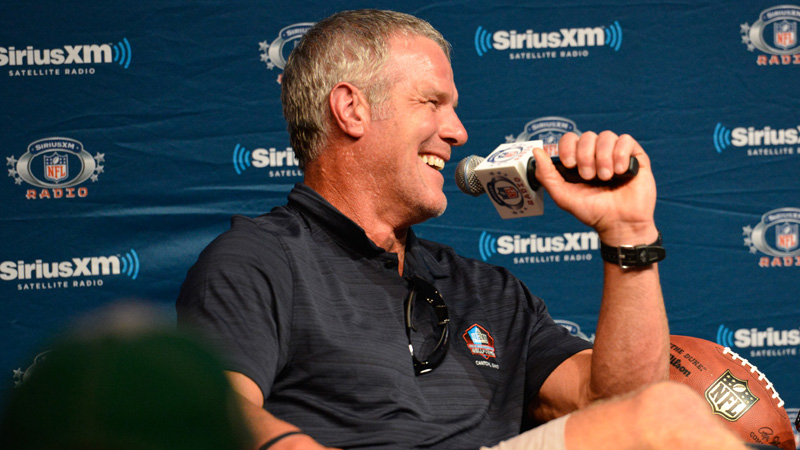 Credit: Duane Prokop/Getty Images for SiriusXM
On the eve of his induction into the Pro Football Hall of Fame, NFL legend Brett Favre joined SiriusXM's NFL Radio for a Town Hall to discuss his career on the field and life off of it.
Former coach Steve Mariucci moderated the discussion in Canton, Ohio with the three-time NFL MVP, and in their hour-long talk they spanned topics from Favre's early days in Green Bay, to the brilliant game he played against the Oakland Raiders one day after finding out his father had died.

"My dad, there was no doubt whatsoever about what he would have said. 'You're playing,'" Favre said. "The pressure that I felt in that game is by far the most pressure I've ever felt, times 10, in any game."
Of course, we know what happens next. Favre went on to have possibly his best game ever, throwing for 399 yards and four touchdowns in a 41-7 victory over the Raiders on Dec. 22, 2003.
"God had intervened, and this was a way, a message," Favre said. "I really believe that with all my heart."
In a more lighthearted moment, Favre and Mariucci, Green Bay's quarterbacks coach during the mid 1990's, joked about how Mariucci's kids never wanted Favre as their babysitter because of his skills in the ancient art of "dutch ovening."
Yes, that's right ladies and gentlemen, Brett Favre used to babysit Steve Mariucci's kids and tuck 'em in with the unorthodox Dutch Oven Method. At another juncture in the wide-ranging Town Hall interview on NFL Radio, Mariucci and Favre reflected on the unique circumstances of Brett Favre's very first pass completion in the league. In his first season with the Packers Favre was on the bench but got in during a blowout to the Tampa Bay Buccaneers and well, just watch:
As Favre settles into the next stage of his life, Mooch asked what was next for the NFL legend. Aside from traveling, Favre couldn't entirely rule out the possibility of coaching high school players.
"I'm not going to say I wouldn't," Favre said. "I didn't make any money, I didn't want any money. It was rewarding."
Favre was inducted into the Pro Football Hall of Fame on Saturday, August 5, along with Orlando Pace, Tony Dungy and more. Starting in September, he will then host a series of hour-long broadcasts on a regular basis during this season that will showcase the traits that made him a fan-favorite – his passion for the game on the field and his easy-going personality off it.
"I am looking forward to working with SiriusXM NFL Radio this season," Favre said. "I've been a listener, both when I played and after I retired, and it's a great place to talk about the game. I'm excited to talk with fans and weigh in with my opinions on what's happening in the league, and it'll be fun talking to some former colleagues now and then."
Favre and co-host Bruce Murray will discuss the headline news happening around the NFL, analyze the league's teams and players, and share his experiences from his career and his life since retiring, giving listeners nationwide the opportunity to call in to the show and talk with a player who rewrote the game's record book over his extraordinary 20-year professional career.
"Brett was a once-in-a-generation player. His career, and particularly the enthusiasm with which he played the game, enthralled all football fans," said Steve Cohen, SiriusXM's Senior Vice President of Sports Programming. "His passion and free-spirited personality are perfect for radio. We are thrilled to have him make his debut on SiriusXM NFL Radio and we're excited to give our listeners access to the insight and expertise of one of the greatest players to ever play the game. His debut show in Canton, and every show after, will be must-listen radio."
From 1995 through 1997, Favre won three straight NFL MVP Awards after leading the Green Bay Packers to three consecutive NFC championship games, resulting in two Super Bowl appearances, including a 35-21 victory over the New England Patriots in Super Bowl XXXI. By the end of the 2007 season, his last in Green Bay, he held all the major all-time NFL passing records for attempts, completions, yards and touchdowns. He continued to play at a high level in three more seasons with the New York Jets and the Minnesota Vikings.
Following the 2010 season, Favre stepped away from the NFL having played 302 games. His 6,300 completions and 10,169 pass attempts remain NFL records, and he is second on the all-time lists for career passing yards (71,838) and TD passes (508). He was recognized with 11 career Pro Bowl selections and honored as a three-time First Team All-Pro by the Associated Press, Pro Football Writers Association, and The Sporting News.
SiriusXM NFL Radio is available to listeners nationwide on channel 88 on satellite radios and on the SiriusXM app for authenticated subscribers with the SiriusXM All-Access package. 
Photo Credit: Duane Prokop/Getty Images for SiriusXM
---
---
---