Tom Brady, Adam Sandler, Tracy Morgan and Bill Burr Share the Pressures of Playing Your Hometown
Adam Sandler, Tracy Morgan and Bill Burr joined Tom Brady for an episode of his 'Let's Go!' podcast to share the struggles of playing in your hometown after Brady's recent loss in San Francisco.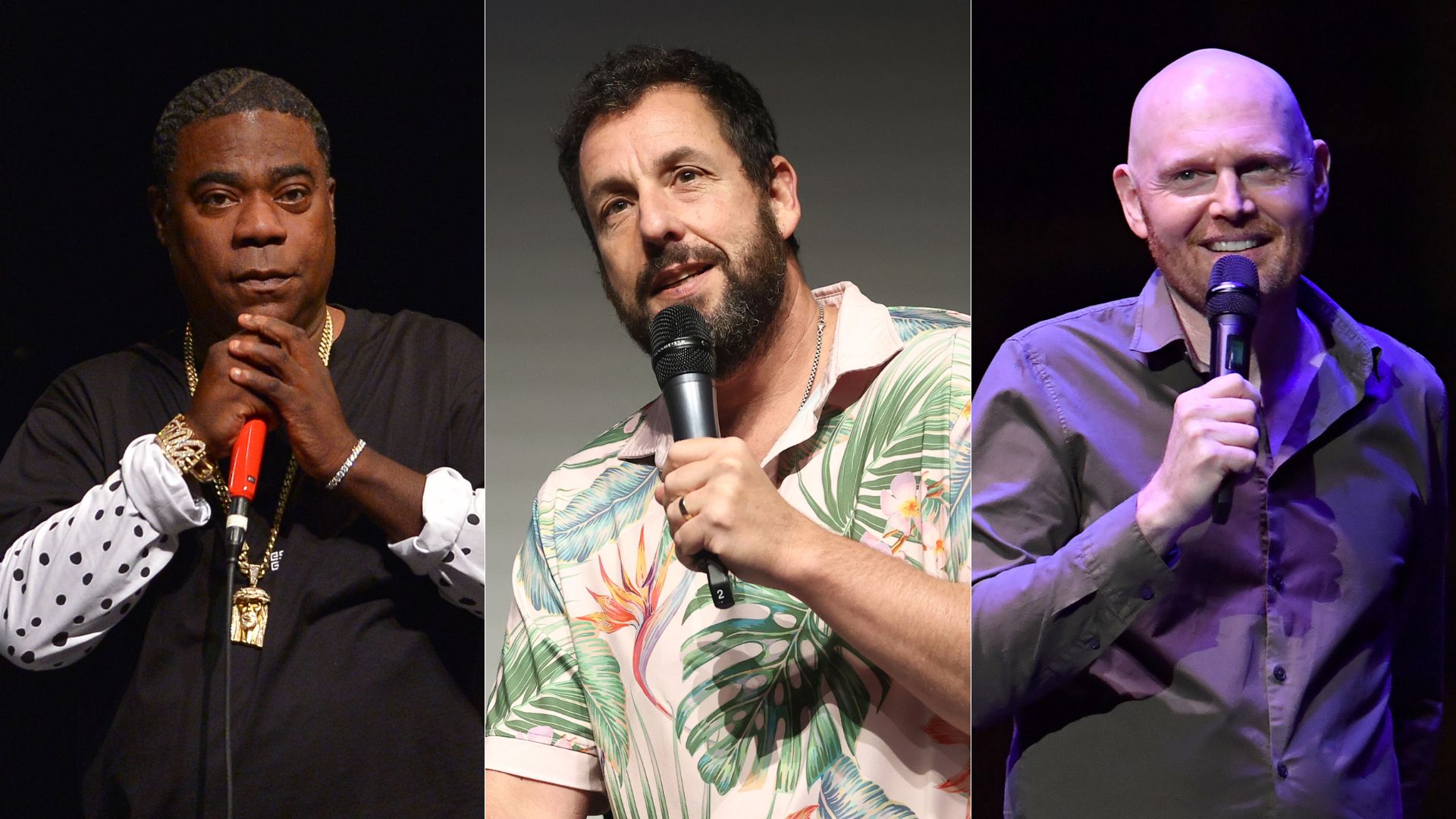 Tracy Morgan: Photo by Johnny Louis/Getty Images; Adam Sandler: Photo by Tommaso Boddi/Getty Images for Netflix; Bill Burr: Photo by Jeff Kravitz/FilmMagic
During the most recent episode of Tom Brady's SiriusXM exclusive podcast, Let's Go!, Brady and his cohost Jim Gray were joined by special guests Adam Sandler, Bill Burr and Tracy Morgan. The quarterback and the three comedians all commiserated about the challenges of playing in their hometowns in front of people they know and love.
Referring to acting in movies versus performing on stage, Gray asked Sandler, "Can you explain the pressure of what it's like for you to be live as opposed to knowing that you can do it over and over and over again?"
"It's funny. I was thinking of you, Tom, yesterday, because you were in your hometown — when that's going through your head," Sandler said about the Buccaneers' December 11 loss at the San Francisco 49ers. "I grew up in Manchester, New Hampshire, and I played Manchester like a month ago. And when you're in your hometown, everybody — isn't it like a whole other feeling? It's a different vibe. I was more terrified going up in my hometown than I was the entire tour I've been on."
"Expectations are higher, too," Morgan added.
---
Related: Kenan Thompson on Why Brady Is an Easy 'SNL' Target
---
"You're thinking of just relatives who are there, and you're thinking of friends you grew up with," Sandler continued. "You don't want to let 'em down! That's the biggest pain in the ass of it all."
"I had only played [in San Francisco] one other time, and we had played so well, and then we got our — obviously, what happened yesterday, we got our ass kicked," Brady said.
The final score of the game had been 35-7, and Brady shared that on his way from the locker room to the bus, he was surprised to find out his family had actually stayed until the end — well, most of them.
"After the game I got see my sisters, my nieces, some cousins. My parents left in the third quarter to get home," he admitted.
Burr, who grew up in the suburbs of Boston and attended Emerson College, recently became the first comedian to headline a show at Fenway Park.
"The best thing that I did to prepare for that show is I went Boston, took a little vacation with my family beforehand, and I love walking around that city because I got all these great memories and stuff," Burr shared. "And I would walk by people, and they'd be like, 'Hey, Bill, hey, what's going on?' And they'd be like, 'Good luck at Fenway.' So it kind of felt like people were rooting for me … I don't know how to describe that experience. It was unbelievable."
And anytime Morgan has people he knows in the audience, he keeps them out of eyesight.
"As far as, like, when friends and family come, what I've adopted was, 'I'm not doing this for y'all. It's a business, and I have to do my thing. I can't do it for y'all, because I'm not good with trying to make an impression. I'm not good at that,'" he explained. "So I just tell my people, my sister, whoever I know, sit 'em in the back on the middle, because I don't want to say something and you make a face, because I'm gonna flip on you."
Listen to the full episode of Let's Go! on the SXM App now, or wherever you get your podcasts.
---
---
---