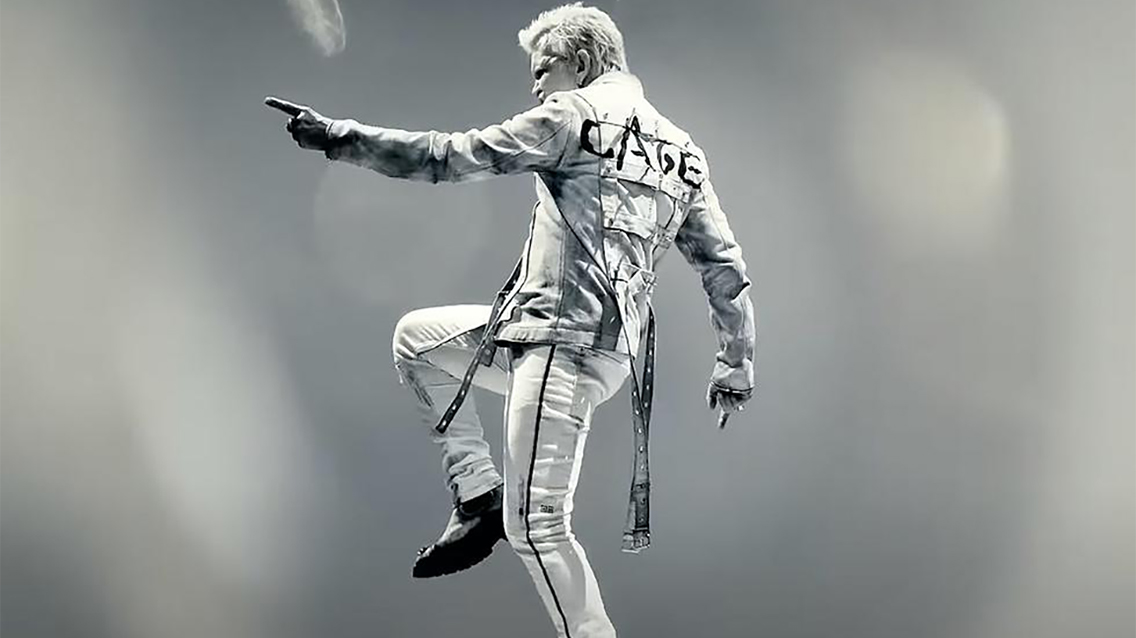 As if his upcoming live performances aren't enough, Billy Idol is giving us brand-new music, announcing the September 23 release of his four-song EP titled The Cage. The rock legend and SiriusXM host also dropped the title track and accompanying music video today.
The Cage follows Billy's 2021 EP, The Roadside, which also featured four songs.
"The last EP, we were kind of warming up to this," Billy said. "This EP is a lot more coming at you. Loads more guitar. And that's a lot of fun. We were pretty fired up by the fact that we hadn't played for a couple of years, and suddenly we were bursting on stage, and it kind of woke us up to what the next EP could be: That it could be a little more strum und drang, a little more coming at you, a little more rock 'n' roll, a little more f**k you! Well, a tiny bit of f**k you, anyhow. The bottom line is we had a lot of fun doing it."
Billy recently returned to touring and delivered his first show of 2022 on August 12 in Phoenix, AZ. During that concert, the punk pioneer performed The Cage tracks "Cage" and "Runnin' From the Ghost" for the first time.
Preorder The Cage here, and check out ticket information for Billy's tour here.
The "Rebel Yell" singer also hosts his own SiriusXM show, Billy Idol's Live Transmission, on the 1st Wave channel. Tune in for a dose of Billy's favorite classic alternative and punk music, including hits by Blondie, Ramones and many more. Stream previous episodes of Live Transmission on the SXM App anytime.

Learn more about 1st Wave here.
The Cage Tracklist:
Cage
Running from the Ghost
Rebel Like You
Miss Nobody
Billy Idol's 2022 Tour Dates:
08/17 – Saratoga, CA @ Mountain Winery
08/19 – Boise, ID @ Boise Open
08/21 – Lincoln, CA @ Thunder Valley
08/24 – San Diego, CA @ Humphreys Concerts By The Bay
08/25 – Ventura, CA @ Ventura Theater
09/01 – Santiago, CL @ Teatro Caupolican
09/04 – Lima, PE @ Arena Peru
09/08 – Sao Paolo, BR @ Pacaembu Pavillion
09/09 – Rio De Janeiro, BR @ Rock In Rio *
09/11 – Buenos Aires, AR @ Velez Sarsfield Stadium *
09/13 – Buenos Aires, AR @ Luna Park
09/15 – Asuncion, PY @ Constanera De Asuncion
09/23 – Halle, DE @ Peibnitz Insel
09/25 – Budapest, HU @ Budapest Park
09/26 – Vienna, AT @ Gasometer Wien
09/29 – Frankfurt, DE @ Festhalle
09/30 – Nuremburg, DE @ Arena Nuremburg
10/03 – Munich, DE @ Olympiahalle
10/05 – Berlin, DE @ Mercedes Benz Arena
10/06 – Hamburg, DE @ Barclays Arena
10/08 – Lingen, DE @ Emsland Arena
10/11 – Dusseldorf, DE @ Mitsubishi Electric Halle
10/13 – Manchester, UK @ AO Arena +
10/17 – Cardiff, UK @ Motorpoint Arena +
10/19 – London, UK @ Ovo Arena Wembley +
10/21 – Glasglow, UK @ Ovo Hydro Arena +
10/23 – Birmingham, UK @ Resorts World Arena +
10/25 – Leeds, UK @ First Direct Arena +
11/11 – Las Vegas, NV @ The Cosmopolitan
11/12 – Las Vegas, NV @ The Cosmopolitan
11/16 – Las Vegas, NV @ The Cosmopolitan
11/18 – Las Vegas, NV @ The Cosmopolitan
11/19 – Las Vegas, NV @ The Cosmopolitan
---
---
---