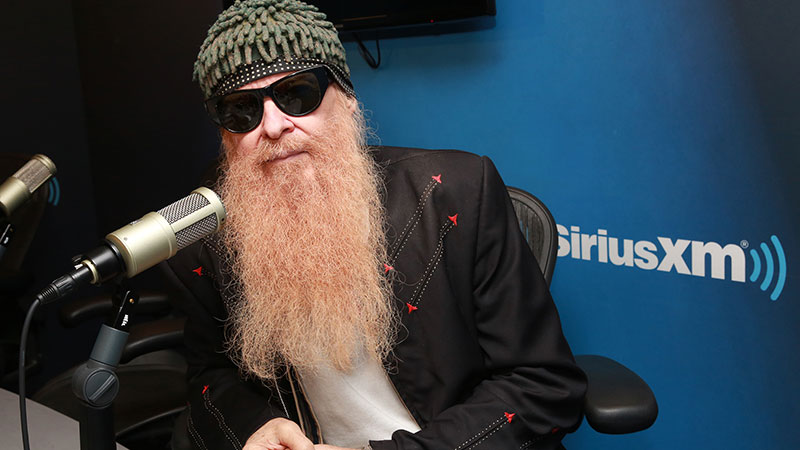 Billy Gibbons still remembers the first time ZZ Top discovered synthesizers. Even with a storied career spanning more than 45 years, stories like that aren't easily forgotten.
On Monday's debut episode of True Stories on SiriusXM's new talk music channel VOLUME (Ch. 106), host Kurt Loder and Gibbons had an in-depth discussion as the ZZ Top lead vocalist and guitarist delved into stories from the band's iconic career that even die-hard fans haven't heard.
Known for its ever-evolving sounds and innuendo-heavy lyrics, ZZ Top is widely regarded as one of the most technically-sound groups of all time. The band started out with blues-influenced rock before incorporating new wave, punk rock and dance-rock into its albums with the heavy use of synthesizers. Gibbons said that when synthesizers made their way into recording studios in the 1980s, ZZ Top had the luxury of freely experimenting with the new toys.
"All of a sudden these crazy noise-making contraptions started showing up in the studio," Gibbons recalled. "The good news is that when we stumbled into the studio there were these things and the manuals had been casually tossed away, so you just start turning dials until it sounds good."
True Stories aims to get the inside scoop on special and unique moments in artists' lives as Loder looks to uncover the behind-the-scenes stories from artists' careers. Gibbons took the conversation as far back as when he was 12 years old and had the opportunity to study percussion under Latin music legend Tito Puente. His dad noticed his interest in music and put Gibbons on a plane to New York to hone his skills. The influence of Latin percussion would appear on Gibbons' 2015 solo effort, Perfectamundo.
"I didn't really know where I was going or what I was supposed to do, but there was Tito Puente and he thrust a pair of timbale sticks at me and he said, 'Show me what you want to play,'" Gibbons said. "It was one of the great moments, it was not 'come on in, I'll show you what to do,' there was none of that. It was an eye-opener, it was everything within the confines of Latin percussion."
ZZ Top was inducted into the Rock & Roll Hall of Fame in 2004 and has sold over 50 million records worldwide. The band released its fourth live album, Tonite at Midnight: Live Greatest Hits from Around the World, in September. Fresh off a three-month tour in Europe, Gibbons said ZZ Top is not taking any time off.
"Frank Beard, the man with no beard, and Dusty Hill, our bearded bass player, they're not resting on their laurels," he said. "They're doing something and I know that when I return they'll have a new song that I've gotta go learn."
New monthly episodes of Kurt Loder's True Stories air Fridays at 7 pm ET on VOLUME (Ch. 106).
---
---
---