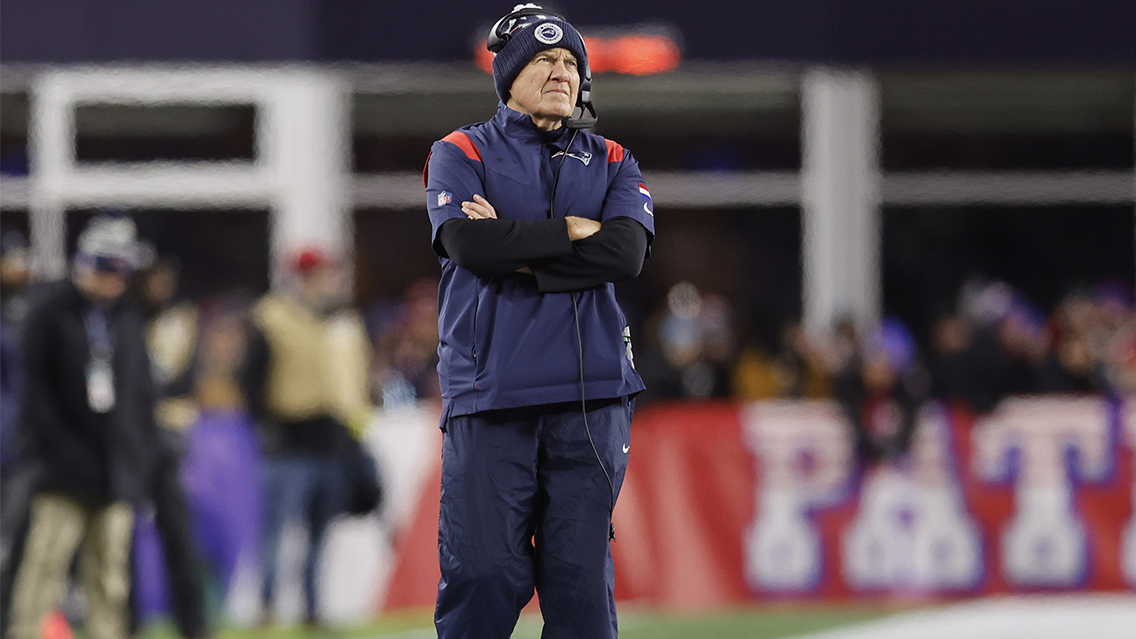 Bill Belichick, Peyton Manning, and Rob Gronkowski appeared on an all-new edition of Let's Go! with Tom Brady, Larry Fitzgerald and Jim Gray — the first episode of the SiriusXM podcast since Brady announced his retirement from the National Football League. The special episode also features Brady's parents and congratulatory messages from Patrick Mahomes, Jack Nicklaus, Snoop Dogg, and Oprah Winfrey and Stedman Graham.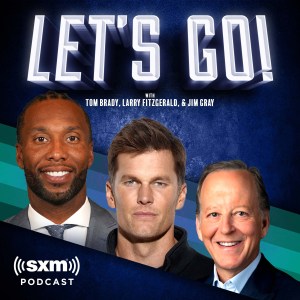 The special episode premiered today on SiriusXM's Mad Dog Sports Radio (Ch. 82), and will replay on Mad Dog Sports Radio and SiriusXM NFL Radio (Ch. 88) throughout the week. Listen to the entire episode anytime on the SXM App.
During the episode, legendary New England Patriots coach Bill Belichick praised his former quarterback.
"The greatest player. The greatest career. A great, great person," Belichick said. "I guess it has to end at some point."
---
Related: Tom Brady Announces Retirement from Football
---
Additionally, Belichick looked back at what the seven-time Super Bowl-winning quarterback taught him.
"I learned so much from Tom because, as you know, I never played quarterback and I never saw the game through the quarterback's eyes," Belichick said. "I saw it through a coach's eyes. And what Tom would tell me that he saw and how he saw it, it was incredible how during the game, he'd come off and I'd say, 'What happened on that play?' And he'd go through eight things that happened: tackle flash in front of me; this guy slipped; I saw the linebacker drop wide; safety was a little deeper than I thought he would be; and then this guy stepped in front and I kind of put it a little bit behind him because I saw this other guy closing. And then you'd go back and look at the film, and every one of those things happened in the exact sequence that he explained it to you on the field. I'm like, 'This guy sees everything.'"
Additionally, one of Brady's biggest rivals during his years in the league — Peyton Manning — congratulated TB12.
"Tom Brady truly got better every day, and that was his goal," the Hall of Fame Colts and Broncos quarterback said. "He celebrated touchdowns; he was happy that he threw a touchdown. But after that, you saw Tom on the sideline figuring out, 'OK, how are we gonna do this again?' And that's the right way to play quarterback. Always something else that we can be doing to be better."
In each episode of Let's Go!, listeners hear Tom Brady's, Larry Fitzgerald's, and Jim Gray's thoughts on the latest news around the league, as well as their lives away from the football field. The show also features appearances by high-profile guests. New episodes debut every Monday at 6 pm ET/3 pm PT on SiriusXM's Mad Dog Sports Radio (Ch. 82) and replay at 6:30 pm ET/3:30 pm PT on SiriusXM NFL Radio (Ch. 88).
Check out more of SiriusXM's sports programming here.
Plus, listen to the full episode here:
---
---
---