The Biggest '80s One-Hit Wonders Ever, from 'Take On Me' to 'Electric Avenue'
They topped the charts once — but stayed in our hearts and playlists forever!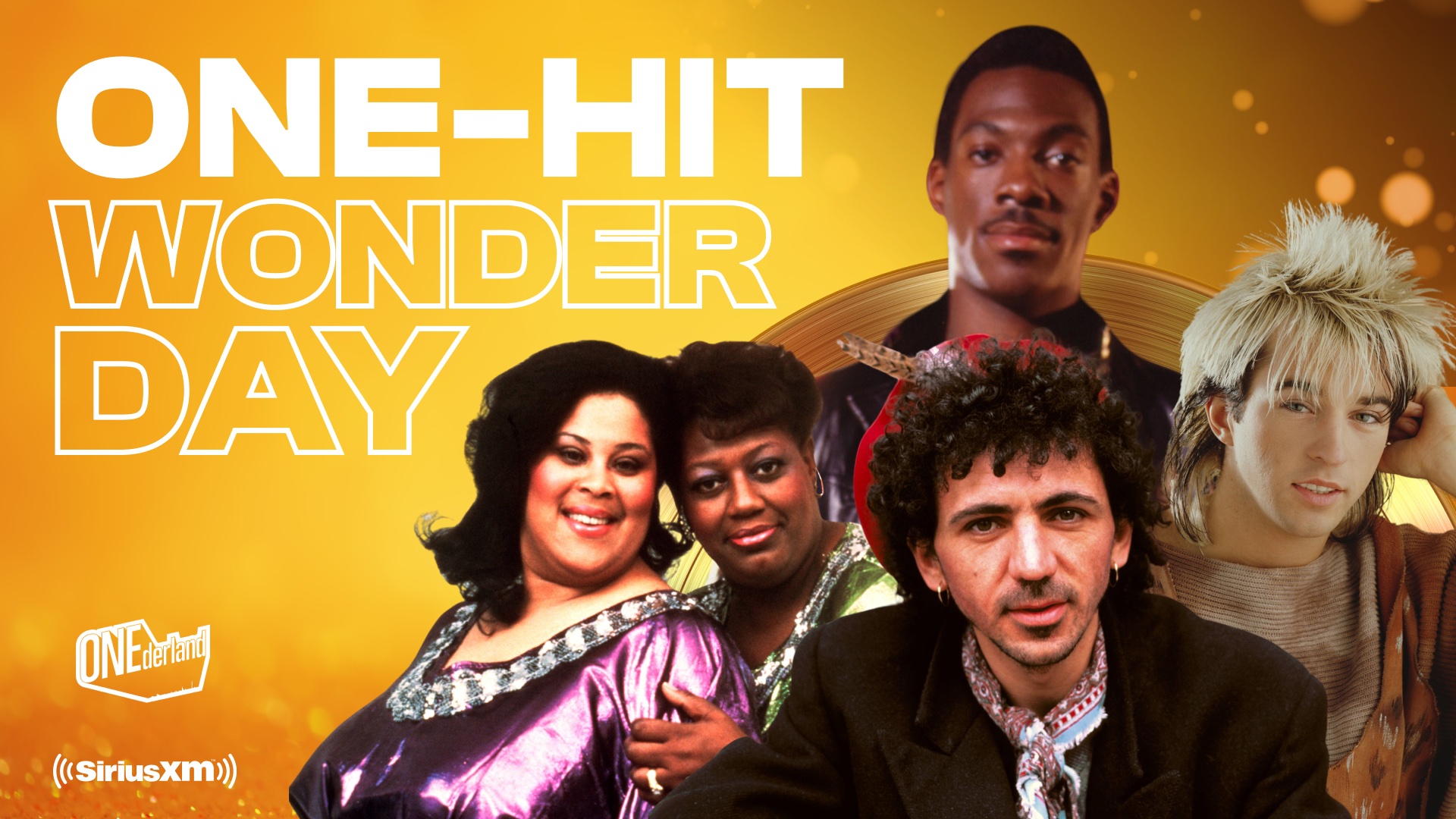 National One-Hit Wonder Day is September 25, a day to reflect on the artists who burst onto the scene and into the charts with one incredible song. While these acts may not have replicated their initial successes with later releases, their hit songs remain etched in our memories — and on our playlists!
---
Listen to decades' worth of one-hit wonders on the ONEderland channel
---
This year, we're looking back at one of the most iconic decades in music — the 1980s. From the powerhouse vocal duo The Weather Girls to the quirky upbeat sound of The B-52s and a surprise celebrity cameo from Eddie Murphy, the '80s had it all!
So, join SiriusXM as we take a nostalgic trip back in time and celebrate the most iconic '80s one-hit wonders ever!
'80s New Wave One-Hit Wonders
An eclectic blend of punk, rock, and pop, new wave peaked in the '80s. Whether cheery and upbeat like Toni Basil's "Mickey" or an emotional ballad like Limahl's "Never Ending Story," new wave gave audiences plenty to enjoy.
Music aside, the genre brought a distinct visual flair, allowing artists to spruce up their image and fully express themselves. And they didn't disappoint! Devo brandished unique red energy dome hats while Dexys donned dungarees and bandanas. A Flock of Seagulls wore space-age-inspired garments and their lead singer, Mike Score, sported a unique hairstyle with high volume and an exaggerated swooping shape that truly embodied the era's fashion.
These iconic looks only made the music all the more memorable, so if you're in the mood for a little nostalgia, check out these new wave one-hit wonders:
1. "99 Luftballons" — Nena
2. "Mickey" — Toni Basil
3. "Come On Eileen" — Dexys
4. "Whip It" — Devo
5. "Never Ending Story" — Limahl
6. "Walking on Sunshine" — Katrina and the Waves
7. "I Ran (So Far Away)" — A Flock of Seagulls
'80s Synth-Pop One-Hit Wonders
Synth-pop exploded onto the charts across the decade and led to some incredible one-hit wonders. The genre included emotive, catchy tunes and featured a collection of electronic instruments, the most common being the eponymous synthesizer. That instrument screamed "1980s" as much as the acts that featured it most prominently.
Berlin's 1986 ballad "Take My Breath Away" encapsulated this best with its melodically-rich sound of synth-pop. Originally written for Top Gun, it impressed film critics, winning an Academy Award and a Golden Globe award for best original song in 1986 while flying to the top spot of the charts.
Similarly, Soft Cell's dark synth cover of Gloria Jones's 1965 soul song "Tainted Love" set a Guinness World Record at the time for the longest consecutive stay on the US charts, where it spent a whopping 43 weeks. Take a trip back in time with these synth-pop bops:
8. "The Safety Dance" — Men Without Hats
9. "Tainted Love" — Soft Cell
10. "Somebody's Watching Me" — Rockwell
11. "You Spin Me Round (Like a Record)" — Dead or Alive
12. "Tarzan Boy" — Baltimora
13. "Take On Me" — a-ha
14. "Take My Breath Away" — Berlin
'80s Dance/Funk One-Hit Wonders
The '80s was a dynamic period for funk and dance music, filling the decade with energetic beats and rhythmic grooves.
"Funkytown" by Lipps Inc. embodies funk's transition into the disco era with its catch lyrics, heavy basslines, and futuristic feel. Meanwhile, "Party All The Time" made comedian and actor Eddie Murphy an unlikely one-hit wonder in 1985. As part of a bet with Richard Pryor, Murphy worked with Rick James, who wrote and produced the song. The tune was a hit, climbing to No. 2 on the charts and proving that Murphy can sing!
Here are the best dance and funk one-hit wonders of the '80s:
15. "Funkytown" — Lipps Inc.
16. "We Don't Have to Take Our Clothes Off" — Jermaine Stewart
17. "Last Night a D.J. Saved My Life" — Indeep
18. "It's Raining Men" — the Weather Girls
19. "Rhythm of the Night" — DeBarge
20. "Party All the Time" — Eddie Murphy
21. "Love Shack" — The B-52s
'80s Reggae/Ska One-Hit Wonders
Thanks to the mainstream success of reggae and ska in the '60s and '70s — attributed to the likes of Jimmy Cliff, Desmond Dekker, and Bob Marley & The Wailers — both genres earned global recognition and love. This gave artists a platform to break through to the charts, and they didn't disappoint.
British-Jamaican reggae band Musical Youth's 1982 song "Pass The Dutchie" sold over 5 million copies worldwide and made its way into countless films and TV shows — including Stranger Things, which boosted the song and briefly lifted it back into the charts in 2022.
Bobby McFerrin's acapella hit "Don't Worry Be Happy" used reggae-style rhythms to create an upbeat track that made its way to the top of the charts and has remained a memorable song to this day. And it's impossible not to be happy while listening to these one-hit wonders:
22. "Pass the Dutchie" — Musical Youth
23. "Don't Worry, Be Happy" — Bobby McFerrin
24. "Electric Avenue" — Eddy Grant
25. "Our House" — Madness
26. "Break My Stride" — Matthew Wilder
'80s Rock One-Hit Wonders
The '80s was a huge decade for rock music, with various sub-genres like glam, arena rock, and heavy metal gaining popularity. Naturally, the decade delivered a host of one-hit wonders, with iconic artists releasing memorable anthems that made a lasting impact on the music industry and popular culture.
Austrian singer Falco's "Rock Me Amadeus" combined New German Wave, synth-pop, and hip-hop to create an inarguable banger that rocked all the way to the top of the charts, landing the No. 1 spot!
John Waite's "Missing You" just oozes the '80s. It's the perfect power ballad, blending the raw energy of rock with the emotional sensitivity of pop, making a quintessentially '80s bop. Plus, the aesthetics of the "Missing You" music video is on point!
Rock out to these throwback tunes this One-Hit Wonder Day:
27. "Rock Me Amadeus" — Falco
28. "Missing You" — John Waite
29. "(I Just) Died in Your Arms" — Cutting Crew
30. "In a Big Country" — Big Country
31. "La Bamba" — Los Lobos
---
---
---