The BET Awards' Biggest and Best Moments
Missed this year's ceremony? Don't worry, we've got you covered!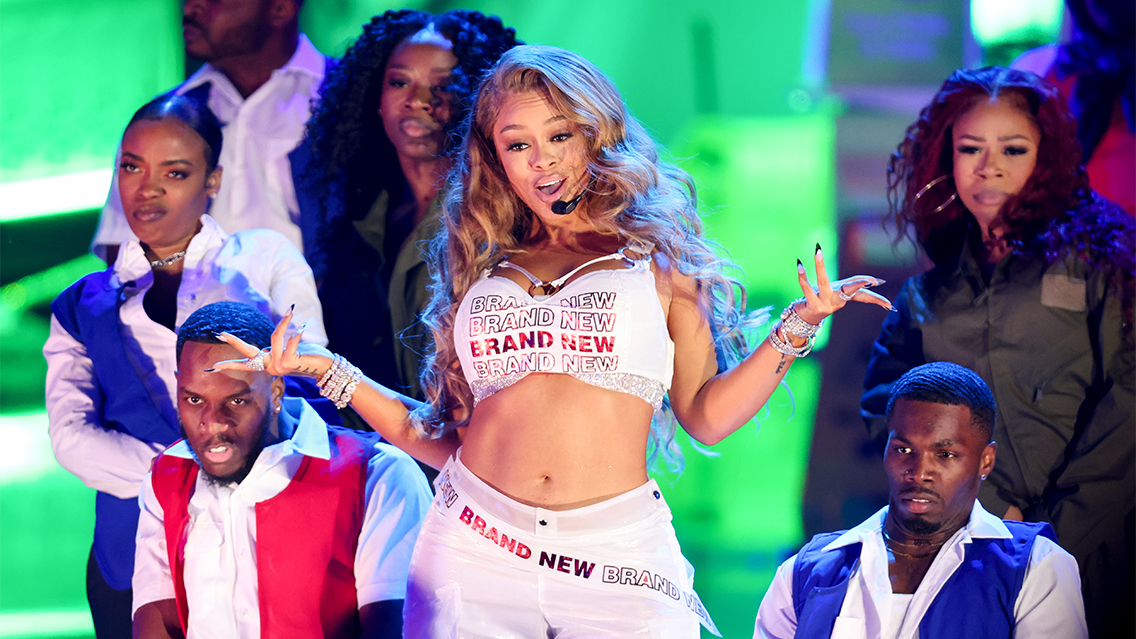 Latto performs at the BET Awards 2023 held at Microsoft Theater on June 25, 2023 in Los Angeles, California. (Photo by Christopher Polk/Variety via Getty Images)
The 2023 BET Awards took place on June 25 — and what a night it was! Featuring exciting performances, touching tributes, and a whole lot of emotions, the ceremony celebrated Black musicians, directors, and entertainers, while honoring hip-hop's 50th anniversary.
The night's winners included big names like Drake and Kendrick Lamar, as well as newer voices such as Coco Jones, who was this year's recipient of Best New Artist.
It was a great evening, but what were the biggest and best moments from the 2023 BET Awards? Read on to see our highlights!
Plus, revisit our recap of the 2022 BET Awards here!
---
Beyoncé and SZA Dominated
Beyoncé and SZA were the big winners of the night, taking home three awards each. Beyoncé's "Break My Soul" took the Viewer's Choice Award and BET Her Award, while SZA won Video of the Year and Best Female R&B/Pop Artist. However, the moment everyone is talking about has to be when these two titans tied for Album of the Year. Some fans are divided, but most are thrilled to see these queens sharing the crown!
Additionally, Latto snagged Best Female Hip-Hop Artist!
Busta Rhymes Won the Lifetime Achievement Award
As an icon of the music industry, it's unsurprising that Busta Rhymes was chosen for this honor. It was clear how much this accolade meant to the rapper — his acceptance speech was so emotional we nearly cried, too!
We can't mention Busta Rhymes without mentioning the incredible tribute performed by a variety of artists, including BIA, Scar Lip, and Spice. Ahead of her performance, we spoke to BIA about working with the legendary Timbaland on her latest record — watch the conversation below!
Quavo and Offset Performed an Emotional Tribute to Takeoff
One of the biggest and best moments of the 2023 BET Awards came from Quavo and Offset, who performed together for the first time since the tragic death of their Migos bandmate Takeoff. In honor of Takeoff's nickname "The Rocket," a large projection of a rocket was the backdrop for this touching tribute.
Kali Gave an Amazing Performance of "Area Codes"
One of the biggest performances of the evening came from Kali, who took to the BET Amplified Stage to sing "Area Codes." Electric and energetic, we won't forget this one for a long time! Beforehand, we caught up with Kali to talk about going viral with this absolute bop, plus… pasta and lobster? Catch our chat with Kali below!
The Adorable Moment From Teyana Turner's Mom
It wouldn't be a roundup of the 2023 BET Awards if we didn't mention this wholesome moment. It's disappointing for an artist when they can't be there to collect an award, but Teyana Taylor's mom had a clever solution! When she headed onstage to collect her daughter's award for Video Director of the Year, Nikki Taylor video-called her to break the exciting news. Taylor was speechless when she realized that she had won the award. While unstable Wi-Fi may have interrupted her virtual acceptance speech, Teyana Taylor's gratitude was clear.
---
For even more interviews from our time at the BET Awards, head to the Hip-Hop Nation Instagram page!
---
---
---