50 Best Road Trip Songs: From Beastie Boys to Bruce Springsteen and Beyond
Join SiriusXM as we take a look at 50 of the most iconic road trip songs to include in your playlist this summer!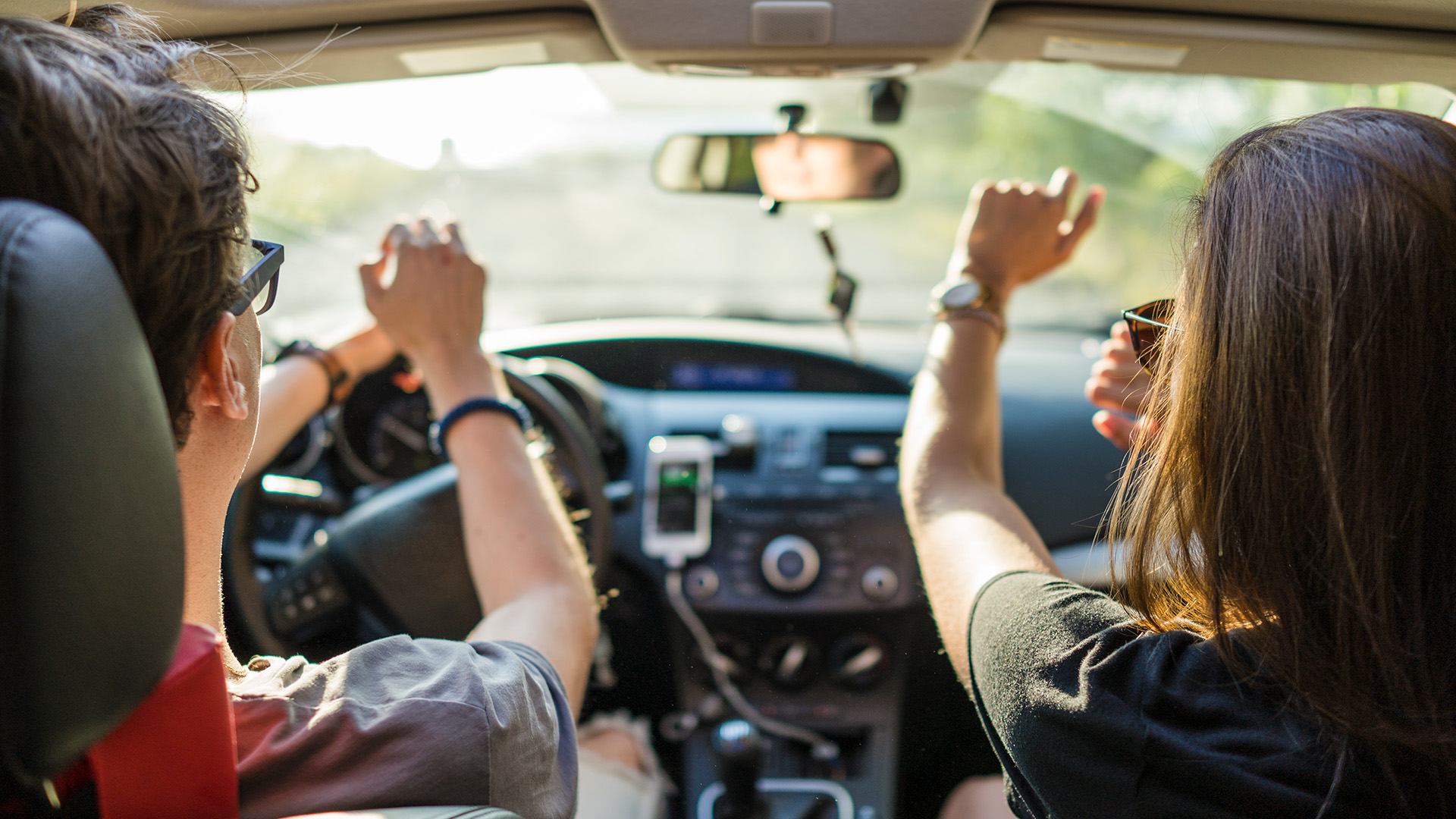 Looking for the best road trip anthems to soundtrack your drive? There's something special about cruising down the highway in the summer with your loved ones, windows down and volume up!
Whether you're off on vacation or just taking a day trip, it's hard not to smile when the sun's shining and there's nothing ahead but the open road. The only thing that could make it better is the perfect song playing at full blast. We've gathered the perfect summery tunes to accompany you on your travels. So, fasten your seatbelts and come along for the ride with SiriusXM as we look at 50 of the most iconic road trip songs!
---
Find nonstop quintessential road trip anthems playing on Road Trip Radio
---
Sing-Along Anthems
A road trip usually means you've got time to kill on your way to your destination. Time flies when you're having fun, and there's no better way to get the good vibes going than by rolling down the windows and blasting out some sing-along anthems!
From Bruce Springsteen's lyrics about hitting the road to find success to Vanessa Carlton's pop hit about going the distance for love, these iconic tracks are essential road trip listening. Whether you're a natural performer or more of the humming type, you'll be singing along in no time!
"Paradise By the Dashboard Light" — Meat Loaf
"A Thousand Miles" — Vanessa Carlton
"Proud Mary" — Tina Turner
"Psycho Killer" — Talking Heads
"Born to Run" — Bruce Springsteen
"Go Your Own Way" — Fleetwood Mac
"American Pie" — Don McLean
"Livin' On a Prayer" — Bon Jovi
'80s Throwbacks
If you really love a blast from the past, these songs are for you. So many '80s tracks are ideal for road trips, with nostalgic melodies and catchy beats which instantly transport you back in time. Get your neon leg-warmers out — it's time for permed hair and iconic dance moves as you cruise down the open road (and take a trip down memory lane)!
"Little Red Corvette" — Prince
"I Drove All Night" — Cyndi Lauper
"Walk This Way" — Aerosmith and Run DMC
"Danger Zone" — Kenny Loggins
"Runnin' Down a Dream" — Tom Petty
'90s Bops
As you make your way through your journey, you might also want to make your way through music history. Jumping forward a decade, the '90s is where you'll find catchy rhythms and beautiful melodies that will make any journey enjoyable. From TLC to the Beastie Boys, here are some perfect songs to sing with your besties as you contemplate your lives on the open road.
"Waterfalls" — TLC
"All The Small Things" — Blink-182
"No Sleep 'til Brooklyn" — Beastie Boys
"Man! I Feel Like a Woman" — Shania Twain
"Everyday Is a Winding Road" — Sheryl Crow
2000s Bangers
Another decade on, the bops just won't stop! From Corinne Bailey Rae's smooth vocals to Miley Cyrus' 2009 party pop, these early 2000s tracks are essential for a summer adventure. These catchy tunes will get even the grumpiest backseat drivers nodding along, so be sure to add them to your road trip playlist.
"Long Road to Ruin" — Foo Fighters
"California" — Phantom Planet
"Chasing Pavements" — Adele
"Put Your Records On" — Corinne Bailey Rae
"Shut Up and Drive" — Rihanna
"Party in the USA" — Miley Cyrus
Modern Pop Hits
A road trip doesn't technically have to be by car. Maybe you've taken a page out of Lil Nas X's book and you're making your way on horseback. Either way, these modern pop hits are must-haves on your travels. Channel your inner Ed Sheeran as you drive down those country lanes!
"Barbie World" — Nicki Minaj and Ice Spice (with Aqua)
"Castle on the Hill" — Ed Sheeran
"Levitating" — Dua Lipa
"Vroom Vroom" — Charli XCX
"Old Town Road" — Lil Nas X
Classic Rock
When the going gets tough, it's time to headbang your way down the highway. Driving long distances can get tiring, so when you need an energy boost, these are the tracks to turn up to eleven. All you need is your headband and your air guitar — get ready to kick back and let the beat drive you onwards to Paradise City!
"Paradise City" — Guns N' Roses
"Highway Star" — Deep Purple
"Here I Go Again" — Whitesnake
"Highway to Hell" — AC/DC
"Who Are You" — The Who
Baby Driver (2017) Soundtrack
This Edgar Wright film combines two great things: music and driving. It also happens to have a fantastic soundtrack! Many movies through the years have captured the spirit of driving in many different ways, such as Easy Rider (1969), Little Miss Sunshine (2006), and Mad Max: Fury Road (2015). These songs will have you enjoying your journey, but you'll also be planning your next movie night!
"Radar Love" — Golden Earring
"Baby Driver" — Simon & Garfunkel
"Chase Me" — Danger Mouse feat. Run the Jewels & Big Boi
"Brighton Rock" — Queen
Country
From Luke Combs' heartfelt cover of Tracy Chapman's 1998 hit to Willie Nelson's love letter to the journey ahead, country music is perfect for reflective moments on the road. These songs encapsulate the often bittersweet joy of travel, which resonates with the freedom and adventure of road trips. Have your tissues at the ready — some of these tracks are real tear-jerkers!
"Highway Vagabond" — Miranda Lambert
"Sweet Home Alabama" — Lynyrd Skynyrd
"Fast Car" — Luke Combs
"On the Road Again" — Willie Nelson
"Take It Easy" — Eagles
"Life is a Highway" — Rascal Flatts
"Take Me Home, Country Roads" — John Denver
Hip-Hop
While we certainly hope your road trip doesn't feel like you're going through the valley of the shadow of death, we do have a song for that. Whether it's Coolio or Q-Tip providing the soundtrack to your road trip, there are plenty of hip-hop songs about driving to get you through even the longest of journeys. Check out these tracks to help you vibe while you drive.
"Ridin'" — Chamillionaire feat. Krayzie Bone
"A Boomin' System" — LL Cool J
"Gangsta's Paradise" — Coolio
"Let Me Ride" — Dr. Dre
"Let's Ride" — Q-Tip
---
Find more music to soundtrack your summer road trip on SiriusXM.
---
---
---