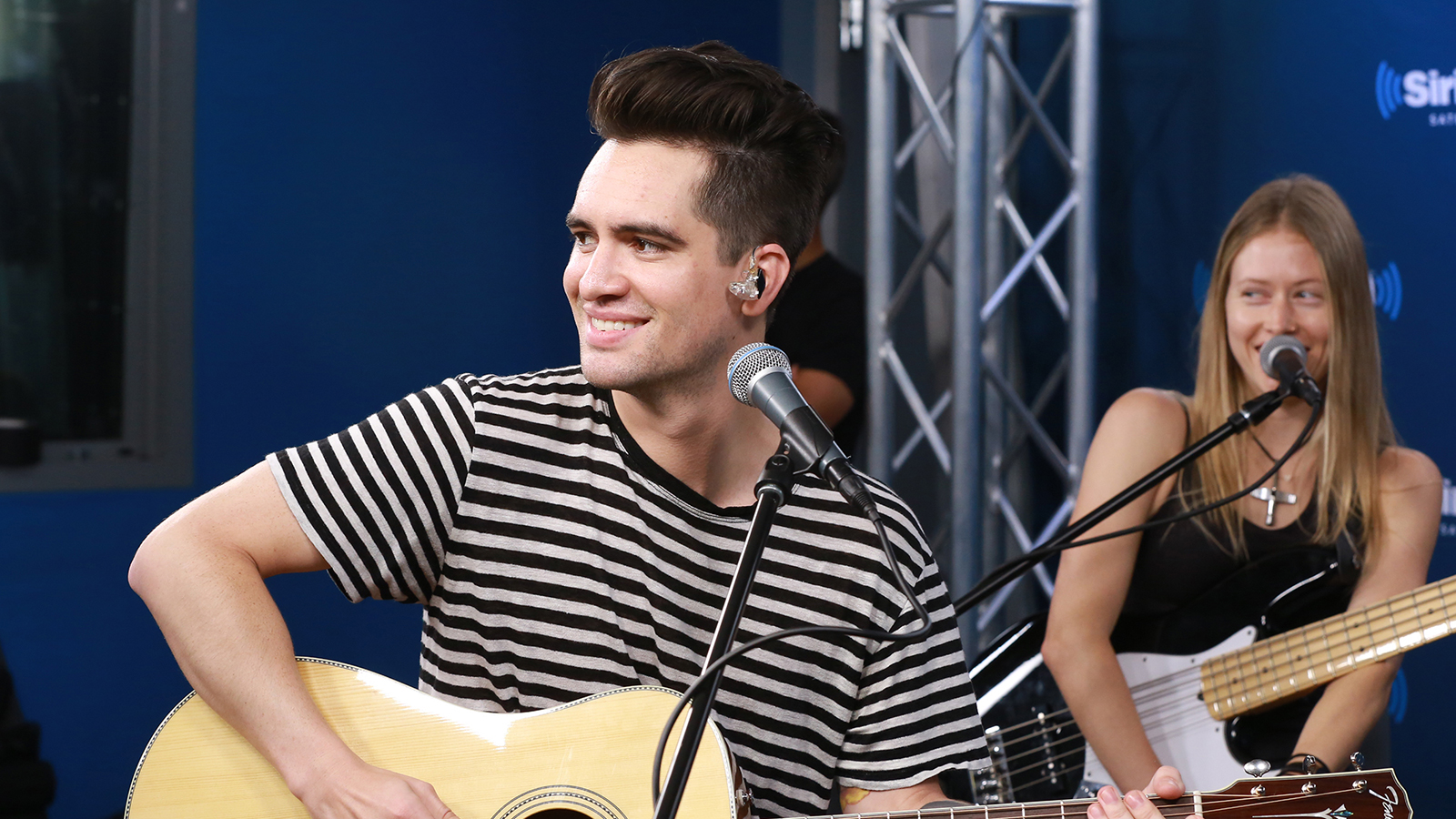 It looks like it really is the end of an era. On January 23, Brendon Urie announced that Panic! At The Disco is no more. After four albums as a group and three as a solo project, Urie stated that no more music will be released under that iconic moniker.
While this is undoubtedly a sad day for die-hard fans, it's a great opportunity to look back over the last 18 years of Panic! At The Disco music and reminisce about their most memorable tracks.
To hear even more from this trail-blazing outfit, catch Panic! At The Disco playing on Pop2K (Ch. 10) and The Emo Project (Ch. 713).
---
"I Write Sins Not Tragedies" (A Fever You Can't Sweat Out, 2005)
It's not often you can say that a song defined a genre, but Panic!'s breakout hit definitely did. It's arguably one of the most recognizable sounds from the early 2000s pop-rock boom that the band helped to spearhead. From the opening notes to the damning condemnation of the bride at the center of the song's story, you can always rely on this banger to fill any dance floor.
"Nine in the Afternoon" (Pretty. Odd., 2008)
It's notoriously difficult to follow a smash-hit debut album, but Pretty. Odd. was a great direction for the band to take. Partially recorded in the historic Abbey Road Studios, this album contrasts a more classic rock vibe with beautiful string arrangements to create a truly unique sound. Despite the new tone, "Nine in the Afternoon" still stuck to the band's roots with nonsense lyrics and a great hook that'll be stuck in your head for days.
"Sarah Smiles" (Vices & Virtues, 2011)
While it's perhaps not the most well-known track from this album, this beautiful tribute to Urie's wife Sarah feels particularly poignant now. In his announcement, Urie revealed that one motivation for stepping away from the music scene is that his wife is pregnant with their first child. Heartfelt lyrics asking "does she know that my destiny lies with her?" feel even more sentimental now than the first time we heard it.
Listen to Brendon reflect on his career with Mikey Piff below!
"Girls/Girls/Boys" (Too Weird To Live, Too Rare To Die!, 2013)
This ode to the fluidity of sexuality was accompanied by a raunchy video of Urie stripped down and singing the song as the camera explores his body. The lyrics proclaim that "girls love girls and boys" and "love is not a choice" — a sentiment his fans have appreciated as unequivocal support of the LGBTQIA+ community (something Urie has since confirmed, describing himself as pansexual in a 2018 interview).
"Emperor's New Clothes" (Death of a Bachelor, 2016)
This album marked the start of Panic! as a solo project, a gamble that paid off as the album debuted at number one on the US Billboard 200. "Emperor's New Clothes" is a great representation of the confidence Urie brought into this new era. Full of shockingly high falsetto runs and clever lyrical twists, this is Urie at his absolute best.
"High Hopes" (Pray For The Wicked, 2018)
Many of the tracks on Pray for the Wicked feature Urie reflecting on the dizzying heights of worldwide fame and new experiences, having starred in Kinky Boots on Broadway during the album's production. It's "High Hopes" that stands out in particular though. This punchy pop number chronicles Urie's mentality for success: "Didn't have a dime but I always had a vision, always had high, high hopes."
We were lucky enough to have him deliver an acoustic performance in the SiriusXM studio. Check it out below!
"Viva Las Vengeance" (Viva Las Vengeance, 2022)
The final album of the Panic! At The Disco era is an homage to the lead singer's home city of Las Vegas, where he first met the band's founding members. The title track pays tribute to Sin City's wild and controversial reputation, with lyrics like, "In a city full of promise, nothing rings true." It gives a fascinating insight into what it might have been like to grow up there. Looking back, it's also a fitting note for Urie to end on, having seemingly come full circle.
---
To hear more like Panic! At The Disco on SiriusXM, tune in to Pop2K and The Emo Project.
---
---
---