Bengie Molina: Yadier wants to remain a Cardinal, but he's not afraid to leave
As much as Yadier Molina wants to remain a Cardinal, he's not afraid of leaving St. Louis after more than a decade of service. That's according to his brother, Bengie Molina, who joined MLB Network Radio to discuss the current state … Continued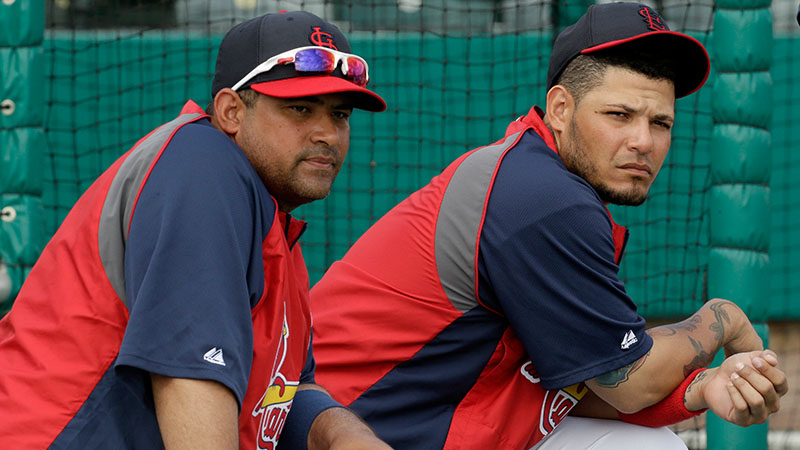 St. Louis Cardinals assistant hitting coach Bengie Molina, left, kneels next to his brother catcher Yadier Molina as they watch a morning workout before an exhibition spring training baseball game in Jupiter, Fla., Monday, Feb. 25, 2013. (AP Photo/Julio Cortez)
As much as Yadier Molina wants to remain a Cardinal, he's not afraid of leaving St. Louis after more than a decade of service.
That's according to his brother, Bengie Molina, who joined MLB Network Radio to discuss the current state of contract negotiations between the Yadier and the Cardinals.
"I think it's really a shame, it's really sad that the Cardinals haven't got anything done with him," Bengie Molina said. "He's Yadier Molina! Your guy that's been in the minor leagues and worn that jersey, sweat so many times, and you're thinking about three years well paid? Come on, man."
For the latest in MLB news, listen to MLB Network Radio on SiriusXM (Sirius Ch. 209, XM Ch. 89).
Photo Credit: AP Photo/Julio Cortez
---
---