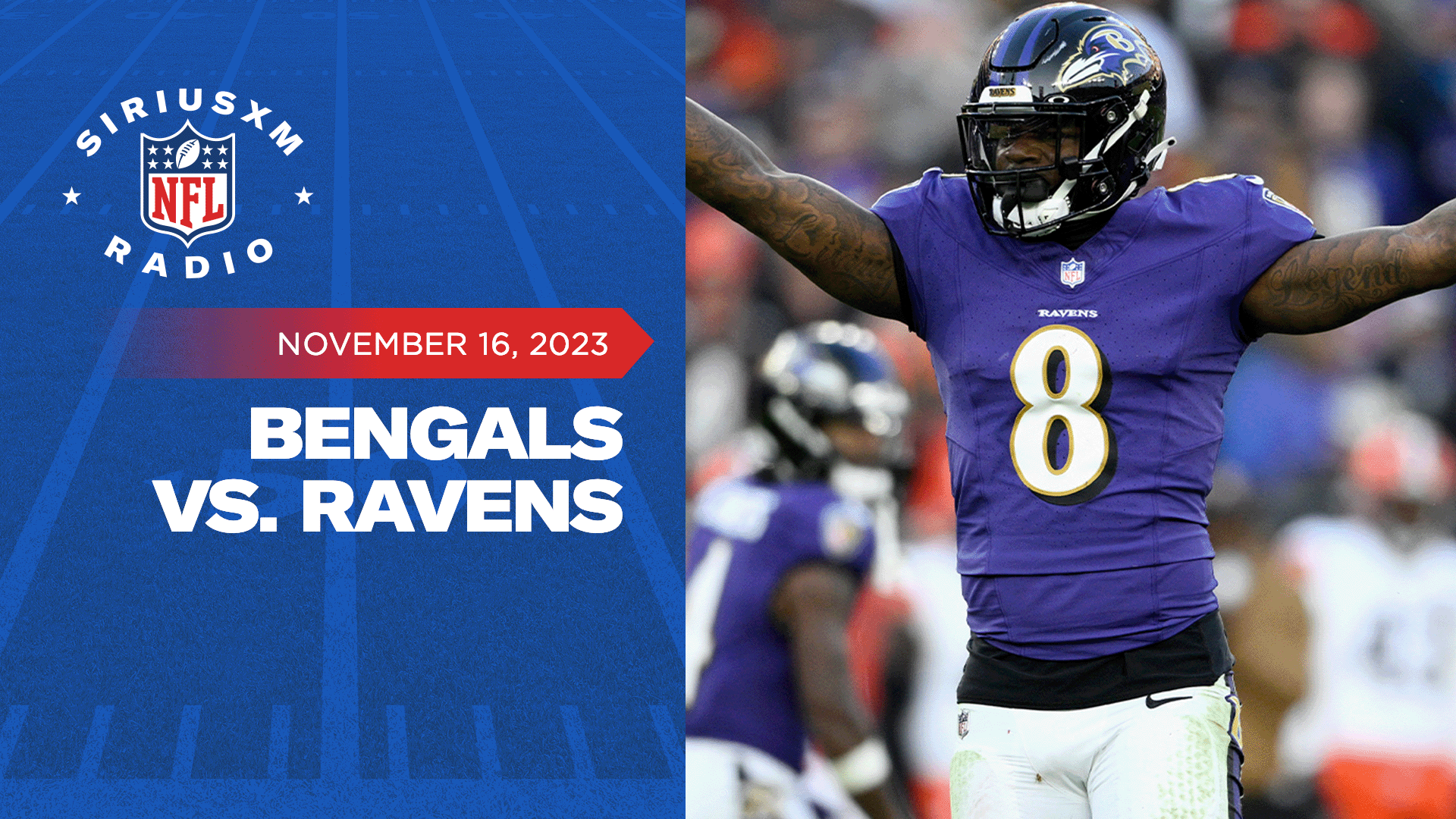 In what promises to be a NFL Thursday Night Football clash, the Cincinnati Bengals will face off against the Baltimore Ravens in Week 11.
Listen live to your choice of the home, away, or national feed on the SiriusXM app. Kickoff is November 16 at 8:15pm ET.
---
Stream the Baltimore Ravens broadcast (Ch. 802)
Stream the Cincinnati Bengals broadcast (Ch. 806)
Stream the National broadcast (Ch. 88)
---
Home: Baltimore Ravens
Quarterback Lamar Jackson totaled 264 yards in Week 10. He leads all quarterbacks with 481 rush yards in 2023 and could make history as the first QB with 500+ rush yards in each of his first six seasons.
Running back Gus Edwards has been a touchdown machine, scoring in each of the past four games, and he could join an elite group as the fourth player in franchise history with a rush TD in five straight games. Rookie Keaton Mitchell aims for his third consecutive game with 65+ scrimmage yards and a rushing touchdown. The Ravens boast the leading rushing offense in the NFL, averaging 154.9 rush yards per game.
On the defensive side, linebacker Roquan Smith had a career-high 21 tackles in Week 10, leading all players this season and tying the franchise record. Defensive end Jadeveon Clowney recorded six tackles and two sacks, marking his second multi-sack game of the season. Defensive tackle Justin Madubuike aims for his eighth consecutive game with 0.5+ sacks, and safety Geno Stone looks to extend his streak to six games with a pass defended.
---
Baltimore Ravens Home Feed
SiriusXM channel 225 in your vehicle
Channel 802 on the SiriusXM app
Cincinnati Bengals Away Feed
SiriusXM channel 226 in your vehicle
Channel 806 on the SiriusXM app
National Feed
SiriusXM channel 88 in your vehicle
Channel 88 via on SiriusXM app
---
Away: Cincinnati Bengals
The Cincinnati Bengals, led by quarterback Joe Burrow, have a strong passing game. Burrow completed 67.5 percent of his passes for 347 yards and two touchdowns in Week 10, extending his streak to five straight games with 2+ TD passes, the longest active streak in the NFL.
Running back Joe Mixon aims for his fourth straight game with a rushing touchdown and his third straight road game with 90+ scrimmage yards. Ja'Marr Chase had a standout performance with 124 yards and a touchdown in Week 10, marking his fourth game this season with 100+ receiving yards.
The Bengals' defense features safety Daxton Hill, who contributed seven tackles and two pass deflections in Week 10, and linebacker Germaine Pratt, who's aiming for his third straight game with 9+ tackles. Logan Wilson, looks to extend his streak to six games with 5+ tackles. Cornerback Cam Taylor-Britt had a season-high nine tackles, two pass deflections, and an interception last week.
---
For more on SiriusXM's NFL programming, visit SiriusXM.com/NFL.
---
---
---