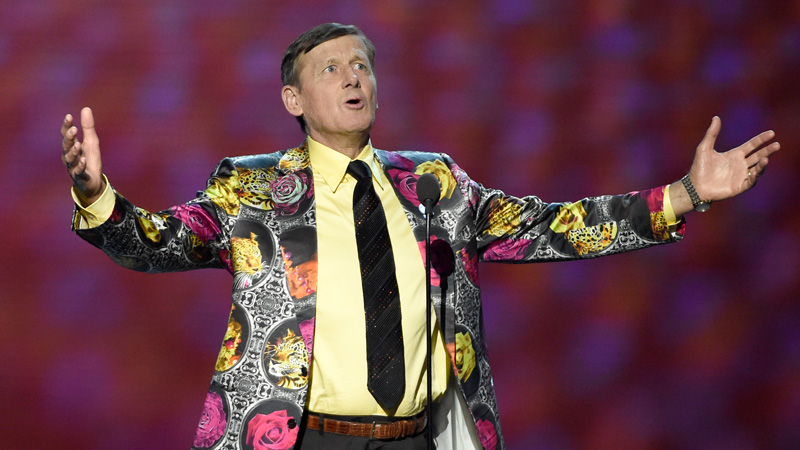 Craig Sager (born June 29, 1951): The beloved NBA sideline reporter, who was known for his flashy suits and solid questions, died on December 15 after a two-year battle with leukemia. Related channel: SiriusXM NBA Radio, ch. 207.(Photo by Chris Pizzello/Invision/AP)
Beloved NBA sideline reporter Craig Sager has died after a years-long battle with leukemia, according to Turner Sports.
Sager, a longtime fixture on the sidelines of NBA games, had battled leukemia since 2014. Turner Sports President David Levy released a statement on the company's public relations Twitter page.
"Craig Sager was a beloved member of the Turner family for more than three decades and he has been a true inspiration to all of us," Levy said in the statement. "There will never be another Craig Sager. His incredible talent, tireless work ethic and commitment to his craft took him all over the world covering sports."
— TurnerSportsPR (@TurnerSportsPR) December 15, 2016
SiriusXM NBA Radio host Eddie Johnson reacted to the news shortly after it broke on NBA Today.
"If anyone ever had the opportunity to meet Craig Sager they would have walked away a better person, Johnson said. "I never even encountered him, not one time, where he didn't smile, where he wasn't happy to see you, wondering how you're doing more so than how he's doing."
Longtime colleague Kevin Harlan joined Johnson and Justin Termine on NBA Today and shared his memories of Sager's unbreakable positivity.
"He was a friend to everybody, that was the great thing about Craig," Harlan said. "He always seemed to have a smile on his face and a warm spot in his heart for anybody that would come across his path."
As noted in Levy's statement, Sager was well known for his "colorful", flashy suits and his playful banter with some of the NBA's biggest names during sideline interviews. Sager was first diagnosed with acute myeloid leukemia in 2014 and was admitted back into the hospital in November 2016, according to ESPN.
NBA Commissioner Adam Silver issued a statement following Sager's death, giving his condolences to the legendary broadcaster's family and paying tribute to his life and career.
"I — along with the entire NBA family — am deeply saddened by the passing of Craig Sager. Craig was as vital to the NBA as the players and coaches," Silver said. "A true original and an essential voice on Turner Sports' NBA coverage for 26 seasons, Craig has chronicled some of the most memorable moments in league history and was a ubiquitous presence with his splashy suits and equally colorful personality."
NBA Commissioner Adam Silver released the following statement regarding the passing of Craig Sager pic.twitter.com/vvayZfy7Re

— NBA (@NBA) December 15, 2016
Refresh for updates and listen to SiriusXM NBA Radio as we honor the life of Craig Sager.
Photo: AP
---
---