Behind the Voice: Jenny Hutt gives women 'a way to feel okay'
After almost 12 years at SiriusXM, Jenny Hutt is still "Just Jenny."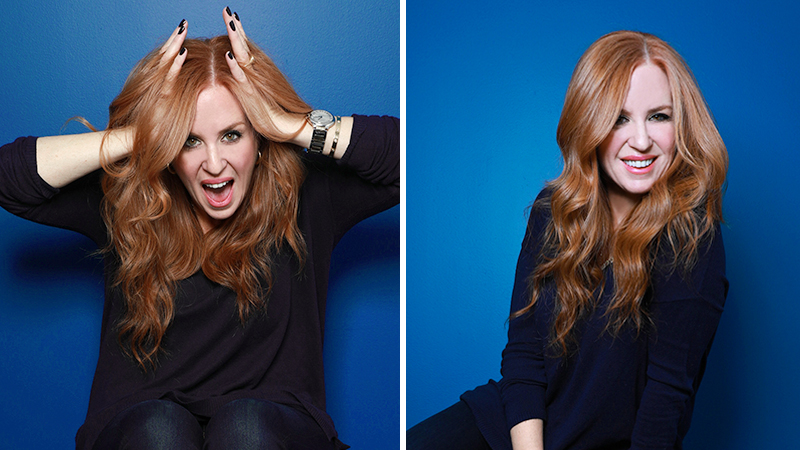 Jennifer Koppelman Hutt is a mom, wife, lawyer, author and radio host. But according to her Carrie Bradshaw-esque nameplate necklace and bedazzled phone case, she's Jenny. Just Jenny.
Hutt has been a SiriusXM staple for almost 12 years — before Howard Stern even got on air — first sharing the mic on the Martha Stewart Channel before landing her own Stars show in 2012.
"I think they knew how much it meant to me. I think they knew that my connection with my listener was so important, it was such a lifeline," Hutt says. "And that's kind of the thing with talk radio. If you're in it, you're in it because you love it. You're in it because it gets you going, it wakes you up in the morning. You go to sleep at night excited to do the next show the next day because of the way we connect with the listener. And so I had to re-brand the show, pretty much overnight."
She remembers friends, family and fans bombarding her with questions: What would the new show be about? Who was she?
"Finally I'm like, 'I'm just Jenny. I don't know what else you want from me!' And then I'm like, aha!" she says with a laugh. "So that was it. It was just me."
Fiery. Fun. Honest. Those are the qualities Hutt brings to her daily show broadcast from her New York home, chatting intimately about life, love, daily struggles and triumphs.
"There's this incredible freedom when you find out you're not the only one who feels weird or off or has quirks or is just silly and then so serious and so sensitive," she says.
That infectious energy captivates celebrities, too, whether she's singing Grease songs with Lance Bass, dancing the Carlton with Alfonso Ribeiro or fan-girling over Kerry Washington.
Hutt always loved radio, even calling into local New York stations regularly as a teenager, though she didn't pursue entertainment in college before heading to law school and settling down.
But the business is arguably in her blood. Her father is successful record label executive Charles Koppelman, and she was working as his assistant when, at 35, she got the opportunity that changed her life: a job offer at SiriusXM.
"I didn't have an office. I literally sat in the hallway outside the studio where I broadcast a two-hour show every day. Like no joke, on the air my co-host and I would say our office is in the hallway, and people thought we were kidding … like it was shtick somehow," she says. "That's where we would prep our show, that's where we would eat lunch, that's where we would talk about whatever it is we were going to talk about, and that was our life."
Every week, Hutt dedicates a Facebook Live to "Weight Wednesday," discussing body positivity and her own experience slimming down. She'd struggled with her size throughout her life but says things "got out of control" after she started a family.
It's a journey that began when her beloved mother died. The two were incredibly close, talking on the phone every single day, "but my mom and I also had this thing about my body," Hutt says. "It always felt to me like my weight eclipsed my worth, and I don't think that I could really see beyond that until after she passed away."
"There's this incredible clarity that happens when you lose a parent," she adds. "It's awful and devastating and it's almost nine years, and I still miss her every day. But there's this thing that happens that she's not there anymore, so whatever was sort of subconsciously holding me back from losing weight and being okay with losing weight also wasn't there anymore."
In 2009, doctors diagnosed her with high blood pressure and cholesterol, and she decided to focus first on nutrition and then exercise. She's lost about 70 pounds.
"Every day it's a battle and every day it's a choice, and every day I have to decide whether or not I want to eat candy or I want to eat something healthy. And some days the candy wins, some days the healthy food wins, but every morning the scale wins because I get myself on it," she says, admitting that her routine of using three scales a day may sound "crazy."
And years before live-streaming on social media existed, Hutt asked listeners to submit questions she'd answer while walking in "Tales from the Treadmill" videos.
"This is not a runner," she says, gesturing to her body. "This will never, ever run, but I could spend hours walking."
And she did, sharing her exercise regimen with the world. She also shares her home life, with her daughter, son, husband and even dogs popping into the broadcast.
After more than a decade here, no one's asking Hutt who or what she is. She knows. And she knows what Just Jenny is, too.
"I think one of the reasons that I do my radio show is to give women who are listening, anybody who's listening, a way to feel okay, to know that if I can sort of get through life the way I do, that they're going to be just fine," she says. "I'm okay. I'm a wreck 90 percent of the time, and yet I still get things done. If I can, then so can they. So I think that's really my purpose, is connecting with women and making sure that they know that all they really have to do is get up in the morning and breathe, and the rest will fall into place, even if it feels like it won't."
Just Jenny airs live weekdays at 6pm ET on SiriusXM Stars (Ch. 109).
For a free 30-day trial, check out http://www.siriusxm.com/freetrial/blog
---
---
---