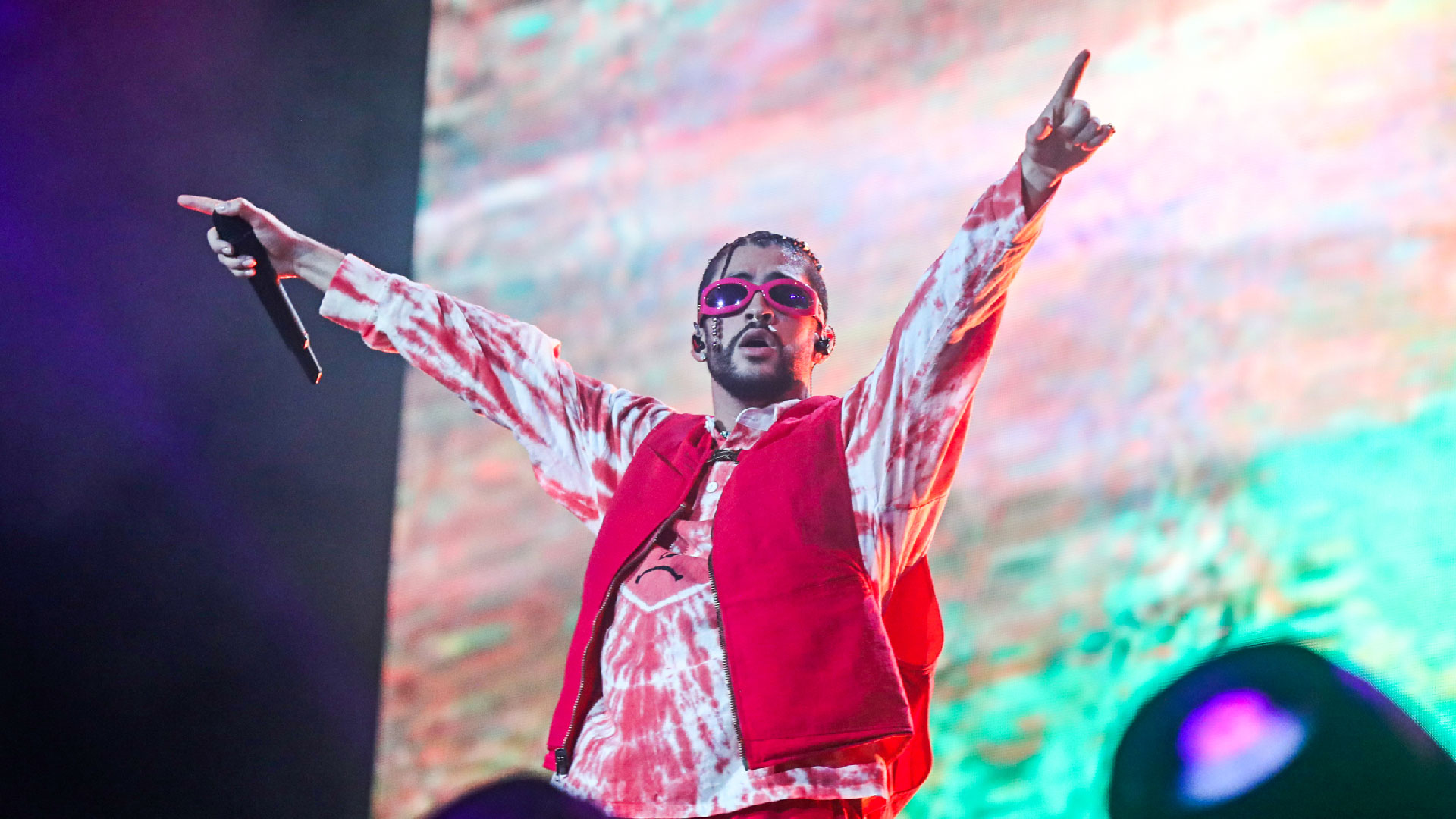 Photo by Shareif Ziyadat/WireImage
Has anyone had as successful a year in 2022 as Bad Bunny? With two tours under his belt plus high-profile modeling and wrestling endeavors, picking up a lead role in a film and the release of a wildly successful new album, it feels like it's been his year. Let's take a look at some of his highlights!
WWE's Royal Rumble
A long-time wrestling fan, Bad Bunny (real name Benito Antonio Martínez Ocasio) started out the year by making a dream of his come true — participating in WWE's Royal Rumble event in January. He won the hearts of fans by showing dedication and skill in the ring and even made it to the final five of the 30-man match but was ultimately bested by the winner, Brock Lesnar.
Vogue Magazine
January also saw him shoot a feature for Vogue magazine, modeling the season's best bags. Known for his eye-catching fashion sense, Bad Bunny's sartorial choices have long been drawing praise for pushing the boundaries of menswear, especially within the realm of rap music.
El Último Tour del Mundo
Lasting February through to April, Bad Bunny's tour, titled El Último Tour del Mundo 2022, proved a huge success, with all 35 dates selling out and drawing an average revenue of more than $3.2 million per city.
El Muerto
April also saw the news break of the musician's attachment to Sony's upcoming El Muerto film, a Spider-Man spin-off movie, which will make Bad Bunny the first-ever Latino actor to lead a live-action Marvel movie.
Un Verano Sin Ti
Upon releasing Un Verano Sin Ti in May, the album debuted at No. 1 and went on to spend 13 weeks in the top spot. Met with critical acclaim, it took home a Latin GRAMMY Award for Best Urban Music Album, and it also became the first Spanish-language album to earn a GRAMMY nomination for Album of the Year.
World's Hottest Tour
As the year drew on, it turned out that one tour simply wasn't enough for Bad Bunny in 2022! Running from August to December, the World's Hottest Tour saw the rapper take on 43 shows across 14 countries. It became the highest-grossing tour by a Latin artist after making $232.5 million —  and that was only from the first leg of the tour.
American Music Awards
In November, he not only received eight American Music Awards nominations, but he also picked up two wins for Favorite Latin Album and Favorite Male Latin Artist. To cap things off, year-end lists consistently ranked him among the world's most-streamed artists, with one of the most-streamed albums being Un Verano Sin Ti. Was anyone more on top of the world this year than Bad Bunny?
We can't say exactly what Bad Bunny will get up to in 2023, but we're excited to see what he does next!
---
To soak up Bad Bunny's success and listen to some of his hits, check out Caliente (Ch. 151).
---
---